Q&A: Westside saw the biggest jump in its homeless population, and other trends from the homeless count results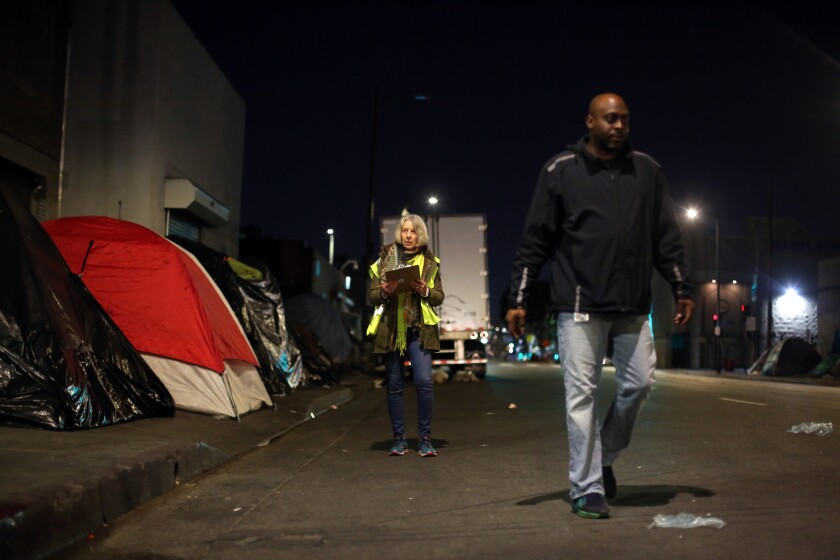 On Tuesday, Los Angeles County released the results of its 2019 homeless point-in-time count at the Board of Supervisors meeting. The tally increased, and the specifics will go a long way to help government officials and the public assess exactly how much progress the county has made in stemming the tide of homelessness.
Here are some fast facts to help you understand the report.
What was this year's total?
The 2019 count found 58,936 homeless people living in Los Angeles County and 36,300 living in the city of Los Angeles. Those were increases of 12% and 16% respectively from 2018.
What was last year's total?
The 2018 count found that Los Angeles County had 52,765 homeless people, which was a slight dip from the year before. In the city of Los Angeles there were 31,285 homeless people.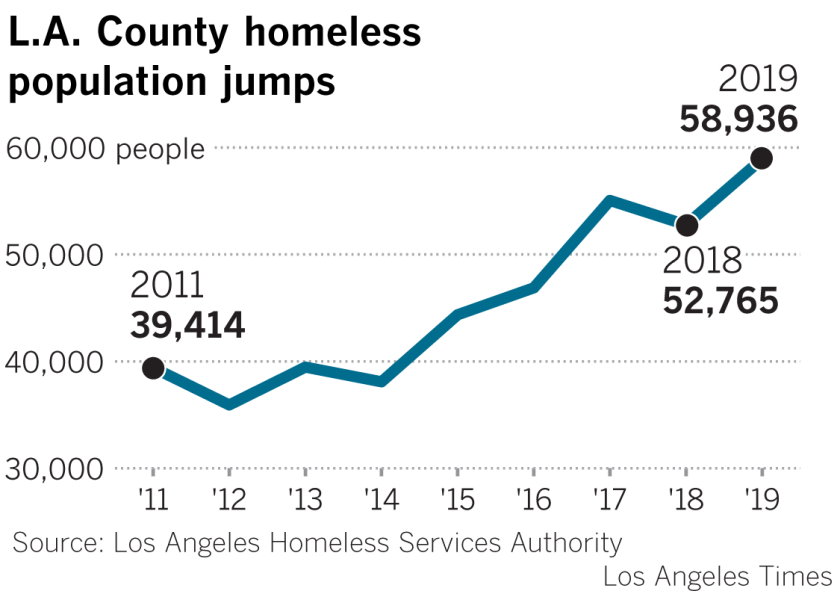 Why did the homeless population grow this year?
L.A.'s red-hot housing market has made it difficult for people already living on the edge of poverty to continue to afford their rent. Many are being forced into the streets. Government officials have struggled to keep up. The city and county have launched various programs to add affordable housing units, temporary shelter beds and permanent supportive housing. But construction has been slow and often met with backlash from neighbors.
When did the count take place?
Much of it occurred late at night in the county's roughly 2,160 census tracts. In places that are tougher or more dangerous for volunteers to reach, such as riverbeds and alleys, the Los Angeles County Sheriff's Department helped out.
What does the homeless population look like?
In Los Angeles County, excluding Glendale, Long Beach and Pasadena, 44,214 homeless people were living unsheltered; they account for about 75% of the homeless population. Of that, about 16,000 live in cars and RVs, and about 11,000 live in tents or lean-tos.
Where in the city were the increases biggest?
The growth of homelessness was also uneven across L.A. County. The Westside experienced the largest increase at 19%, following a year in which its numbers were down by even more. The San Gabriel Valley was close behind with a 17% increase, marking the second consecutive year its homeless population had grown. South Los Angeles also saw a jump of 15%.
How could they know there were exactly that many people?
Well they didn't. This number is an estimate, and some critics ding the county's number crunchers for their implied precision. After volunteers go out, the records are sent to the Los Angeles Homeless Services Authority, which uses them to create statistical estimates by weighting the volunteers' observations with results gleaned from their survey of homeless people. Separately, workers survey thousands of homeless people to come up with estimates of how many people live in each car, lean-to and tent.
But using a different analysis of the survey, a local nonprofit estimated that 102,278 became homeless at one time or another during 2017.
Why does the count matter?
The results aren't just something for politicians to celebrate or worry about come election time. Real dollars are tied to how many people volunteers find living on the street. The federal government divvies up resources based on these numbers, giving the places with the most homeless people the most resources.
Similarly, the state allocated $500 million last year to help find solutions to the crisis playing out on the streets of L.A. and other cities. Half of that money was distributed based on the size of the point-in-time count. This year, Gov. Gavin Newsom has asked the state Legislature to approve a one-time infusion of $650 million to open emergency shelters, provide rental assistance to struggling tenants and underwrite the construction of permanent housing, among other uses. A sizable portion of that money will be distributed based on the point-in-time count.
Is the county's homeless population really just people coming from out of state?
Well, no, actually. The Homeless Services Authority's report notes that the majority of the homeless people here have lived in Los Angeles County for 10 years or longer. About 75% of the homeless adults and children in so-called adult families (in which there's at least one adult older than 24) said they had lived somewhere in Southern California before becoming homeless.
What's changed since last year?
Money is beginning to flow from the city and county into programs and projects to construct more permanent housing and shelters. Los Angeles spent $619 million last year on homelessness.
Mayor Eric Garcetti declared a shelter crisis and created the "A Bridge Home" program, with the goal of placing at least one temporary shelter in each City Council district. So far, though, just three shelters have opened across the city, while others have been slowed by construction delays and political opposition. Similarly, many council members have been slow to follow through on their promise to build at least 222 units of supportive housing in each district by July 1, 2020. While some have exceeded the goal, others, including a district in the San Fernando Valley formerly represented by Councilman Mitchell Englander, have committed to building little to no units at this point.
---
The stories shaping California
Get up to speed with our Essential California newsletter, sent six days a week.
You may occasionally receive promotional content from the Los Angeles Times.