For some Mexican immigrants, their next medical visit might be at the consulate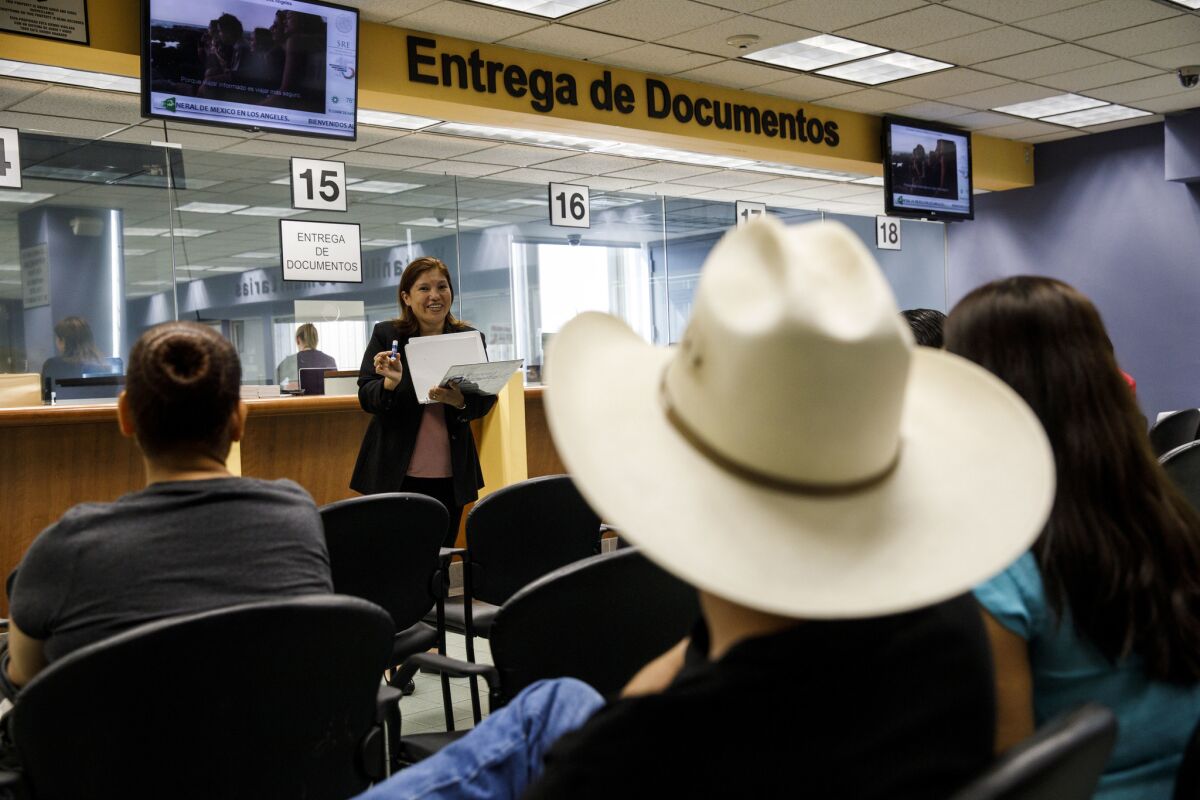 On a recent morning at the Mexican Consulate in Los Angeles, people clutched manila folders swollen with documents. Others shuffled through papers cradled in their laps.
Surrounded by dull orange walls, they faced numbered counters and listened for their names to be called.
It seemed like a typical scene of bland, plodding bureaucracy. Until a woman stepped to the front of the room, got the crowd's attention and asked whether anyone could name a sexually transmitted disease.
"Syphilis, gonorrhea," a man called out from the front row.
The woman then explained that if they wished, consulate visitors could get tested for STDs, including HIV, on the spot, while they waited. The results would be available immediately.
"Today, we have this marvelous resource," said Lorena Ojeda, who works for Planned Parenthood Los Angeles. "Everything is accessible here."
The Mexican government has turned monotony at the consulate into a chance to teach immigrants how to navigate the healthcare system. This education is particularly vital at a time when many immigrants are avoiding medical care due to fear of deportation, experts say.
At each of the 50 Mexican consulates in the United States, representatives from local clinics and other health organizations give talks about topics such as diabetes or domestic violence to people waiting to receive passports or renew identification cards. The captive audience is offered flu shots, diabetes screenings or referrals to nearby clinics.
Mexicans are the largest immigrant group in the U.S. by far, with nearly 12 million living here nationwide in 2014, according to the Migration Policy Institute. But half of them lack health insurance, compared with a quarter of all immigrants and 9% of people born in the U.S., according to the center.
Immigrants from Mexico are much less likely to visit a doctor than others, experts say, in part because of cost and language barriers.
The program offered at the consulates is called Ventanillas de Salud, or "windows of health," because the services give clients a peek into the vast and complex healthcare system.
That initial connection with a health worker can go a long way, experts say, especially as immigrants increasingly report avoiding clinics.
"We've all heard these attacks on immigrants," said Fortina Hernandez, who supervises Planned Parenthood L.A.'s outreach workers. "These attacks have created a culture of fear in our communities, and that's why it's important for us to be here telling them that their health is important, taking care of their health is important."
Mayra Alvarez, head of an L.A.-based advocacy group focused on underserved communities called the Children's Partnership, said immigrants may be unable to determine which doctor or hospital to visit on their own.
"How do you know which one is safe for you go to? Or which one is going to speak your language? You don't," she said. "More than ever, families need a trusted source of information when it comes to healthcare."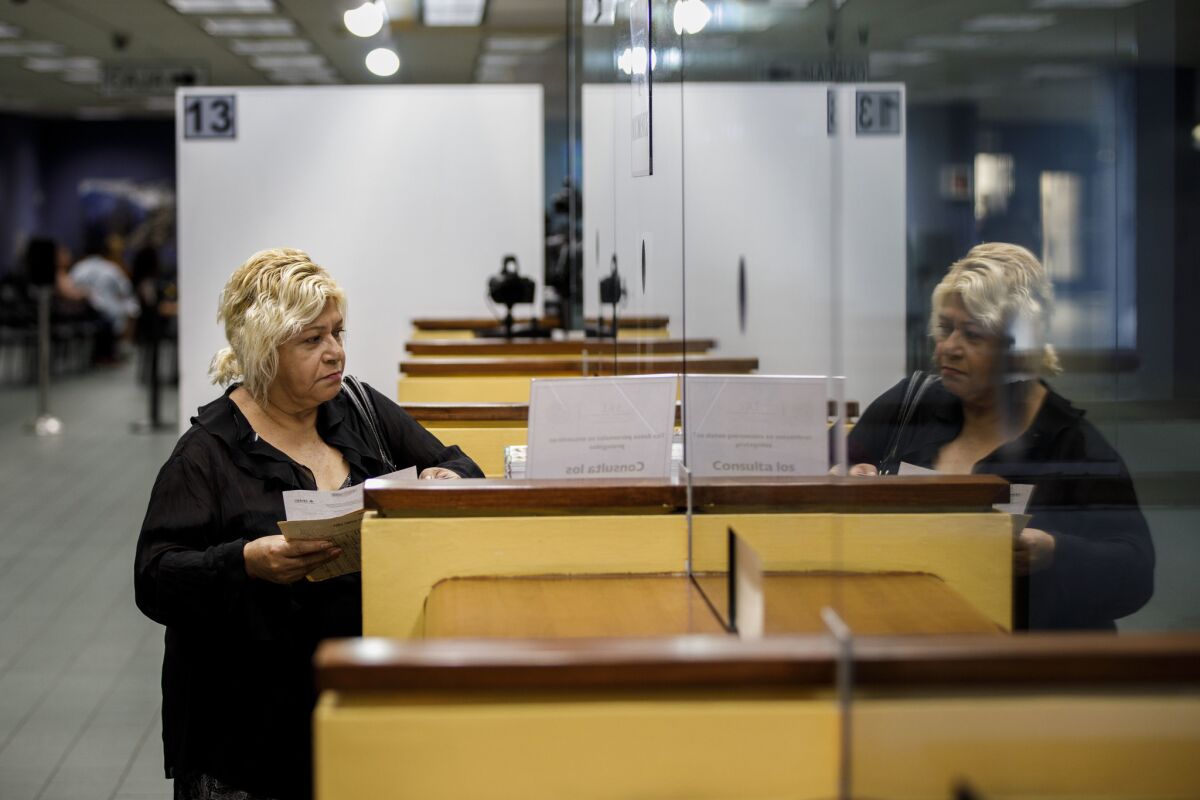 During her presentation earlier this month, Ojeda talked about male and female condoms. She raised her voice while explaining HIV infections so she could be heard over announcements being made over the public address speaker.
At one point, a woman in the front row piped up.
"I have HIV and I'm not ashamed to say it," said Maria Olvera.
Olvera was at the consulate that morning renewing an identification card for Mexican nationals.
She said later that she had lived on the street after she emigrated from Mexico City and began using drugs. In 2005 she learned she had contracted HIV, she said.
"We, as Latinos, don't know about sexual protection," Olvera said in an interview. "To protect ourselves from infections is so important — our lives can depend on it."
The Ventanillas de Salud program was created to help people like Olvera who may not be able to afford a trip to the doctor's office or even think to make one, said Xóchitl Castañeda, director of the Health Initiative of the Americas at UC Berkeley's School of Public Health. Not every member of the Mexican diaspora visits a clinic, but most of them come to the consulate, Castañeda said.
"They don't go because they need a vaccine," said Castañeda, the architect of the program. "They go because they need a passport."
In the early 2000s, Castañeda was brainstorming how to make healthcare more accessible for Mexicans in the United States. Her initial idea was to import the Mexican healthcare system to the U.S. by providing health services at the consulates, which are technically Mexican land.
"We thought we could bring brigades of Mexican doctors and we can put free vaccines from Mexico, and we realized that it was not permitted," she said.
Instead, her group opted for consulates to partner with local healthcare organizations.
The L.A. consulate regularly brings in representatives from more than 30 nonprofits and government health agencies who discuss topics such as substance abuse and birth control and offer screenings for high blood pressure and depression.
On the day Planned Parenthood did presentations at the L.A. consulate near MacArthur Park, a health worker from the L.A. County Department of Mental Health also talked about mental illness and therapy.
Ventanillas de Salud was launched 15 years ago at the Los Angeles and San Diego consulates and has since been expanded to all 50 Mexican consulates nationwide, from Seattle to Miami.
Fully funded by the Mexican government, the program reaches 1.18 million people each year, with the L.A. office its busiest location, according to a recent study. The study also found that immigrants from other countries, most often Latin American and Carribean, also use the services, since the consulate doesn't turn anyone away.
Recent surveys have found that immigrant families are skipping doctors' appointments or scheduling fewer visits in recent years, in part because of fear of drawing attention to their immigration status.
"That's particularly important today, to know you can go into this clinic, you're not going to be asked a bunch of questions about your immigration status," Alvarez said. "You've got that stamp of approval."
But even still, fear lingers.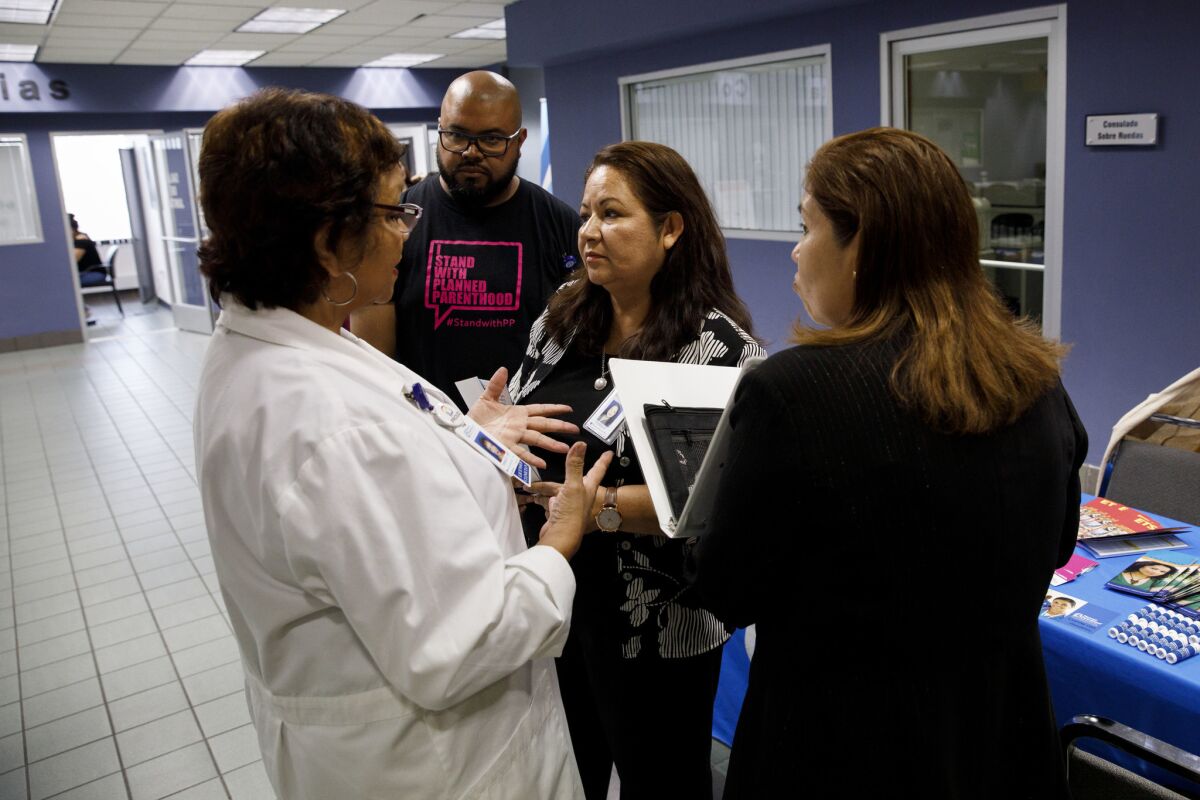 On the morning Ojeda delivered her presentation, Isidro Barajas, a medical assistant with Planned Parenthood, took patients to an exam room at the consulate to administer STD tests. Inside hung a poster listing STD names in Spanish, along with the consequences if the infections go untreated.
Barajas said he asks patients for some personal information, such as their name and address. But even after he reassures them it's simply to identify their sample and test results, some still refuse.
"With this political climate, they're more hesitant to give us information," he said.
He can't administer the test without it, so he gives them the address of a nearby Planned Parenthood office, hoping that a visit to the clinic will make them more willing to provide their name.
Castañeda said several Latin American countries have tried to copy the program but haven't been able to sustain the funding. She said she was recently approached by representatives from Vietnam about starting a similar program.
Arturo Cabezas, 52, took in Ojeda's presentation as he waited for his passport.
Latinos don't talk enough about sexual health, he said. His wife struggles to broach the topic with their three daughters.
"I loved where they did this — you're seated and have to listen," said Cabezas, laughing. "They have no option. It's a perfect spot."
soumya.karlamangla@latimes.com
Twitter: @skarlamangla
The stories shaping California
Get up to speed with our Essential California newsletter, sent six days a week.
You may occasionally receive promotional content from the Los Angeles Times.