When a mass killing and harrowing wildfire converged on my hometown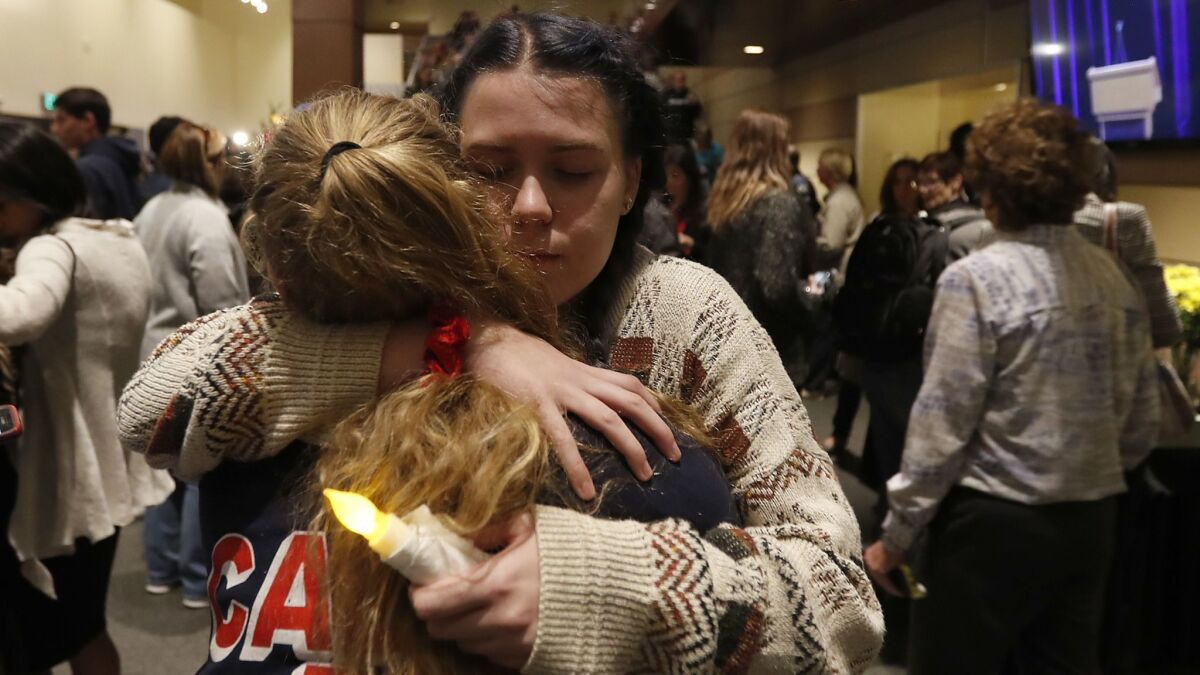 A vigil Thursday night for the victims of the mass shooting in Thousand Oaks was so packed that ushers barred people from entering the auditorium.
Those left outside pressed their faces against the glass doors, trying to watch the service on the TV in the overflow room. As the winds picked up, they zipped up their jackets and hugged their arms to their chests, but they didn't leave — a show of solidarity with a city touched by tragedy.
Nearby, a group of mourners linked hands and sang "Amazing Grace" under oak trees strung with lights. Inside the auditorium, people gripped battery-powered candles and wiped away tears as they remembered the 12 people who had been killed the night before at Borderline Bar and Grill.
It was the kind of quiet moment we have come to expect after something horrible happens, a respite after the worst is over. But in Thousand Oaks, another disaster loomed.
During the vigil, many people's phones' pinged with emergency alerts about a fast-moving fire, fueled by the same winds that had whipped their faces as they headed from their cars to the vigil. It took effort to walk upright in those winds, and they were howling.
Over the next several hours, the fires would become unstoppable, destroying many homes and forcing the evacuation of hundreds more, including my family's.
First, the city where I grew up was catapulted onto the national news by a gunman's rampage — joining the list of places nationwide jolted by mass violence. And then, the fires.
Twin disasters in little over 24 hours.
Kyle Jorrey, editor of the local newspaper the Thousand Oaks Acorn, deployed his small staff day after day — local elections Tuesday night, the shooting Wednesday night and the fires Thursday night. "There's never been anything like this," he said.
When reporters descended on Thousand Oaks the morning after the shooting, I was among them, camping out in a coffee shop. Two women at the neighboring table talked about the shooting in disbelief.
Fiorella Quiroz, 21, and Jessica Romero, 22, both got word minutes after shots were fired that night — one was alerted by ambulances blaring past her home. Neither knew anyone who died, but had heard that friends of friends had been lost. A classmate's cousin. A best friend's brother's friend.
Usually they have to explain to people where Thousand Oaks is. But on Thursday, celebrities were discussing the massacre. The survivors of the Parkland shooting in Florida sent condolences to Thousand Oaks. President Trump tweeted about the shooting.
"I guess everyone knows what Thousand Oaks is now," Romero said.
For the uninitiated, Thousand Oaks is off the 101 Freeway between Agoura Hills and Camarillo. It's a community of 120,000 people that feels small; if you don't know someone personally, your kids probably went to school together, or you have friends in common. The secret passcode for acceptance here is calling the city T.O. — only outsiders say the full name.
And the name itself is a nod to how bucolic it can feel; there are hundreds of grand oak trees that dot the scrubby hills and winding streets, and it's usually 10 degrees cooler than in the nearby San Fernando Valley. Thousand Oaks consistently ranks as one of the safest cities in America. It's the kind of place people, including my parents, go to raise their kids.
On Thursday we had experienced what is undoubtedly the most terrible way to become a household name. And then Romero pointed out smoke behind us, visible through the coffee shop window.
It appeared a fire was breaking out, and we chuckled about the unfortunate timing. But it didn't inspire fear. Southern California has always been fire country.
My parents live in the same house in Thousand Oaks that we moved into when I was 7. It's nestled in a suburban tract but is surrounded by mountains and open space, a danger during Santa Ana winds season. I remember standing on a freeway overpass down the street and watching the destructive 2005 wildfires rage nearby, awed by the orange glow.
Thousand Oaks often felt uncomfortably one with the wilderness; my high school brought in goats to eat overgrown shrubbery on campus, and once we went on lockdown because there was a bear nearby.
So it was easy to put the smoke to the back of my mind as I left the coffee shop and drove to the memorial, where it was impossible to think of anything else but the tragedy.
There, Joseph Kaesberg, 19, clutched a poster he had made, with pictures and memories of his friend Kristina Morisette. Morisette, 20, worked at Borderline and was killed in the shooting.
Kaesberg, whose eyes looked puffy from a day of terrible news, remembered her as a wonderful friend and an excellent cook. Their friend group hosted a potluck-style Thanksgiving every year, in which her dishes were always the standouts. His favorite were the homemade jalapeno poppers.
"We won't get to do that this year," said Kaesberg.
Later that night, I was at my family's house preparing to go to sleep when we got a voluntary evacuation order. A little skittish from reporting on other fast-moving fires, I urged my parents to get up and start packing. Ten minutes later, our phones rang with a mandatory evacuation alert.
From the driveway, flames were visible on the ridge line close by, and they were growing. Spots of fire crackled. The sky around them was orange and pink and red.
We began to worry about road closures, but figured we would could try alternate routes if it came to that. The streets here are forever mapped onto my brain, etched by the city where I learned to drive.
We drove to my apartment in Los Feliz, with our dog. It was a mostly sleepless night.
On Friday morning, we learned that our house was fine. I watched a TV segment in which an anchor said the flames had been headed straight to our neighborhood, but then the winds suddenly changed direction.
We were lucky. Many houses burned. The fire continues to swell and shift, and no one knows what will happen next.
Thousand Oaks Mayor Andrew Fox said Friday that nearly 75% of the city had been evacuated, a frightening situation that compounded the previous tragedy, yet illuminated a fundamental difference.
"The victims and families of the shooting, that was a permanent crisis — those lives will never be recovered," Fox said. "Tonight we're talking about a serious fire situation, but thankfully we've not lost a single life, and as difficult as it may be, homes can be rebuilt; property can be reacquired."
Friends posted on Facebook about how awful it was to see Borderline, a bar where someone from Thousand Oaks may have had their first kiss or their high school reunion, turn into a place visited by such darkness. Or to see hundreds of people lined up at a local high school to donate blood.
The Thousand Oaks teen center, where I played youth basketball and participated in debate competitions, was turned into a place where the fortunate parents would be reunited with their children.
But in less than 24 hours, the teen center had changed again — into an evacuation center for people fleeing the fires.
Jarring scenes for a place blessedly unaccustomed to them, until this week.
soumya.karlamangla@latimes.com
Twitter: @skarlamangla
---
UPDATES:
5:45 p.m.: This article was updated with comments from Thousand Oaks Mayor Andrew Fox.
This article was originally published at 5 p.m.
The stories shaping California
Get up to speed with our Essential California newsletter, sent six days a week.
You may occasionally receive promotional content from the Los Angeles Times.