Column: This L.A. dream team finds diversity is the ultimate strength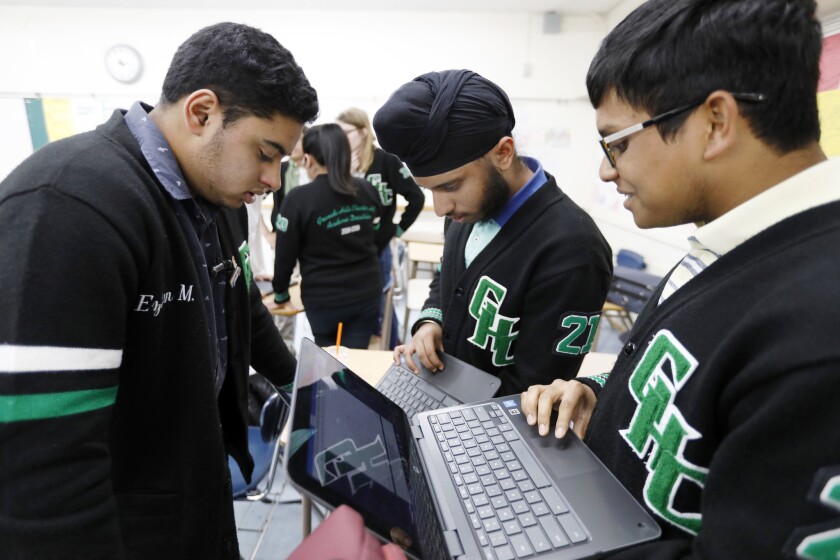 OK, what is it with these whiz kids from Granada Hills Charter High School?
They did it again, as you may have heard.
They won the regional academic decathlon competition, then swept the state, then snagged the national championship trophy April 27 in Minnesota.
That makes seven national titles for Granada Hills students.
In nine years.
Maybe the Dodgers, Lakers and Rams should visit the campus and pick their brains.
Nearby El Camino Real Charter High School has won eight national championships, but only two in the last nine years, while Granada Hills has shredded the competition.
When I dropped by GHC, most of the nine decathlon team members were wearing smiles and their signature green cardigan sweaters. Speech-making is part of the competition, so it wasn't surprising that they confidently stepped up and held forth, answering my questions with confidence and poise.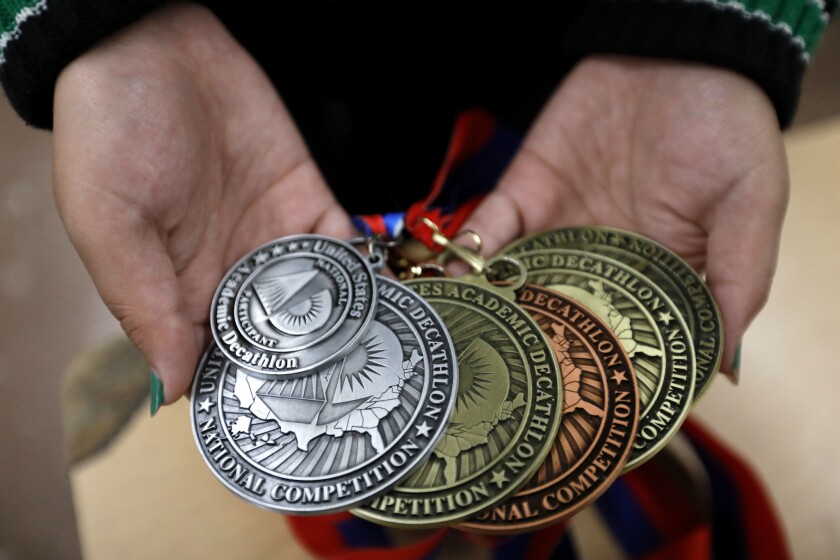 But they are not necessarily all brainiacs, and they have not all had an easy path to the podium. In fact, their individual stories are nowhere near as predictable as the school's annual march to the title round.
One team member flunked pre-algebra as a sophomore. Another lost count of how many Fs he got as a junior, but it was a fantastic flurry of failure. In the camaraderie of the team experience, one student found the confidence to reveal that he was gay, and his parents were present in Minnesota for his award-winning speech about coming out.
"We always talk about the assumption that everyone on the team is a super smart, straight-A student," said Alina Lee, a math teacher who coaches the team with assistants Linda Kang and Amy Contreras. "But it's a very diverse team, and we don't win because we pick the cream of the crop. We're successful because we look for students who have potential, but also the drive to push themselves."
Four or five dozen students are invited each year to give decathlon a try at Granada Hills, and tryouts run through the summer. The field is eventually thinned to nine competing members and three alternates. The team has to have an equal number of kids with A, B and C averages, who then compete against members of other teams with similar scholastic records.
"It's a very diverse team, and we don't win because we pick the cream of the crop."
Alina Lee, a math teacher
To prepare for competition, the students drill down on seven subjects in preparation for competition — art, music, social science, science, literature, math and economics.
"I was surprised, but not entirely enthusiastic, and I threw it out so my mom wouldn't see it," Benjamin LaFreniere said of the letter he got a year ago, offering him a chance to try out.
He had transferred to GHC in his junior year, but he had things on his mind other than school. His parents had split up, homework didn't seem nearly as interesting as hanging out or cruising around on his motorcycle, and he had flunked pre-calculus, history and English, he says. But his teachers knew he was no dummy. He just had stuff going on.
LaFreniere said his mother dug the tryout invitation out of the trash, showed his father, and they both nudged him to give it a try. He reluctantly gave in, and by summer's end, he was offered a spot.
"Being on the team made it easier for me to apply myself in class," LaFreniere said, and he was soon getting A's instead of Fs. He was paired on the decathlon team with Dilawar Khan, a three-year member of the squad who had the top individual score in the nation at the finals. He's headed to Brown in a few months, and he wants to be a neurosurgeon.
"Working with him helped me improve my work habits," said LaFreniere, who won the gold medal for overall performance in the C division at nationals and is now considering his college options.
Teacher Matt Arnold, who coached Granada Hills to six national titles, said that kind of personal development is the primary objective of Academic Decathlon.
"We don't see ourselves as selling winning," Arnold said. "It's growth, change and self-improvement, and students who historically benefit the most … are the ones experiencing some block to their success."
Tamara Cruz, a junior, said she flunked algebra and English her sophomore year.
"Coming out of middle school I had a lot of problems with my self-confidence, body image, how I looked and wanted to look, and it had a very negative effect on my grades," said Cruz, the daughter of Philippine immigrants.
Decathlon turned all of that around, she said. At the nationals, she grabbed individual gold medals in math, literature, science and art; silver medals in music and speech; and a bronze in economics.
Jared Matsubayashi, a senior, won a gold medal for his speech about revealing to friends and family that he is gay.
"Before coming out, I harbored so many fears," he said in that speech. "I feared my friends would treat me differently…. Instead of focusing on my studies, I spent my time trying to make myself seem more masculine. As a result, my grades plummeted."
Matsubayashi said his mother is from the Philippines and his father from Japan, and he couldn't bring himself to break the news to his parents face-to-face. So he wrote a letter to them recently, left it for them on the dining room table and retreated to his room to await their response.
"At first there were no words at all," he told me. "It was very emotional and they felt guilty about not providing me with the space where I could be honest with myself earlier, and I felt bad about them feeling guilty. But we're on really good terms now."
That moment with his parents took place after the regional and state decathlons, and Matsubayashi worked it into the speech he revised for the nationals. His parents and grandmother cheered, along with the rest of the crowd, when he delivered the updated speech in Minnesota.
For Kenny Ly, a senior on his way to UC San Diego to study bioinformatics, academic achievement is a family tradition. His brother is at MIT, his sister is an engineer at Microsoft, and they were both on national decathlon championship teams at GHC.
Ly badly wanted to make it a family trifecta, but not just to impress his siblings. His mother is from Vietnam and his father from Cambodia, and theirs is the classic story of foreigners who sacrificed to get to the United States and give their children a chance to succeed. In his speech at nationals, Ly spoke of his father, who lost his parents in the Khmer Rouge genocide.
"When I was in elementary school my parents always told us stories about when they were children, and one of them stuck out to me," Ly told me. "It was about my dad climbing a mango tree, and the reason he climbed that tree was to get something to eat. But in the end, he fainted from hunger, fell and dislocated both his wrists.
"As I got older and heard about all the hardships he had to go through, I started to appreciate all that he's done for me….He always has a smile on his face and love for other people, even though he's gone through so much himself. And I try to be him every day."
In addition to Ly, Matsubayashi, Cruz, LaFreniere and Khan, the Granada Hills team is composed of Connie Chen, Nicole Dersahakian, Lelija Kazlauskas, Ezhan Mirza and alternates Dwaipayan Chanda, Isabel Mercado and Jasdeep Sidhu.
Outside the school, on Zelzah Avenue, the street sign that marks GHC's titles in 2011, 2012, 2013, 2015, 2016 and 2017 will be updated soon.
And the coaches have just sent tryout invitations for next year's team.
@LATstevelopez
steve.lopez@latimes.com
Get more of Steve Lopez's work and follow him on Twitter @LATstevelopez
---
The stories shaping California
Get up to speed with our Essential California newsletter, sent six days a week.
You may occasionally receive promotional content from the Los Angeles Times.