Column: Cautionary tales for baby boomers without enough money for retirement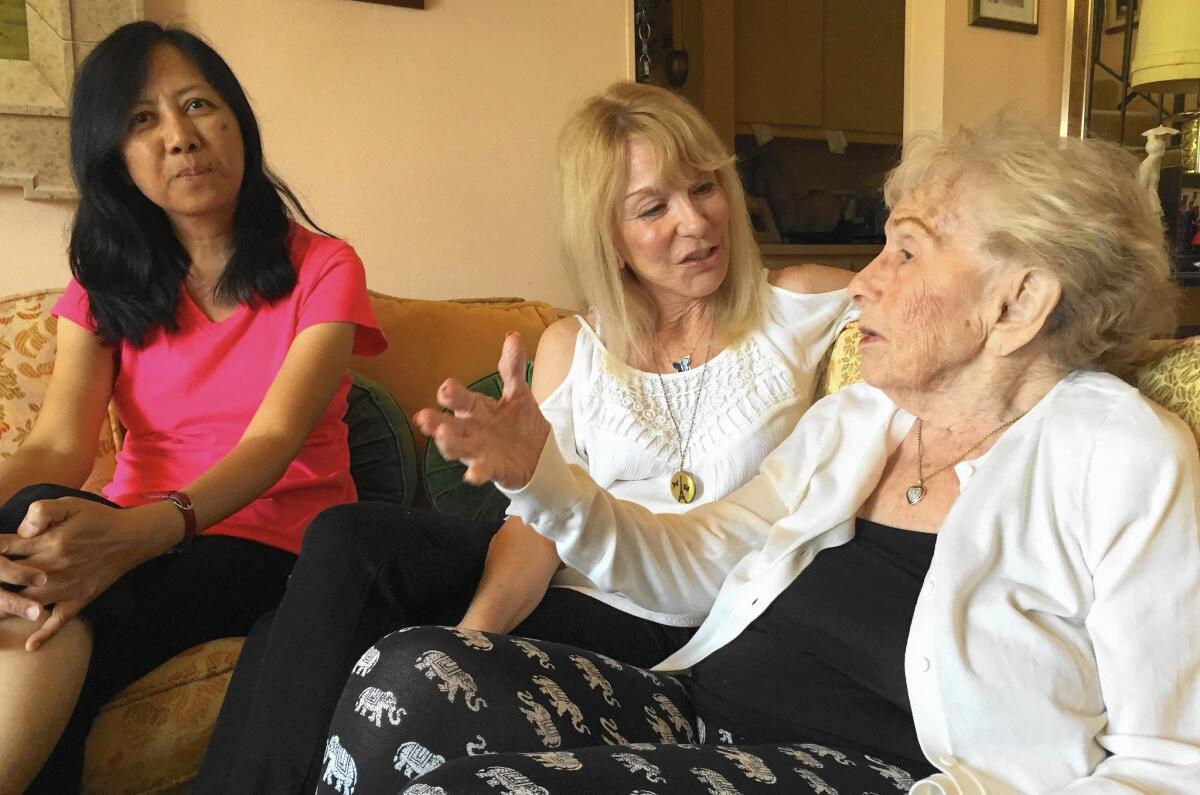 Ever since I briefly flatlined three years ago after surgery, and then rose from the dead thanks to CPR from a well-trained nurse, I've found it more difficult to live conservatively and plan for tomorrow.
Any of us could go at any minute, so why not live it up?
Well, maybe because most people won't die young, and countless studies have concluded that millions of baby boomers have not put away enough money to live comfortably in retirement.
Interested in the stories shaping California? Sign up for the free Essential California newsletter >>
We could well be headed for a national catastrophe, given the cost of elder healthcare, the death of pensions and the terrifying uncertainty of 401(k) accounts that rise and fall in crazy markets.
So go ahead and buy the convertible or take the Alaskan cruise if you can afford it, but put away a few dollars for later on, if you're able, or you'll live to regret it. This is the advice that Susan B. Geffen, an elder law attorney and gerontologist — and author of the book "Take This Nursing Home and Shove It" — has been giving her clients for years.
"I feel so bad when someone comes into my office and has run out of money," Geffen wrote in her recent newsletter to clients, in which she told the story of a woman in her 80s who wants to retire from a hotel receptionist job on the Westside but can't afford to.
I met with Geffen and the client, who broke down more than once as she told her story.
Her husband died young and she became a single working mother, bringing in just enough to get by. But in retirement, her Social Security income won't even cover the cost of her $1,600-a-month one-bedroom apartment, and her other basic living expenses will wipe out her savings in about four years.
"I'm thrashing about. I don't know what to do or how to decide," said the client, who wanted to tell her story as a warning to others, but asked me not to use her name.
Geffen said that if the client had come to her 10 years earlier, she would have advised her to find an $800 apartment and put away $800 a month for retirement. That's not easy for working-class people to do in this economy, with wages flat and costs rising.
For this woman, it would have meant a smaller home in a lesser neighborhood, but now she realizes the sacrifice would have been worth it because she'd be in far better shape today.
Geffen tried to find subsidized housing for the client, but the inventory has shrunk and the waiting lists have grown. So her client is thinking about either continuing to work into her mid-80s, or moving to the desert, where rentals are much cheaper.
As a matter of fact, Geffen said, I should talk to her cousin, who made that very move.
Laurel Rosenberg, who's closer to 70 than to 69, had been divorced for years, raised her children, and worked some good jobs and some not-so-good while trying to pursue an art career.
Two years ago, she was making $10 an hour at Bloomingdale's and had to sell her house in Tarzana, unable to handle the expenses. That gave her a bit of a nest egg, but she didn't want to crack it open on L.A.'s high rents, so she moved to Palm Springs.
"It's charming," she said of the one-bedroom, which costs her $1,150 a month, utilities and Wi-Fi included. But storage of the furnishings from her home costs her another $300 a month, and her Social Security check is just $1,082 monthly.
So even in the desert she's in the hole, looking for work and tapping into her savings while trying to launch two businesses — laurelrosenberg.com, where she sells her artistic creations, and www.sizzlingseniors.com, an entertainment and meeting site for seniors.
A few days ago, she got into her beat-up car to drive from the desert to Los Angeles and check on her ailing mother, but the battery was dead.
That's how it goes some days. And Rosenberg just got hit with a $3,000 root canal bill.
"I did not plan for my life to be this way. I wish I had done a few things differently," she said, mentioning college as an experience she wishes she'd had — along with the financial security a degree might have brought.
"And yet given the circumstances I have today, I continue to be filled with hope for tomorrow."
I met Rosenberg at the Westwood home of her mother, Millie Brooks, 90, who told me to call her "Thoroughly Modern Millie." She still dates, with an 80-year-old boyfriend coming around lately, and for my entertainment pleasure, she sang the Barry Manilow hit "I Write the Songs."
For all her spunk, Brooks has her own issues, including the fact that she sleeps in a hospital bed set up in her dining room. She lives in the condo she shared with her late husband, but has to pay taxes and utilities without building any equity. It's owned by her husband's family and some strict rules apply, as Brooks tells it.
She's not allowed a tenant, so her daughter can't move in, and she's slowly depleting her savings to pay for a caretaker and medical costs that don't quit.
At her age, she'll probably outlive her resources unless she ends up in a nursing home that siphons her bank account dry.
Still, she panics a bit, because some recent dental work, along with a new hearing aid, clipped her for about $5,000, and she supports a son in assisted living for a mental illness.
Brooks' caretaker, Hermie Nunag, listened intently to Brooks' and Rosenberg's stories, and I wondered about her own.
She was reluctant to speak at first, but then loosened up.
"I had nothing," she said, telling me she grew up in a single room in the Philippines with her family of four, and determined at an early age to get a good education. She worked while going to college, studied business and found work as a tutor in France before moving to the U.S.
Nunag, 51, shares a Mid-City apartment with two roommates, paying $600 a month. She gets around town by bus. Living so modestly has allowed her to send money to her family in the Philippines and to invest in property there for an eventual return.
She has a goal for her future and a plan to get there. Maybe there's a lesson in that for us as our nation grows older, time and money dwindle, and we try to find the right balance between living for today and preparing for tomorrow.
Hoy: Léa esta historia en español
Interested in the stories shaping California? Sign up for the free Essential California newsletter >>
ALSO IN THE NEWS
Dramatic rise in crime casts a shadow on downtown L.A.'s gentrification
Korean business owners may be ready to leave L.A. for Texas
Steve Lopez: The busboy who cradled a dying RFK has finally stepped out of the past
Sign up for Essential California for news, features and recommendations from the L.A. Times and beyond in your inbox six days a week.
You may occasionally receive promotional content from the Los Angeles Times.