Column: How the teachers' strike is playing out at the school with the most homeless students in the district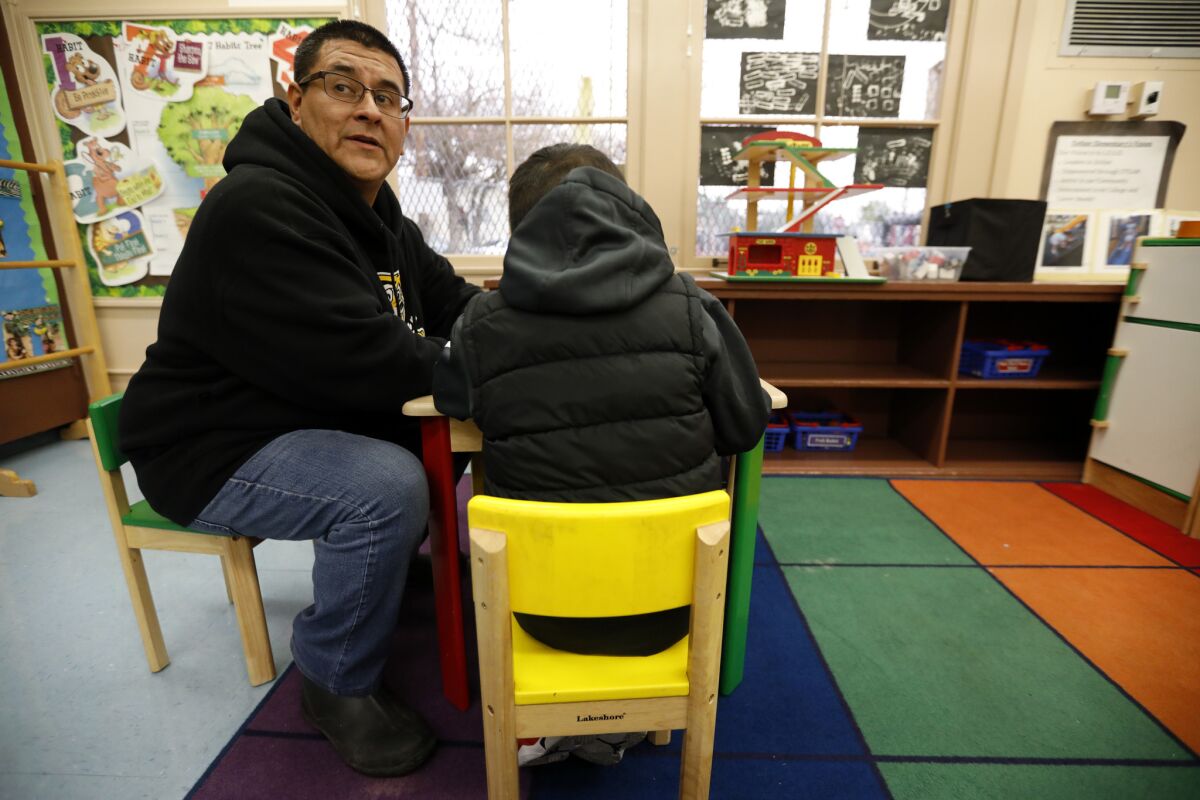 Telfair Elementary School Principal Jose Razo returned to his roots Tuesday, filling in as a pre-K teacher while the L.A. Unified strike continued.
His text for the day: "How I Became a Pirate."
But first he asked his students whether anyone knew what a pirate does.
"A pirate lives on the ocean and sometimes steals things," said a future valedictorian.
Razo complimented the boy and began reading, then noted that the pirates seemed to have some dental problems, including one scurvy sea dog with missing teeth.
"He looks like a first-grader," Razo said.
Teaching again after years as a principal was fun, Razo, said, but he's looking forward to the day when things return to normal. For him, the strike is a family affair, since his wife, Cristina, is a teacher at nearby O'Melveny Elementary.
"I'm supporting my wife," Razo said. "She's on the picket line and going wherever this takes her, and we planned ahead. We were hoping for the best but expecting the worst, so we did our savings and took out a home equity line of credit to be on the safe side, because we don't know how long this will last."
I went to Telfair in Pacoima to see how the strike is affecting the school because I spent weeks there last year, reporting on how high rates of homelessness and poverty affect families and make teachers' jobs more difficult. It doesn't help that there's no full-time nurse or psychiatric social worker at Telfair, or that the library is usually closed.
Razo has been an LAUSD teacher, a union rep and principal of two schools. He once taught at a school that converted to a charter while he was there. So his take on things is nuanced, even as the Telfair teachers, who went out Monday, remained resolute on Day Two of the strike.
They want a better deal, for them and their students, and several told me they're not coming back until they get one. The issues are pay, class size, support staff and opposition to the push for more charter schools, which the teachers union sees as a financial drain and an assault on traditional schools.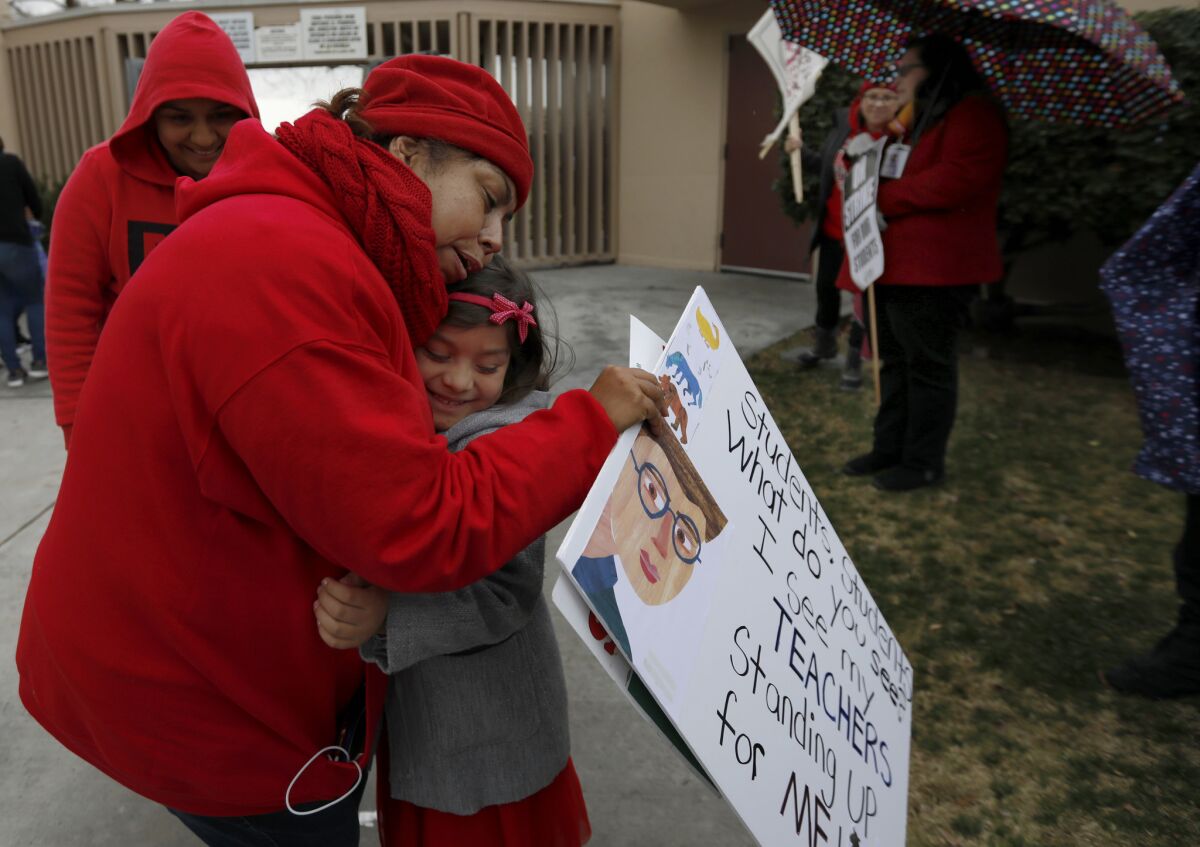 "Class size and support staff are more important than pay," said fifth-grade teacher Sandra Tejeda, a teacher for 29 years, as she picketed outside Telfair on a cold, blustery day.
Tejeda and four other Telfair teachers — all of whom attended the school as kids — were on the picket line. One of them, kindergarten teacher Gricelda Gutierrez, said the way she looks at it, wealthy district Supt. Austin Beutner and the pro-charter school board majority, sponsored by local philanthropists, are out to destroy public schools.
On Monday, 305 of Telfair's 704 students went to school. On Tuesday, Razo said the count was up to 359. Beutner announced at a news conference that the school had one of the highest attendance counts in the district.
Students were divided into several groups led by administrators who taught math, language arts, computer science and art. There was also P.E. and an animated movie, along with breakfast and lunch.
It's a shame that Telfair's students missed regular instruction, but Razo — a devout Catholic who served in the Marine Corps, lived in a garage for a while as a child, and understands the challenges of poverty — was not inclined to choose sides. Though he's on the management side, he said he and the teachers shared an interest in the children's welfare.
Razo said he's not a negotiator and doesn't know the math involved, but he repeated what he'd told me more than once last fall — that we spend more in California per inmate than we do per pupil. He knows as a principal that schools and the district "have to live within our means," but some schools have 45 students in a class, he said.
"We have to do something about that," he said, and he hopes reasonable compromise will bring an end to the strike.
Razo was a teacher and union rep at Pacoima Elementary School 20 years ago when it went from a traditional school to a public charter managed by teachers and administrators. He opposed the change initially, but he said teachers wanted smaller class sizes and felt their school was neglected by the district, its requests for more resources ignored.
Some things were better after the conversion, some not as good, Razo said. Now, his traditional school is surrounded by four charters, and Razo said he and his staff have tried their best to make Telfair the best possible option for parents, but the charters have taken some of his students, and his annual budget process is a painful form of triage.
Whatever money the district has or doesn't have, Razo says, he thinks the long-term answer has to be delivered from the north: Sacramento should do more for children in a state that used to be a national leader in spending per pupil. And he wonders why such a wealthy region can't find more ways to support schools.
"We have so many entertainment companies and professional sports teams," Razo said. "I went to a Rams-Packers game and the ticket was $350. What if just 10 cents from every sports ticket sold went to public education?"
Razo said his wife had "a cute idea" for ending the contract dispute: Lock union and district reps together in a room, like they do at the Vatican when they pick a new pope.
"No one should be allowed out until we see the white smoke," he said.
At the end of the school day, picketing teachers lined the exits at Telfair and parents picked up their children. One mother, Esmeralda Carrido, told me she was on the teachers' side, saying the workload in big classes is too heavy and the pay too light.
Carrido had come to pick up her 5-year-old daughter, Alice. But Alice had something she needed to do first. She found her striking kindergarten teacher, Rita Ontiveros, a former Telfair student, on the picket line and handed her a sign she'd made at home.
It said:
"Students, students, what do you see? I see my teachers standing up for ME!"
Get more of Steve Lopez's work and follow him on Twitter @LATstevelopez
---
The stories shaping California
Get up to speed with our Essential California newsletter, sent six days a week.
You may occasionally receive promotional content from the Los Angeles Times.