Column: A Westside apartment with all the amenities for less than $500 — but you had to win the lottery
Resident Terry Conner, 73, sits on his bed, putting on his shoes in his apartment at The Woods at Playa.
(Francine Orr / Los Angeles Times)
Residents play bingo at The Woods at Playa Vista.
(Francine Orr / Los Angeles Times)
Resident Pauline Benson wins at bingo at The Woods at Playa Vista.
(Francine Orr / Los Angeles Times)
The courtyard at The Woods at Playa Vista.
(Francine Orr / Los Angeles Times)
Margaret Miles, left, and Roseland Lewis hug in the parking lot at The Woods at Playa Vista.
(Francine Orr / Los Angeles Times)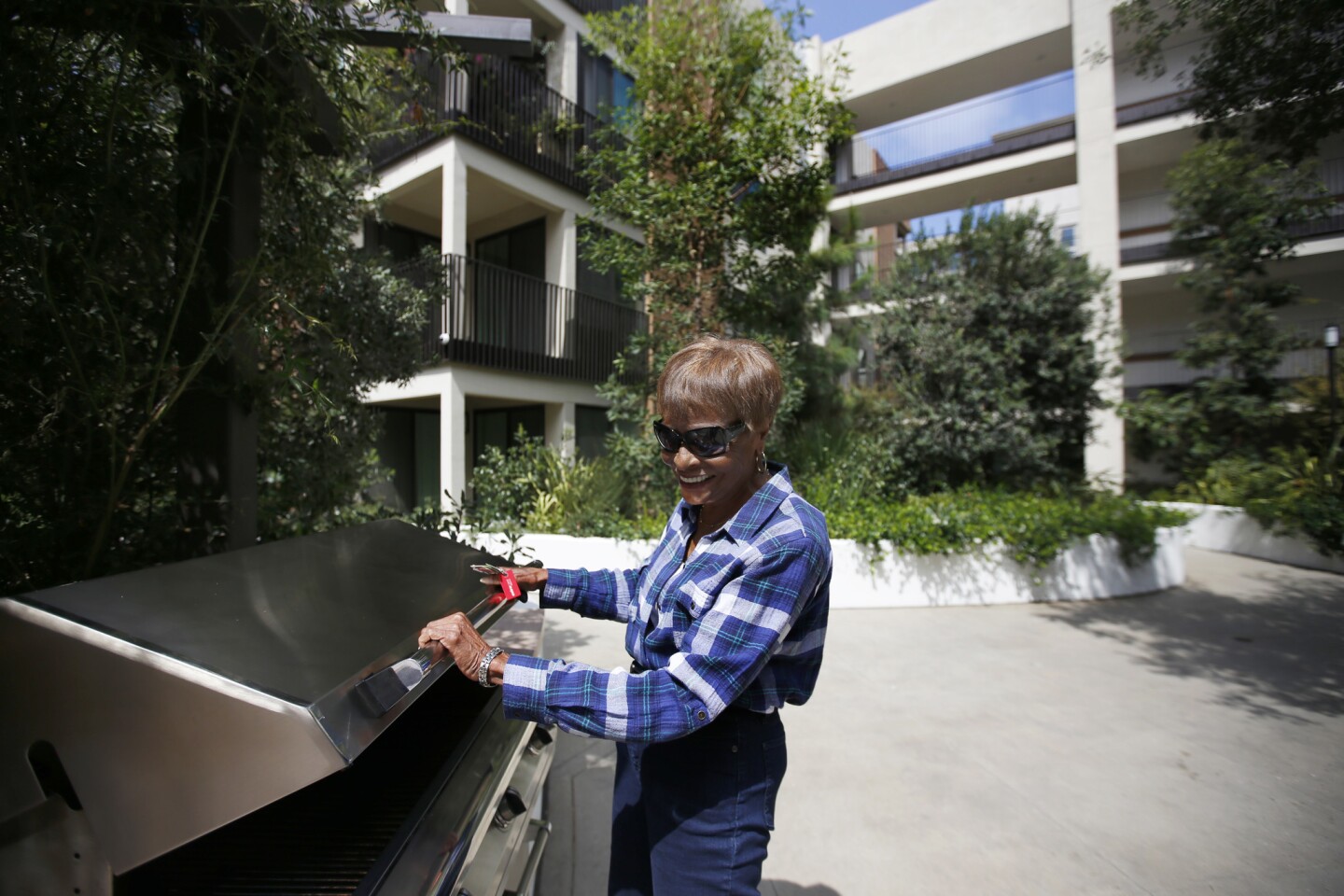 On a tour around the property, Margaret Miles shows off the outdoor lounge common area at The Woods at Playa Vista.
(Francine Orr / Los Angeles Times)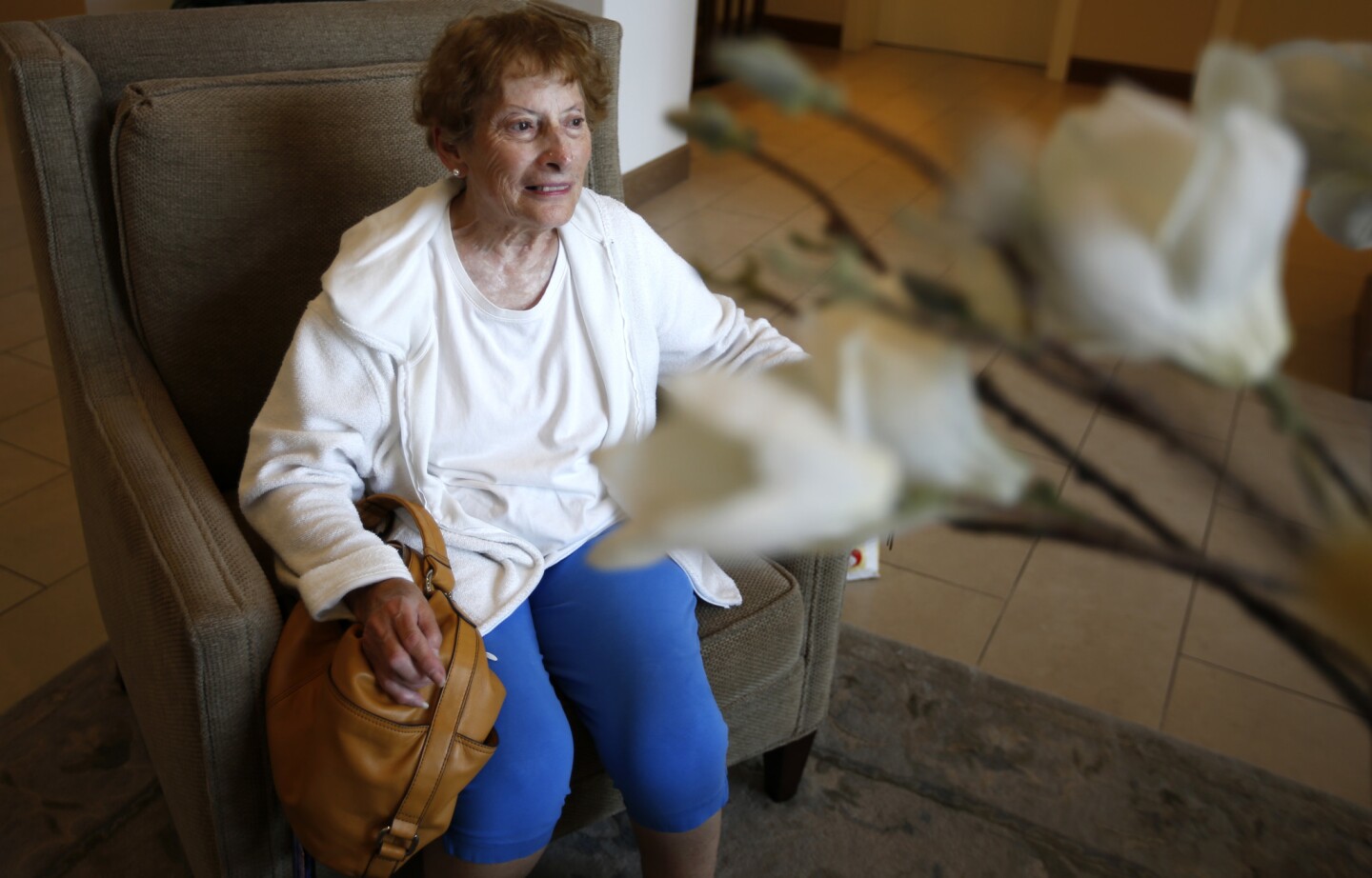 Resident Janice Fabian, 79, sits in the lobby at The Woods at Playa Vista.
(Francine Orr / Los Angeles Times)
Resident Terry Conner, 73, cooks dinner for friends in his kitchen at The Woods at Playa Vista.
(Francine Orr / Los Angeles Times)
Resident Janice Fabian walks down the hallway to her unit at The Woods at Playa Vista.
(Francine Orr / Los Angeles Times)
Looks can be deceiving in Playa Vista.
Take a gander at the four-story, 83-unit apartment building on Fielding Circle, and you'd assume the rental rates are in the $2,500 to $5,000-plus range, as they are in the rest of the trendy coastal village that sits in the heart of "Silicon Beach."
But residents of The Woods pay far less for their nicely appointed one- and two-bedroom units. The prices run from the low $400s to about $1,100 a month. And the amenities include a gym, free parking, a spacious community room with kitchen and library, beautifully landscaped gardens, a hot tub and easy walking access to nearby stores and restaurants.
"It's like being in a five-star hotel without the room service," said Darrow Igus, one of the residents.
So can you get in on the deal?
Forget it. You had to win a lottery — literally — to make the cut when the building opened in January of 2016. The Woods is an affordable housing project for low-income people 62 and older. You're out of contention if you make more than $34,860 a year.
Terry Conner, 73, talks about his housing at The Woods in Playa Vista, CA.
About 1,800 people applied originally, desperate to escape high rents, cramped quarters and homelessness in a region with rocketing real estate prices and slumping income. In addition to the 82 winners, more than 200 people remain on a waiting list, should any vacancies come up. But good luck with that.
Last week, when the Powerball lottery jackpot nosed above $700 million, Woods resident Janice Fabian told me she wouldn't dare buy a ticket.
Why not? I asked.
Because if she won, she said, "I'd have to leave here."
California has no more vexing problem than its catastrophic shortage of affordable apartments and homes. The state's powerhouse economy is a world leader, but for the middle class and others, the gold rush is a mirage. The poverty rate is 20%. One-third of renters plow half their income into housing. Unless you've got specialized training in tech or healthcare or some such, you're apt to be on the margins.
It's not as if there are no answers when it comes to building more affordable housing. But every pitch — zoning that requires developers to include affordable units in their projects, taxes on developments, rent control, bond measures, federal funding, streamlining building restrictions and rolling back environmental hurdles — has pluses and minuses, ardent supporters and well-connected foes.
Multiple housing bills are in play in Sacramento, but even if they were to pass, supply would be no match for demand. The city and county of Los Angeles have their own initiatives under way and voter-approved money to spend, but already there's a NIMBY snag in Boyle Heights, with spineless local politicians caving to those who oppose a perfectly sensible development.
Given such politics and bureaucracy, how did The Woods come to be?
When the huge and controversial Playa Vista development was in the planning stages, Los Angeles city officials negotiated a deal that included apartments and condos for people of moderate and low income. About 15% of all apartments were covered by that agreement, and more than 10% of sale units. Marc Huffman, an executive with developer Brookfield Residential, said that in Phase Two of the Playa project, his company donated land valued at nearly $10 million for low-income housing.
That land would become The Woods, and the developer was veteran affordable housing guru Tom Safran, whose company has more than 50 such projects in Southern California.
"This feeds my soul," Safran said as we toured The Woods, where he challenged his staff to make the building and amenities look at least as nice as the surrounding market-rate apartments. Natural light is accented in a warm, open design, with conversation corners built into the layout and original art on every floor. Safran called himself "a child of the '60s" who worked for Housing and Urban Development early in his career, toured every housing project in Los Angeles, and vowed to one day built nicer accommodations for the working and retired poor.
Each project uses a different set of tools, said Safran. Earlier this year I wrote about his Wilshire Towers project in Koreatown, where federal Section 8 funding was key to the refurbishing of 283 low-rent units for seniors, and where one of the residents told me he had slept on the floor of his furniture store until he lucked out and got a place in the Towers.
At the Woods, said Safran, what made the deal work was the donated land and the availability of tax credits for the financiers of the project. What that means is that banks and other investors got a federal tax break for investing in affordable housing. In other words, taxpayers pay for such projects in the sense that tax revenue flowing into the treasury is reduced, and the program has drawn occasional questions about its effectiveness and a few cases of abuse. In 2011, the city of Glendale sued an affordable housing developer for inflating construction costs and other fraudulent activity, a case that ended in a $3.5-million payment to the city.
But in California, the tax credit is a staple of affordable housing projects, and there's fear that President Trump's proposed corporate tax cut would kill banks' interest in using the program as a way to reduce tax debt.
What the state and the country need is not just an infrastructure project, which Trump promised but hasn't delivered, but an ambitious, national affordable housing master plan, too, because every state has housing problems. The two things together — with federal investment and private enterprise — could create millions of jobs and prop up the middle class. I'm not holding my breath, because this can't happen without courage, compassion and compromise, and we're talking about Washington. But take a stiff drink or two and imagine the possibilities.
"It's the service people doing all the work, so why aren't we helping the teachers and the nurses and the people in the food industry?" asked Sylvia Mendoza, who wishes her good fortune in getting an apartment at The Woods was not the exception, but the norm.
Mendoza was a chef whose catering and food service business collapsed, and she ended up living in her car and a storage locker after a breakdown, suicide attempts and hospitalization. When she recovered, she went to Arizona and Nevada because of the lower housing costs, but couldn't find work. Back in Los Angeles, she was living in a women's shelter when she found out she'd gotten a place at The Woods.
Margaret Miles, a retired postal worker, said she was paying $780 for an apartment in a neighborhood with so much crime, she was afraid to let her grandchildren play outside. One day a postcard arrived, informing her she'd gotten into The Woods.
"I danced a jig," she said.
Terry Conner worked in government and politics for decades but was temporarily without insurance when cancer ravaged him and drained his savings. One day at a senior center in Culver City, he saw a notice about the opening of The Woods.
"It was so innocuous, a couple of lines," said Conner, who applied and got lucky. "That piece of paper changed my life."
Roseland Lewis, a retired nurse and dental surgical assistant, said she lost most of her retirement savings and was forced to sell her home in the Moreno Valley in the middle of the housing crash, when she moved to Los Angeles to look after her ailing parents.
"I'd worked all my life," Lewis said. And yet in a $1,275 apartment in Culver City, she was "one step from living on the street with a sign." Then she got into The Woods.
Lewis said that on special occasions, going back years, she and her family would go to Marina del Rey or somewhere near the water to celebrate.
"I remember my son saying, 'Maybe one day we could live here.'"
Get more of Steve Lopez's work and follow him on Twitter @LATstevelopez.
ALSO
A bargain barber tries to survive in an Echo Park that keeps rapidly changing
After her life in L.A. unraveled, a woman living in her car hopes to regain health and employment
If we want a real river in L.A., we should start by cleaning up the water
---
For reporting and exclusive analysis from bureau chief John Myers, get our California Politics newsletter.
You may occasionally receive promotional content from the Los Angeles Times.