Record-breaking heat puts brakes on some marathon runners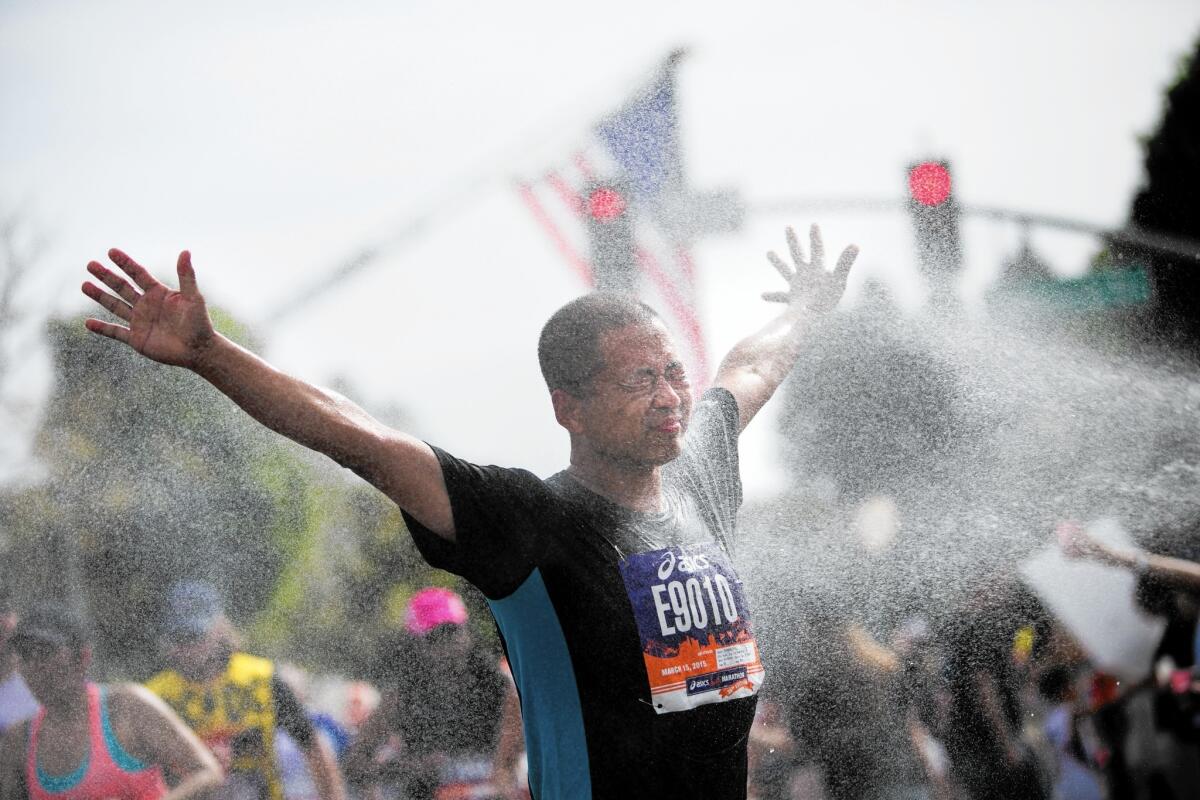 For panting runners and walkers nearing the 20-mile marker of the Los Angeles Marathon, the cool mist of a fire hose felt like a blessing.
"Thanks, you guys!" one man shouted as he strode through the spray. "Yes! Oh, God, yes!"
More than 22,000 people raced from Dodger Stadium to Santa Monica on Sunday — the third day of a record-breaking heat wave.
Temperatures were 20 degrees higher than average across the region, with heat records for the day set in downtown Los Angeles and at LAX, according to the National Weather Service. By noon, thermometers at the beach near the finish line had hit 90 degrees.
"We had a dome of crushing high pressure over Southern California, specifically right over the marathon," said Bill Patzert, a meteorologist with Jet Propulsion Laboratory. "We saw daily records tumble."
To beat the heat, runners stuffed ice cubes under their hats and down their shirts and shorts. Some took breaks and boarded air-conditioned buses that sat idling along the course.
While marathon organizers arranged special "cooling stations" and moved up the start time of the race by half an hour, many participants took their own precautions.
Chris Acosta, a middle school teacher who ran with several of his students, urged his young runners not to push it. "Take it easy and make sure you finish safely," he told them. "At water stations, take two cups of water," he instructed. "Drink one, and pour the other on your head to cool yourself down."
For some, the 26.2-mile course was too much.
Emergency officials said at least 185 people were treated by medical personnel along the route, with at least 36 transported to hospitals. One man suffered a heart attack near mile-marker 22, Los Angeles Fire Department spokesman Brian Humphrey said. The runner was revived by paramedics on the scene and was taken to a hospital, where his condition was not known, Humphrey said.
At 10 medical tents set up along the course, runners staggered in, unplugged their headphones and fell limp into folding chairs or flat onto the grass. They were tended to by volunteers in red shirts who sprayed pain reliever on throbbing legs and wrapped bandages around aching joints.
Near one tent, runner Kobie Gordon leaned against a post to stretch his legs. His neon green socks were packed with ice.
"I started cramping on mile 16," said Gordon, a dental school student. "I think it might have been the heat. I got dehydrated a little faster. I should have slowed down."
At another tent, runners Sandy Triana and Judy Campos grabbed fistfuls of ice as they took a quick breather.
"We're taking it very slow," Triana said.
"Too slow," Campos added.
But they said a more leisurely pace than usual was necessary.
"I don't care if I don't beat last year's time," Triana said. "I don't want to get injured."
Several of the most seasoned runners in the race said they were thrown off by the heat.
Brian Shelton, 36, who traveled from Tennessee to compete in the elite men's group, said he decided to drink twice as much fluid as usual before the start of the race because he was worried about dehydration.
A few miles in, he was struck with a crippling side stich. He tried to push through the pain, but at mile 16, he decided to quit.
"When it became pretty clear that the race was going to be ugly, it made more sense to cut my losses," Shelton said. A poor finish in Sunday's event wasn't worth the stress on his body, he said as he lay in the grass with two other elite runners who also dropped out.
The thousands of volunteers and spectators who lined the course to cheer and distribute snacks and water were not immune to the high temperatures.
On San Vicente Boulevard, members of the West Hollywood Cheerleaders, a drag group that raises awareness about AIDS, waved their pompoms at the runners.
"It's hot today!" a woman said to the cheerleaders, who wore wigs, short skirts and sparkling makeup.
"We're hot today!" one of them sassed back.
Not far away, Karen Zambroni stood on the sidelines with a sign that said, "You make sweat look good."
She said she was there to cheer on her husband.
Their plan after he completed the race? Head to the beach and then take "a really long nap."
The unseasonably hot weather — which is expected to start cooling down Monday — brought summertime-sized crowds to the region's beaches over the weekend. In Los Angeles County, they were as packed as a typical Fourth of July weekend, lifeguards said.
At Santa Monica State Beach, not far from the marathon's finish line, many beachgoers sought shade under umbrellas.
Jaime Fisher and his wife, Erica, went a step further, erecting a massive mesh tent to protect them from the blazing sun. They sat under it as their 4-year-old twins juggled Popsicles while trying to build castles in the sand.
"With this," Fisher said, pointing at the tent, "it's actually perfect."
Sign up for Essential California for news, features and recommendations from the L.A. Times and beyond in your inbox six days a week.
You may occasionally receive promotional content from the Los Angeles Times.