Donald Trump has some Latinos so unnerved, they're turning to the supernatural for help
They come to Madam Maria with their worst troubles: abusive husbands, cheating wives, alcoholic sons.
She sits shrouded in sage smoke in the backroom of her Santa Fe Springs botanica and delivers her advice between swigs of Limon Pepino Gatorade.
In 30 years, Maria Murillo Beltran, the astrologer known as La Galla (the rooster) thought she'd heard it all.
But recently, people have begun to pop into her purple-and-gold lobby with a new problem they pronounce: El Tromp. As in El Donald J. Trump.
The Republican presidential nominee has so unnerved some Latinos, they are turning to the supernatural world for help, consulting fortune tellers, witch doctors and shamans.
In a culture steeped in folklore and superstition, church or therapy won't always do.
Some have spent up to $30 to cleanse themselves of Trump's energy, using herbs, oils, perhaps an egg. Others have paid to tap into the mogul's spirit, hoping to stage a metaphysical intervention.
Unable to wait for November, they ask tarot cards, seashells, coffee dregs, cigar smoke: Is it possible that Trump will win?
The big-shot prognosticators on Spanish-language television have brushed away such anxieties.
El señor Trump has "little future" politically, proclaimed Walter Mercado, a popular Puerto Rican astrologer known for his bedazzled capes and puffy hair, not so different from the Republican candidate's.
Antonio Vasquez, or El Brujo Mayor, Mexico's self-proclaimed Grand Warlock, also said in his annual predictions that Trump would not make it to the White House.
Even so, Madam Maria now says nearly 30% of her clients ask about Trump during their sessions.
"Everyone thought he was a joke, a bad telenovela," Murillo Beltran said, as she turned up the air conditioning in her sacred area. "But now they know it's real and they come to me with a lot of fear, a lot of paranoia."
The curandera's clients began to bring up Trump soon after the candidate thrust Mexico into the spotlight, saying the country sends the U.S. mostly rapists, drugs and crime.
A few, to her surprise, are rooting for him. The rest, she said, would like to know: If he's president, what's he going to do to us?
The candidate's talk of building a wall, ceasing remittances and deporting those in United States illegally could spell doom for some families. Recent polls show only 1 in 5 Latinos favor him.
His campaign has driven a record number of Latinos to register to vote. Here and in Mexico, they've smashed thousands of Donald Trump piñatas.
But whacking a Trump lookalike may not be enough to zap the angst.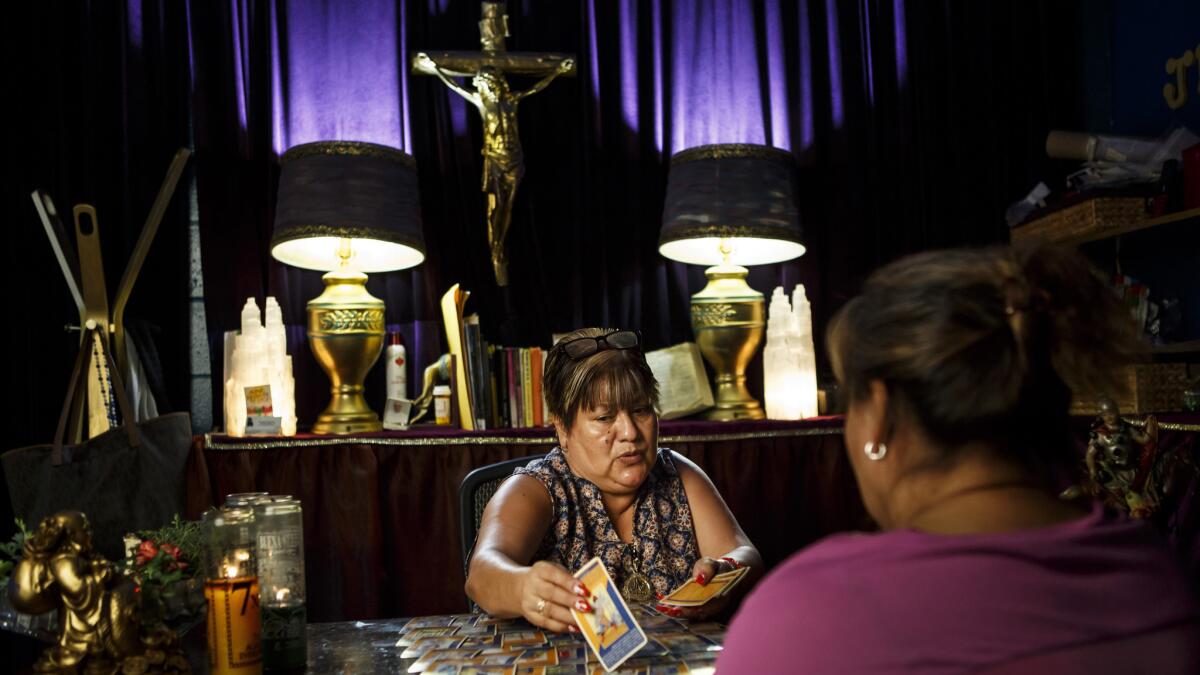 The week Trump flew to Mexico to meet with President Enrique Peña Nieto, the queasiness in Juan Hernandez's stomach proved too much.
On his way home from work, he stopped by Botanica Jukila in East Los Angeles to consult with curandero Lazaro Paz.
Since Hernandez, 30, left his native Guanajuato 10 years ago, he's built a nice life in Pico Rivera. He works at a recycling plant. He married an American citizen and has two kids, ages 2 and 5. The couple recently filed an application to make him legal.
Hernandez worries that if Trump takes over, his paperwork will never be approved.
"I have a feeling our world will come tumbling down," he said.
The curandero he stopped to see is 37, young by brujo standards. But he came highly recommended. He's from Hernandez's home state, and word is his mother was also a sorcerer.
His shop is located next to a used car dealership. His menu: the mix of magic and religion that's attracted customers to botanicas for decades. He does card readings, healings, spells, curse breaks and love ties.
"He has a gift," Hernandez said. "He sees things."
That night, Paz told him, he saw a woman in charge.
It was enough to ease Hernandez's anxiety, at least until the next poll.
Across Los Angeles, botanicas are a common sight, blending in with bakeries, laundromats and hair salons.
Within a 3-mile radius in Huntington Park, nearly 20 vie for customers. Proprietors appoint themselves folk healers, spiritual guides, masters, professors.
They peddle the old and the new: rituals and herbs that have been used for centuries, "Come to Me" candles, "Against Evil" soaps, "Dominate Everything" aerosol sprays.
Some curanderos say they have not heard from customers about Trump. Others cut off any mention of politics.
"We have more important things to deal with," said a slightly irritated Silvia Calderon, owner of Botanica San Judas Tadeo in Boyle Heights.
Half a block from MacArthur Park, Mateo Chavarria didn't wait for customers to bring up the presidential election.
Months ago, the owner of Botanica De Los Angeles performed a ceremony in the back of his house. Chavarria said that using oils, candles, fruit and red mole as an offering, he tapped into the spirits of Trump and Democratic candidate Hillary Clinton and, in a transcendental way, had them face off.
"I saw Donald Trump's energy very clearly," he said. "It's not strong enough to influence enough minds."
He shares this with anyone who walks into his botanica — at no extra cost.
The recently sworn-in citizen also encourages everyone to vote.
A few miles away at a botanica in Echo Park, three doors down from an American Apparel store, a Salvadoran with a long goatee dyed white offers readings in which he puffs on a cigar and interprets the smoke and ashes.
Yosmar, who goes by one name only, says women love the white hair — and also that people come into his shop and mention the looming election every week.
"We'll be in the middle of a cigar-smoke consultation and they'll ask about their health, their job, their wife, " he said, demonstrating with a cigar in his mouth. "Then just as I'm about to blow, they'll throw in the Trump question."
He said he has all sorts of clients, some poor, some well-off, some celebrities. A lot of them like Trump. The rich ones trust the candidate with their money, he said.
Those without much money like that Trump is spontaneous. Maybe, they say, despite his hard talk now, he'll suddenly decide to do something big to help Latinos.
He said a few have asked him to use his magic to give Trump an edge.
"I wouldn't help," Yosmar said he tells them. "No matter how much you pay me."
His powers, he said, aren't meant for such things as swaying soccer games or elections.
Yosmar prides himself on seeing things crystal clear, but he's baffled by the Latino Trump love.
Maybe, he said, it's like the saying goes:
"Sometimes it's easier to get a glass of water from a crazy person than it is from a politician."
esmeralda.bermudez@latimes.com
To read the story in Spanish, click here
ALSO
For Clinton and Trump, first debate could be a last chance to change voters' minds
What their past performances tell us about the first presidential debate between Clinton and Trump
Scope of Trump's falsehoods unprecedented for a modern presidential candidate
Sign up for Essential California for news, features and recommendations from the L.A. Times and beyond in your inbox six days a week.
You may occasionally receive promotional content from the Los Angeles Times.