Looting in Northern California burn areas continues, police say, with 2 more arrested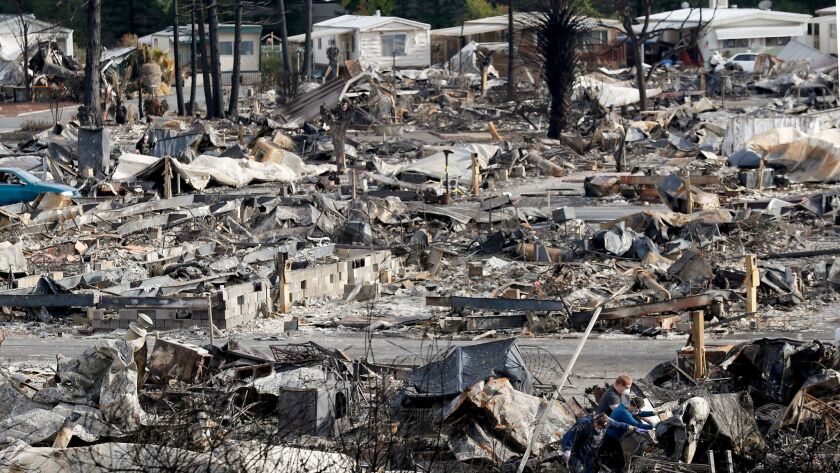 Incidences of looting are continuing in the aftermath of the deadly fires that swept through Northern California earlier this month. On Saturday night, Santa Rosa police arrested two suspects after a high-speed chase through city streets along the southern edge of destruction where the Tubbs fire had burned.
Sean Kranyak, 29, and Cristina Marsh, 22, were arrested on suspicion of seven felonies, including looting, conspiracy and vehicle theft, according to the San Francisco Chroncle. Kranyak is from Monterey and Marsh from Marina. Neither has ties to Sonoma County.
In the early days of the fire, Santa Rosa police responded to more than 60 calls from residents reporting people driving around neighborhoods and acting suspiciously. At least a half dozen people were arrested for suspected looting. According to authorities, one man was found carrying jewelry and cellphones near one of the burned neighborhoods. Another backed his truck up to a group home and lifted washers and dryers among other items.
The city of Santa Rosa imposed a curfew in the mandatory evacuation zones because so many houses were empty.
According to officials, Kranyak and Marsh entered a large apartment complex that had been partially destroyed by the fire. A resident of The Overlook at Fountaingrove watched as they carried a flat-screen television monitor out of a building and loaded it into the back of a Ford pickup truck, the Chronicle said.
The resident notified Santa Rosa police, who found the truck amid the congestion of vehicles at a National Guard roadblock less than a mile away. The driver veered out of the line of waiting cars, accelerated over the center median's curb and headed south toward downtown Santa Rosa.
According to Santa Rosa police Sgt. Mike Clark, officers backed off as the suspects hit speeds up to 70 mph on a street marked for 40 mph. "Due to the suspects' wanton disregard for the public's safety," the police kept at a distance and lost track of the truck in a subdivision west of Highway 101.
After another tip from residents, officers found the pickup, ditched on private property. Kranyak and Marsh were caught scrambling over fences near the Santa Rosa Creek. Clark said that more stolen property was found on the pair.
Kranyak and Marsh were jailed in Sonoma County on $500,000 bail.
Twitter: @tcurwen
---
The stories shaping California
Get up to speed with our Essential California newsletter, sent six days a week.
You may occasionally receive promotional content from the Los Angeles Times.