Neighbors help each other piece their lives back together after the Thomas fire
Leona Mote, left, high-fives Trevor Quirk as a team of volunteers helps sift through the rubble of her home near Ojai that burnt to the ground in the Thomas fire. Among the items recovered were her husband's wedding band, jewelry and part of a coin collection.
(Mel Melcon / Los Angeles Times)
Amanda Rogers, left, and her daughter Naomi help sift through the rubble with other volunteers at a burned home in Ojai.
(Mel Melcon / Los Angeles Times)
Trevor Quirk, the co-founder of the Upper Ojai Relief Center, cuts away a section of a partially fallen, burned oak tree.
(Mel Melcon / Los Angeles Times)
Daniel Vasquez, second from left, receives a hug from Mary Bryan after learning that an Airstream trailer became available for him to live in. His trailer was destoryed in the Thomas fire.
(Mel Melcon / Los Angeles Times)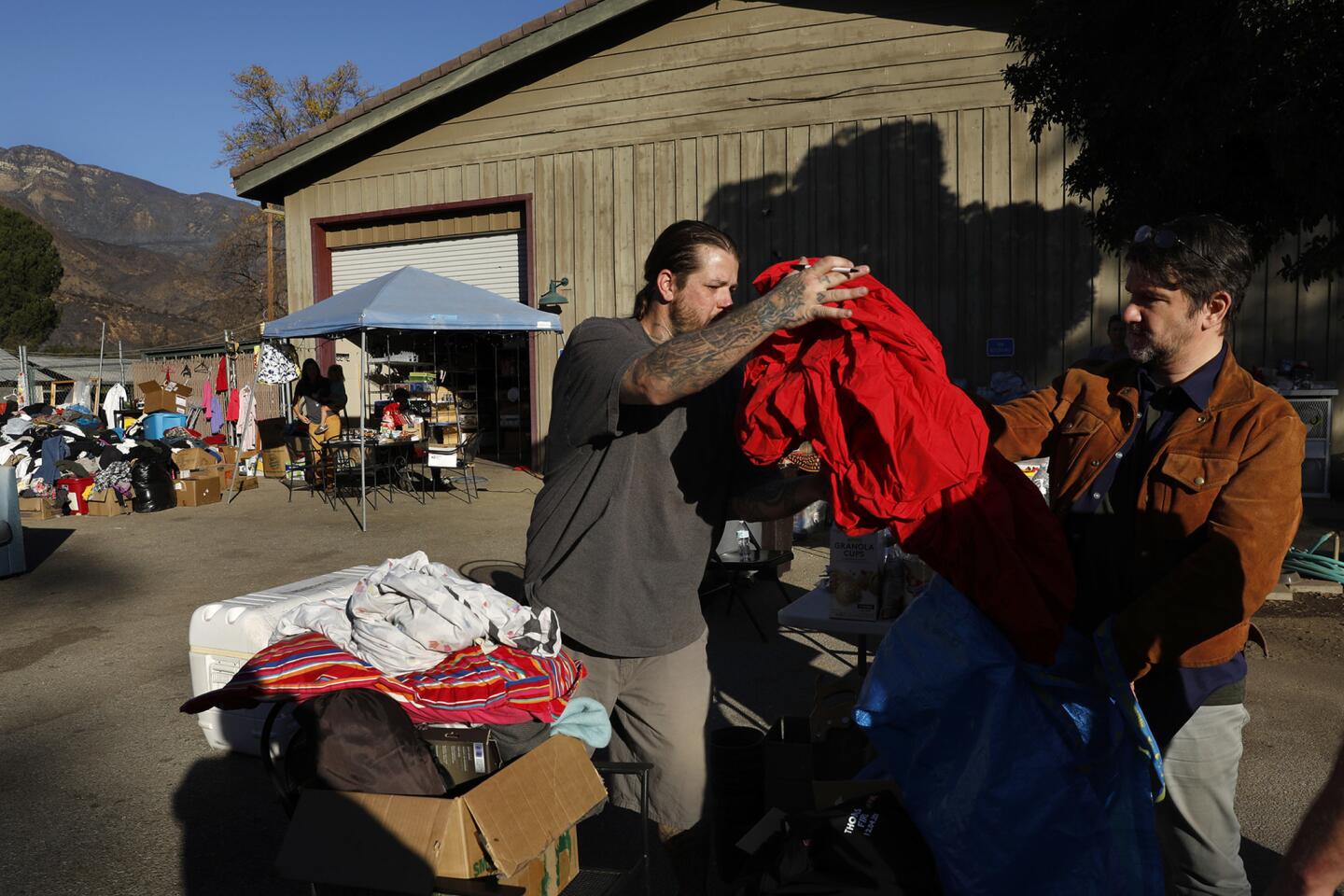 Volunteer Jason Estrada, left, receives donated items from Eric Cheevers of Los Angeles at the Upper Ojai Relief Center.
(Mel Melcon / Los Angeles Times)
Trevor Quirk, left, the co-founder of the Upper Ojai Relief Center, greets neighbors Bill Kee, 93, and his wife, Tina, 86. Quirk said Kee helped save his home from burning down by using his tractor to cut a fire line.
(Mel Melcon / Los Angeles Times)
Reporting from Ojai —
After days of protecting his Ojai ranch in the hills above town from the siege of fire, Trevor Quirk and his friend, Justin Homze, hosted a community meal in the parking lot of an Ojai market.
Someone donated 100 burritos. There were pints of blueberries. Coffee was served.
But that was just a start.
After the breakfast, Quirk drove around his community of 11 years, delivering food to families. People donated what they had, and before long, his truck was full. Weeks later, that same parking lot is the Upper Ojai Relief Center, a community-led project to help the victims of California's largest fire in recorded history.
"People are just looking like hell because they've been through war," Quirk said.
In the parking lot of the market, there were bundles of clothing, toys for children, pet food, shovels and sifters, and boxes of food.
Volunteers from all over California and as far as Colorado have helped fire victims cut down trees blocking the driveways to their homes, sifted through ashes to find valuables and helped people replace essential items.
"We are going to help people rebuild their homes," Quirk said. "We brought this community together and we're going to continue to do it."
On a recent afternoon, Leona Mote, 80, was returning to her destroyed home to check her mail. On her way there, she and her son stopped at the relief center.
Mote lost her husband of 54 years in October. Then she lost the home they shared in the fire. In the parking lot she met Robin Graham, 61, who was clutching two dolls.
Graham's childhood home burned down 10 days before Christmas when she was 11. In the aftermath of the 1967 fire, a Madame Alexander doll gave her comfort. Graham had purchased two of the vintage dolls and came to the center with hopes of gifting them to a girl or two.
Mote overheard Graham, and walked over. Those dolls were replicas of one her husband had given her years ago. The women wept together.
"So many lives just stopped and are on hold and people are still reeling from the effects of the fire," Graham said. "It takes a long time to get your life back together."
Vicky Manzano, who lives across the street, has cooked meals for the volunteers and people who come by. One day it was tamales, the next it was albondigas, a Mexican meatball soup. Although she doesn't have any running water and her home is covered in ash, she felt compelled to do whatever she could.
Dylan Gordon, a 25-year-old photographer and others have assembled crews to help people cut down trees and clear driveways to get back home. They've set up temporary shelters for people whose homes burned down and are waiting for insurance settlements.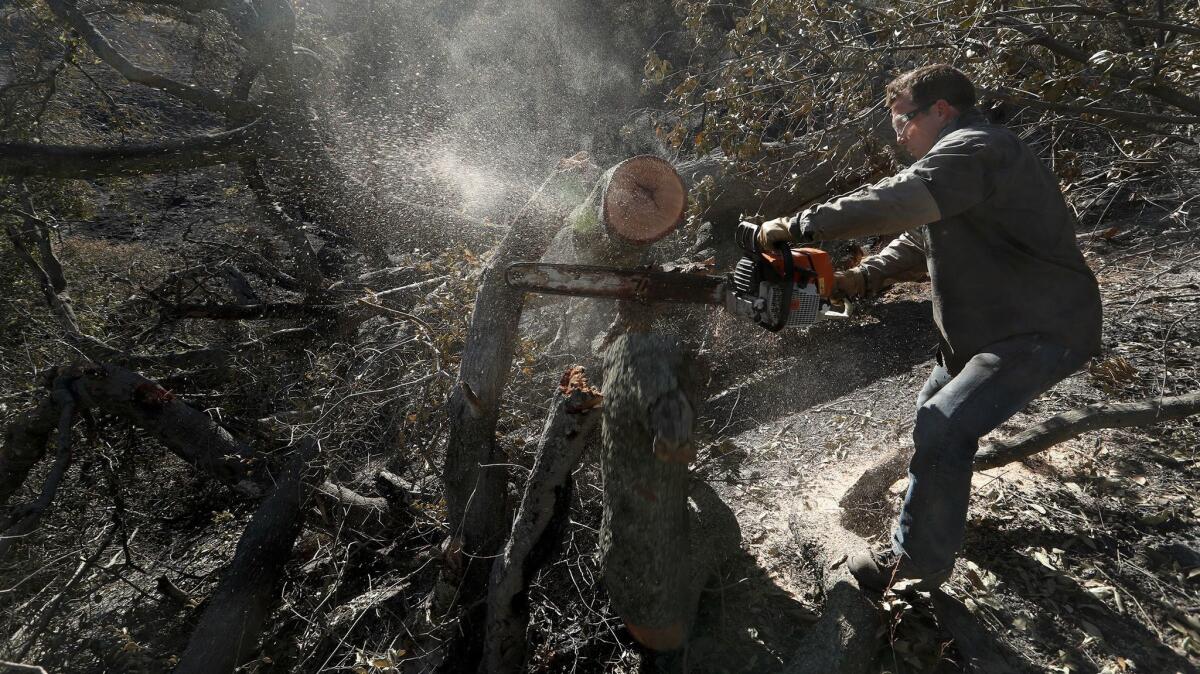 Allen Hurd and his wife, Carol Crosby, moved to Ojai from Los Angeles nearly two decades ago, drawn by the eclectic community and small-town feel. Now they were sorting through donations after losing everything in the fire.
The couple were staying with friends. They're unsure what's next. The community spirit was what drew them to Ojai in the first place. That spirit was only reinforced by the tragedy of the Thomas fire.
"You've got the gamut of everyone pulling together," Hurd said.
Peter Deneen flew back to Ojai to visit his family for the holidays, but ended up canceling his trip back east to stay and help with the recovery effort. So far, he said, the group is working to find families homes.
Reinhard, a 76-year-old artist and composer who goes by the one name, lost the motor home he slept in, all the tools he uses for his sculptures and an electric piano. Each day, he has come to the station for food or clothing.
"It was actually a shock to see all this help and concern," he said.
On Christmas Day, a couple drove to the station and donated cash and an electric piano.
The piano was quickly given to Reinhard.
Twitter: @nicolesantacruz
Sign up for Essential California for news, features and recommendations from the L.A. Times and beyond in your inbox six days a week.
You may occasionally receive promotional content from the Los Angeles Times.