Patients flood USC with reports about doctor accused of misconduct; LAPD set to review cases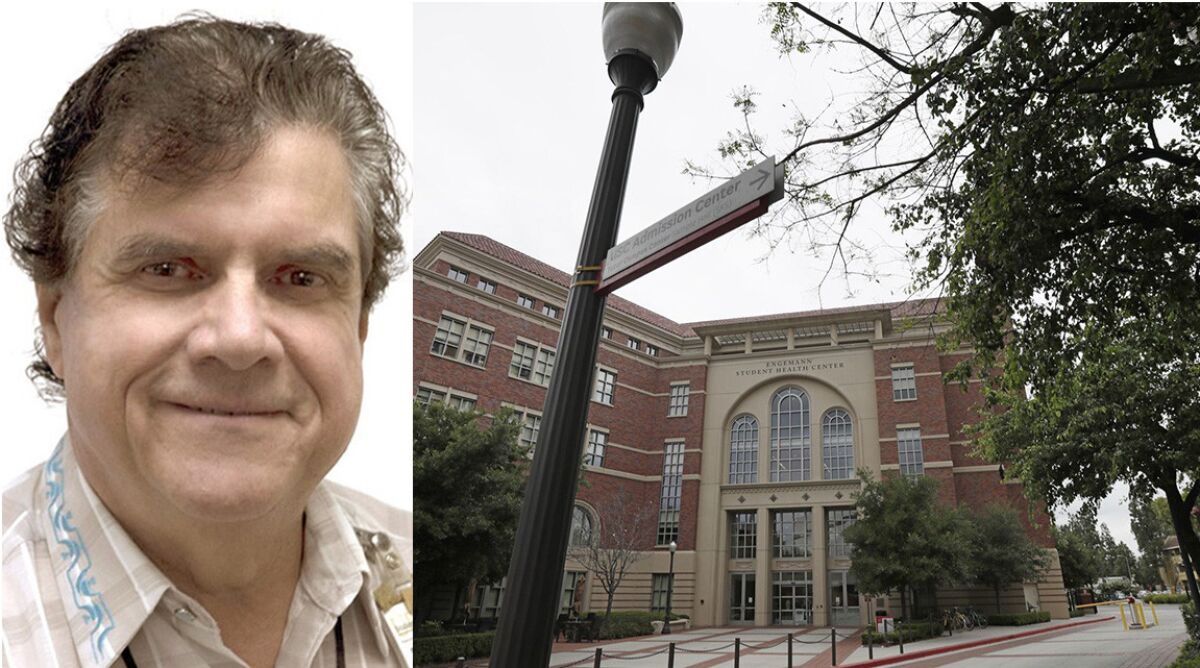 The University of Southern California said Friday it has received about 200 reports from former patients of gynecologist Dr. George Tyndall in the wake of a Los Angeles Times investigation detailing years of misconduct complaints and is establishing a process to forward some of those accounts to the Los Angeles Police Department for criminal review.
In a somber letter to the university community sent Friday, USC President C.L. Max Nikias said he has personally read reports from Tyndall's patients over "many difficult hours" and that it left him profoundly disturbed.
"The former physician's behavior distresses us deeply. He should have been removed and referred to the authorities years ago," he wrote. "Once again, I want to personally apologize to any student who visited our student health center and was made to feel uncomfortable in any way. You deserved better, and we let you down."
The letter came the day after the university ousted two top administrators at the clinic where Tyndall practiced for nearly three decades.
The lead physician at the Engemann Student Health Center, Dr. William Leavitt, confirmed he was fired Thursday afternoon and said he was not informed of the reasons for his termination. Tammie Akiyoshi, the clinical director at the health center, was also fired, sources said.
The terminations come as outrage grows both on and outside the USC campus over the university's handling of Tyndall and as more former patients step forward with disturbing stories about their treatment while studying at the university.
Leavitt, a physician at USC since 1991, said in a brief phone interview Friday that "I'm basically the scapegoat… From my perspective it's a wrongful termination."
USC said this week that complaints about Tyndall dating to the early 2000s reached Dr. Larry Neinstein, the late executive director of the clinic, but he "handled patient complaints independently." The university said it was unclear why Tyndall was allowed to remain in his position.
Leavitt said that Neinstein, who died in 2016, was being unfairly blamed, and he dismissed USC's portrayal of his management.
"Dr. Neinstein never did anything without consulting the people above him," Leavitt told The Times.
Michael Jackson, vice president for student affairs and one of Neinstein's supervisors through 2013, said in a statement that Neinstein "never shared with me information about behavior that is cited in the recent L.A. Times articles about Dr. Tyndall. Had Dr. Neinstein ever shared that kind of information with me, I would have promptly reported it to USC's General Counsel Office and the Provost's Office for their review."
The Times reported that Akiyoshi had received several complaints from a nurse about lewd remarks and inappropriate pelvic exams by Tyndall, the sole full-time gynecologist at the clinic. Akiyoshi could not be reached for comment.
Todd Dickey, USC's senior vice president for administration, said in a statement: "In light of newly received patient complaints indicating the extent of George Tyndall's inappropriate conduct, the university has decided to remove Tyndall's direct supervisor and another senior supervisor from the student health center. The university does not take personnel decisions lightly, but will hold people accountable for their supervision and inaction."
The complaints about Tyndall's behavior from co-workers and patients date to at least 2000, according to USC, which admitted this week that the physician should have been forced out of his job years ago. Other patients alleged that the misconduct was occurring from the early 1990s.
Some of the most serious allegations against Tyndall involve claims of inappropriate remarks about patients' bodies and his use of fingers at the start of pelvic exams. Witnesses told The Times that the physician frequently inserted one finger and then a second in patients, telling them he was trying to see if a speculum would fit inside.
Cindy Gilbert, a supervising nurse, became frustrated by Akiyoshi and other administrators. In June 2016, Gilbert reported Tyndall to the campus rape crisis center.
Tyndall was removed from the clinic in the wake of Gilbert's report, and he was placed on paid leave for nearly one year. An internal investigation determined that his pelvic exams were outside the scope of accepted medical practice and amounted to sexual harassment of patients.
USC reached a secret deal with Tyndall last summer that allowed him to resign with a financial payout. Administrators did not report him at the time to the state medical board, which investigates problem doctors. The university acknowledged this week that not reporting him was a mistake and said it had filed a belated complaint in March.
In earlier interviews, the 71-year-old physician denied that he acted improperly and said his pelvic exams were thorough and appropriate. He did not respond to several messages seeking comment this week and could not be reached Friday.
Gilbert reiterated Friday that she told Akiyoshi about Tyndall about a half-dozen times.
"Anyone who knew that it was going on and didn't act on it should be held responsible," she said.
The trail of allegations against Tyndall has grown since The Times published its report, making headlines around the world. Gilbert said the public's attention was overdue.
"I'm glad that it came out, but I'm sad that it took so long," she said.
In his letter Friday, Nikias said the university was reviewing the student reports about Tyndall and was developing a process to get them to the LAPD, with the consent of the patients. LAPD Capt. Billy Hayes confirmed that USC has been in contact with the department but said no reports about Tyndall have been filed.
The university said Friday it was offering "personalized support and counseling" for those who come forward and stressed the clinic was under new leadership.
Nikias issued a public apology Tuesday, noting that his two daughters attended the university and calling Tyndall's conduct "a shameful betrayal of our values."
The university said Wednesday that Nikias first learned of the complaints against Tyndall late last fall, months after the doctor had resigned. USC did not reach out to patients who had been treated by Tyndall until Tuesday, after The Times presented the university with its findings.
The firings appeared to have not quelled calls for more sweeping accountability at the private university. Rini Sampath, a 2016 graduate and the former student body president, launched a Change.org petition demanding the the Board of Trustees remove Nikias. As of Friday evening, more than 400 people had signed.
In an interview, Sampath, 23, said she was disgusted by the allegations against Tyndall.
"Everyone is outraged," Sampath said. "People are upset. And they are looking for avenues to make change."
Tiana Lowe, 22, who graduated from USC last week, said the university must move against anyone who knew about Tyndall's behavior and didn't take action.
"If people knew about this for five years and did nothing, at every level there needs to be some trimming of the fat. It's important that people realize multiple levels were complicit," she said.
The university's handling of the incident has left her outraged. And she is not alone. Even the Chinese government issued a statement regarding its deep concern about the scandal, citing former colleagues who told The Times that Tyndall seemed to mistreat international students, especially those from China.
"The consulate has every right to be furious," Lowe added.
Times staff writer Richard Winton contributed to this report.
harriet.ryan@latimes.com | Twitter: @latimesharriet
matt.hamilton@latimes.com | Twitter: @MattHjourno
paul.pringle@latimes.com | Twitter: @PringleLATimes
---
UPDATES:
5:45 p.m.: This article was updated with details of a letter from USC's president.
This article was originally published at 3:55 p.m.
---
The stories shaping California
Get up to speed with our Essential California newsletter, sent six days a week.
You may occasionally receive promotional content from the Los Angeles Times.