L.A. DWP lost millions in billings due to botched rollout, lawyers say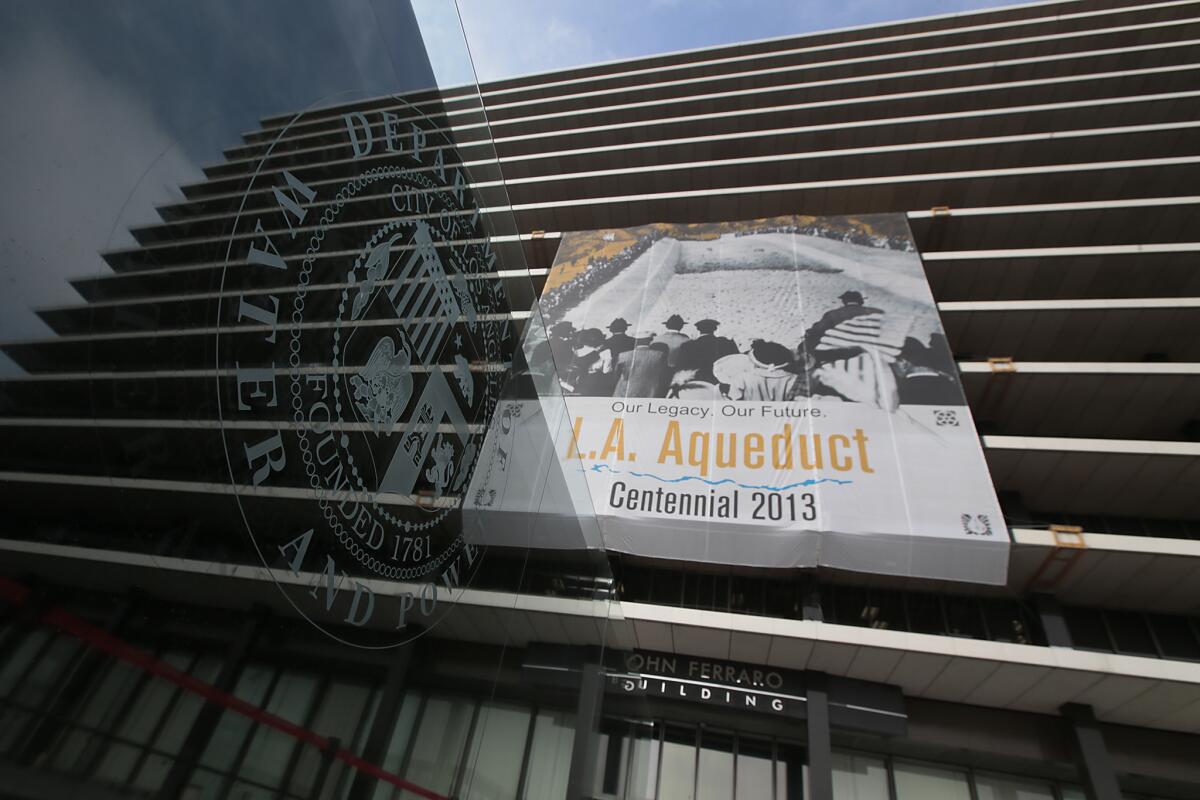 The Los Angeles Department of Water and Power lost up to $88 million in commercial billings because of the botched rollout of a computer billing system, city lawyers said Friday.
The news that tens of millions of dollars in revenue went uncollected at the city-owned utility came as City Atty. Mike Feuer announced he was suing PricewaterhouseCoopers, the consultant hired to oversee the launch of the complex system. The $70-million billing program had been touted as a major initiative to streamline the ratepayer experience and increase efficiency by integrating a variety of functions, including service calls and billings.
But it didn't work, Feuer said, and the DWP spent an additional $41 million trying to correct problems. Among those were customers receiving highly inflated, error-filled bills. Most of the breakdowns have been fixed, Chief Deputy City Atty. Jim Clark said, adding that the utility still appears to be losing an undetermined amount of money because of the troubles.
"The problems are so severe ... that it's been difficult to say today that it's been entirely fixed," Clark said at a City Hall news conference announcing the lawsuit's filing.
After the system was activated in September 2013, DWP customers flooded the utility with complaints about delayed or incorrectly estimated bills and late notices. The telephone call volumes were so high that some customers had to wait on hold for up to 40 minutes. The backlog got so bad that the DWP added a voice message advising customers to try again during off-hours.
A 57-page complaint alleges that PricewaterhouseCoopers breached its contract and fraudulently misrepresented how it could help the city implement the new system. Cleveland Water, another municipal utility, encountered similar problems when it hired PricewaterhouseCoopers to integrate new billing software, but the accounting firm concealed that fact from Los Angeles officials, the lawsuit alleges.
"The city of Los Angeles is out tens of millions, perhaps hundreds of millions of dollars," Feuer told the press gathering. "Today we are here to get it back."
An outside counsel for PricewaterhouseCoopers called the lawsuit "meritless."
Daniel J. Thomasch, of Gibson, Dunn & Crutcher, said the lawsuit is an attempt by the DWP "to shift blame ... for its self-inflicted billing problems." Thomasch said the DWP "acknowledged in writing last year that [PricewaterhouseCoopers] fulfilled each one of its contractual obligations" and it paid the firm in full.
"We will defend [the firm's] excellent work and this case vigorously," he said.
Feuer told reporters that the DWP was not able to bill 40,000 of its 400,000 commercial customers for up to eight months, resulting in losses of $11 million a month. That doesn't include potential losses incurred from botched residential billings, he said.
In November, DWP chief Marcie Edwards released a consultant's report blaming the rocky transition on poor management, an underprepared workforce and a decision to move forward despite warnings that the system wasn't ready. Edwards, hired by Mayor Eric Garcetti after the rollout debacle, paid Texas-based TMG Consulting to prepare the report and asked a senior manager, Randy Howard, to present it to DWP commissioners.
"There's overwhelming evidence that we weren't ready to go live, and yet the department made the decision to go live," Howard told commissioners at the November meeting.
When Feuer was asked about the November report, and whether it opened the city up to a countersuit by PricewaterhouseCoopers, he responded: "Bring it on."
Edwards on Friday acknowledged the lawsuit's filing and sought to assure the public that the utility will continue to fix problem billings. The utility has hired more than 200 customer service representatives and meter readers to address incorrect billings based on estimated meter readings, Edwards said. It has also reduced average call wait times from 35 minutes to five minutes, she said.
"We have made tremendous progress and appreciate the action by the city attorney today," she said.
Three class-action lawsuits have been filed against the DWP on behalf of ratepayers who may have received incorrect billings. Those suits are ongoing, Feuer said.
catherine.saillant@latimes.com
Follow @csaillant2 for more news from L.A. City Hall.
Sign up for Essential California for news, features and recommendations from the L.A. Times and beyond in your inbox six days a week.
You may occasionally receive promotional content from the Los Angeles Times.