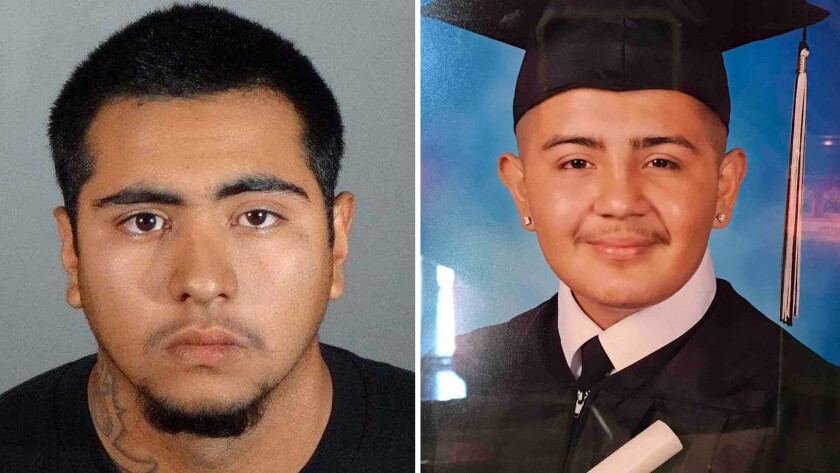 A 20-year-old man and a 17-year-old boy have been charged in the February shooting death of a high school athlete and honor roll student in Gardena, authorities said.
Marcos Medina, 20, was charged with murder and possession of a firearm by a felon, according to the Los Angeles County district attorney's office. Medina also faces gang and gun allegations. The juvenile suspect is facing a murder charge, police said.
Medina has not yet entered a plea; he is due back in court June 25, prosecutors said. Police declined to say how the suspects were identified, citing the pending court case.
Police previously told The Times that about 7 p.m. Feb. 22, David Amaro-Poblano, 17, was shot while walking toward a home near West 146th Street and Halldale Avenue.
Investigators think David was mistakenly targeted as a member of a rival gang, though he had no such affiliation.
David was delivering invitations to friends and family for his sister's ninth birthday party at the time, and his girlfriend and mother were nearby.
During a news conference shortly after the shooting, David's mother, Delia Poblano, said that right before her son collapsed from being shot, he said, "Be careful, Mama."
A $15,000 reward for information leading to the arrest of the suspects in the killing was issued by the city. No one has been given the reward, as the case is still under investigation.
David, a soccer player, was a senior at Environmental Charter High School in Lawndale. He had made honor roll his last semester and completed more than 80 hours of community service. For his senior thesis, David was researching solutions to improve living conditions for people serving time in detention centers.
David was set to attend Cal State Dominguez Hills upon his graduation from high school.
For more crime news, follow @nicolesantacruz on Twitter.
---