No reliable way to track L.A. police on tax-free full salary injury leave, audit finds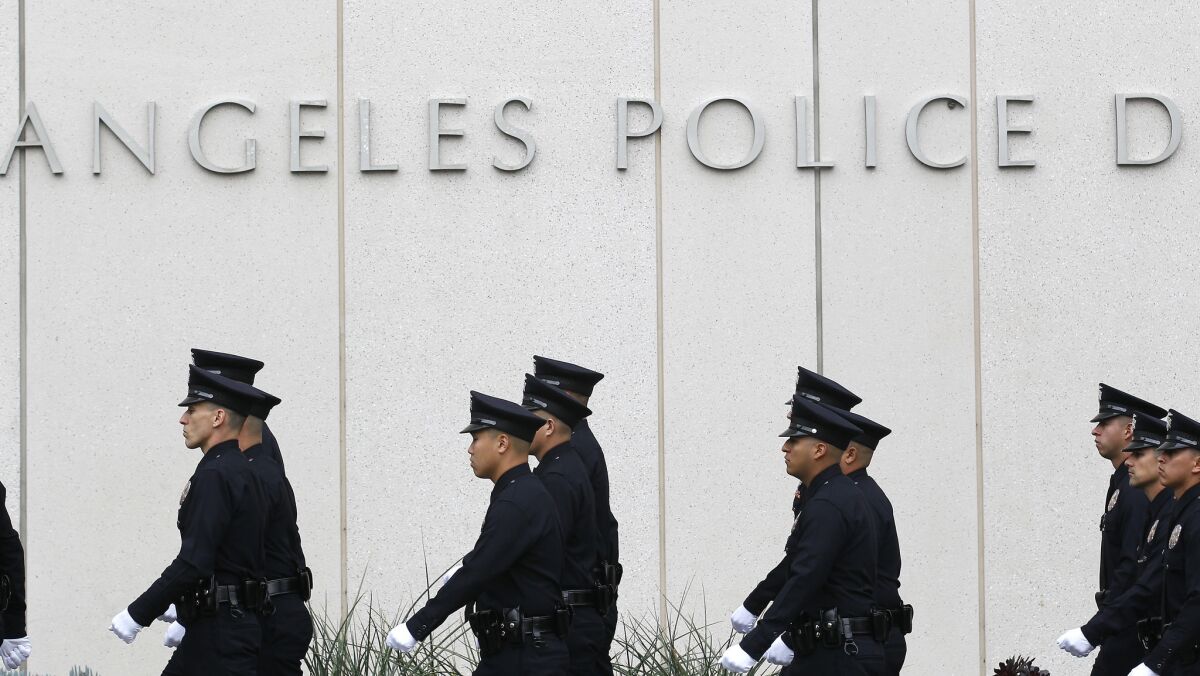 The Los Angeles Police Department has no reliable way to track employees on extended injury leave, a program that pays officers 100% of salary, tax-free, for up to a year and costs the city tens of millions of dollars annually.
The poor record-keeping will be reported to the Police Commission on Tuesday by Inspector General Alex Bustamante, a year after a Times investigation found a dramatic rise in the rate of injury claims filed by police and firefighters and eight months after a city audit that criticized a culture of filing "excessive" injury claims at the two departments.
Bustamante discovered the poor record-keeping when he tried to identify LAPD employees who had spent the most amount of time on "injured on duty" leave in the last 10 years. Although the department does a good job of tracking employees who have been out six months or less, there's no reliable database that tracks those who have been out longer, Bustamante said in his report. That means the department is unable to produce accurate information on which divisions generate the most long-term injuries, which body parts are injured most frequently and which doctors sign the most injury leave authorizations.
Interested in the stories shaping California? Sign up for the free Essential California newsletter >>
California lawmakers guaranteed 100% salary to injured public safety employees decades ago to ensure they wouldn't hesitate to run into a burning building or chase a criminal out of fear of losing their livelihoods. Because those payments are tax-free, however, injured police and firefighters take home significantly more money while out on leave, creating a financial incentive to file claims and stay out as long as possible.
State workers' compensation laws provide injured civilian employees 66% of their salary, tax free, but those payments are capped at just over $50,000 a year.
In September 2014, The Times reported that injury leaves for Los Angeles police and firefighters had cost city taxpayers $328 million over the previous five years, and that the costs had grown more than 30% during that time period.
Fewer than 5% of injury claims were attributed to acts of violence, smoke inhalation or contact with fire, The Times found. The most common cause was "cumulative trauma," an umbrella term for medical problems not linked to any specific injury, including back strain, knee strain, high blood pressure and carpal tunnel syndrome.
A disproportionate amount of the injury pay went to employees who filed consecutive claims, reporting a new injury just as a previous yearlong injury was about to expire, The Times found.
One fire captain took at least 18 separate leaves, including absences related to injuries sustained while playing handball, basketball and racquetball at the fire station at Los Angeles International Airport. From 2009 to 2013 he collected $242,500 tax-free while out recovering from claimed injuries.
Among others who took extended leaves were a police officer who hurt himself bench pressing 400 pounds at the Police Olympics in Las Vegas, a firefighter who competed as a professional mixed martial arts fighter while on leave and an officer who took a year off for a shoulder injury and then was videotaped giving scuba lessons at a dive shop in Long Beach.
Serious consequences for abusing the injury leave program are rare. Although there were 3,602 new claims filed by LAPD officers in 2014, only one was fired after allegations of misconduct, Bustamante's report said.
The scuba instructor is still employed by the department two years after an internal investigation found him moonlighting while on leave, LAPD spokesman Andrew Smith said.
"That's surprising," said Matt Johnson, newly elected president of the Police Commission. "We have to get the reporting processes and procedures in place quickly, so we can understand the breadth of the situation, and then we can concentrate on enforcement."
Because first responders are expected to stay in shape, Los Angeles officials accept almost any injury sustained during exercise as job-related.
In March, an audit by City Controller Ron Galperin found LAPD officers took injury leaves more often than their colleagues in many other cites, at least in part, because those cities don't recognize sports injuries as job related.
Galperin also found that a majority of injuries reported by firefighters occurred while doing things other than responding to emergencies, including preparing meals at fire stations.
In 2014, the city paid $141 million in salary, medical bills and other expenses for police and firefighters out on injury leaves, Galperin said.
Twitter: @jackdolanLAT
ALSO
After days of protests, students occupy building at Occidental College
Why the LAFD is still largely white and male despite diversity efforts
L.A. could fund sidewalk repairs in front of businesses
---
The stories shaping California
Get up to speed with our Essential California newsletter, sent six days a week.
You may occasionally receive promotional content from the Los Angeles Times.