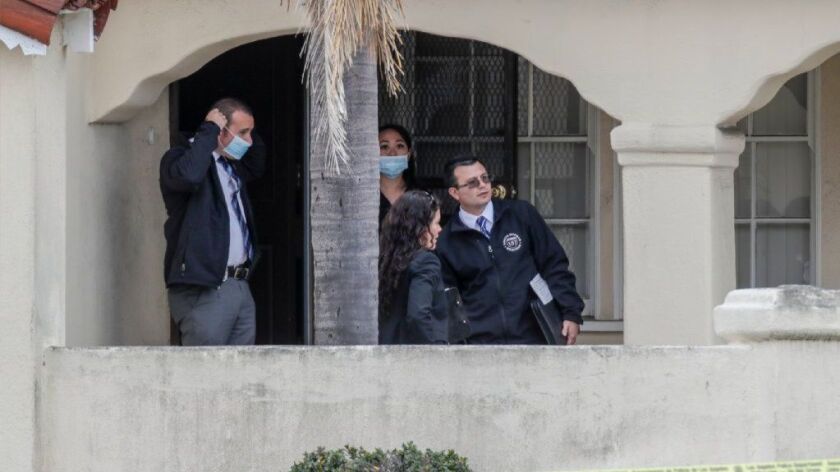 A 55-year-old woman who was previously described as a person of interest in the slayings of three people in Leimert Park has been charged with murder, authorities said Friday.
Nancy Jackson was taken into custody Tuesday in the Culver City area, said Los Angeles Police Capt. Petter Whittingham. Forensic and ballistic evidence pointed to Jackson in the killings, police said, adding that all three victims had been shot.

Jackson has been charged with killing Phillip White, 65; William Carter, 83; and Orsie Carter, 82, in the 3900 block of South Bronson Avenue, according to the Los Angeles County district attorney's office. An arraignment was continued to July 11, prosecutors said.
Jackson was described at a news conference Friday as an "evil" person who was "down and out" and had been staying with White in his home, acting as a caretaker, Whittingham said. He was flanked at the news conference by family members of the victims.
Jackson had taken "unfair advantage" of White and his kindness and may have also stolen from him, Whittingham said.
On Monday, White's mother, Orsie Carter, and his stepfather, William Carter, were visiting with their son when they were all killed, Whittingham said. Police said Jackson may have been told that she was going to be forced out of the home, which may have prompted her anger.
It's unclear how long Jackson had been staying with White, but Whittingham said perhaps as long as six months.
The bodies of White and the Carters were not discovered until Tuesday night; they were found in the bathroom of White's beige, Spanish-style home, where he had lived for four decades.
All of the bodies showed signs of blunt-force trauma, authorities said.
Family members said White had multiple sclerosis and that the Carters, who lived in Baldwin Hills, would often stop by to check on him.
Friends and family said Jackson was White's longtime friend who had recently re-emerged in his life. White, known by many as quiet and kindhearted, allowed Jackson to move in temporarily, childhood friend Ralph Tilley said. Jackson had said she planned to move to Las Vegas, but she then refused to leave.
Most of the family members at Friday's news conference declined to speak to the media.
Terry Carter, the brother and son of the victims, made a simple statement: "They were wonderful, generous, gracious loving people."
--Times staff writer Angel Jennings contributed to this report.
For more crime news, follow @nicolesantacruz on Twitter.
---