Three alleged gang members charged in September killing of Marine in South L.A.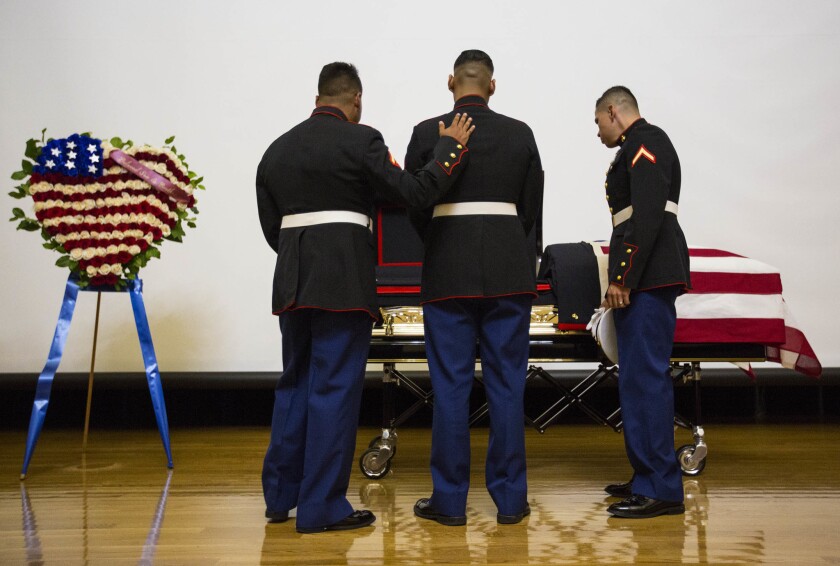 Three men who are believed to be gang members have been charged in connection with the killing of a 19-year-old Marine in September while he was on leave from Camp Pendleton visiting family and friends in South Los Angeles.
Oscar Aguilar, 26, and Esau Rios, 28, are each charged with one count of murder, according to a news release from the Los Angeles County district attorney's office. Aguilar also faces one count of possession of a firearm by a felon and dissuading a witness. In addition, Ricky Valente, 18, has been charged with one count of accessory after the fact because, prosecutors said, he knew about the crime. Prosecutors filed gang allegations against all three of the defendants.
Carlos Segovia-Lopez had just left his girlfriend's house in the 2100 block of West 31st Street in Jefferson Park about 11:30 p.m. on Sept. 16 when he saw people vandalizing or trying to break into a nearby vehicle, police said. Segovia-Lopez and the men "exchanged words" and Aguilar shot him, according to prosecutors.
Segovia-Lopez was found slumped inside his black Dodge Charger and taken to a hospital, where he remained until he was pronounced dead three days later.
Aguilar was convicted of criminal threats in 2011 and assault with a deadly weapon in 2008, according to a criminal complaint.
Segovia-Lopez joined the Marines about eight months ago and was known in the community for his volunteer efforts. A graduate of James A. Foshay Learning Center, Segovia-Lopez volunteered with LA on Cloud 9, a group that helps the homeless and animals.
In addition, he led a youth group called Teen Project, which aimed to motivate high school students to finish school, and he also served as a junior counselor in South Los Angeles for USC Troy Camp, a mentorship program for youth.
At a funeral held for Segovia-Lopez at the Cathedral of Our Lady of the Angels in early October, the commander of his training battalion told mourners about how selfless the man was.
During military training, Segovia-Lopez had to endure underwater drills where he was almost at the point of drowning, said Lt. Col. Kory Quinn.
"The way he got through it was by focusing on the other Marines," Quinn said at the funeral.
Segovia-Lopez's mother told mourners that it was her job to keep her son's memory alive.
"He made me the proudest mom," she said.
Times staff writers Matt Hamilton and Veronica Rocha contributed to this report
For more crime news, follow @nicolesantacruz on Twitter.
ALSO
LAPD watchdog takes a long look into allegations of racial profiling
Video shows motorist trying to run down woman, good Samaritans in Temecula parking lot
50 years ago, the Sunset Strip riots made L.A. the 'magical' epicenter of a revolution
---
The stories shaping California
Get up to speed with our Essential California newsletter, sent six days a week.
You may occasionally receive promotional content from the Los Angeles Times.