He's 48, just graduated from high school and owes it all to the library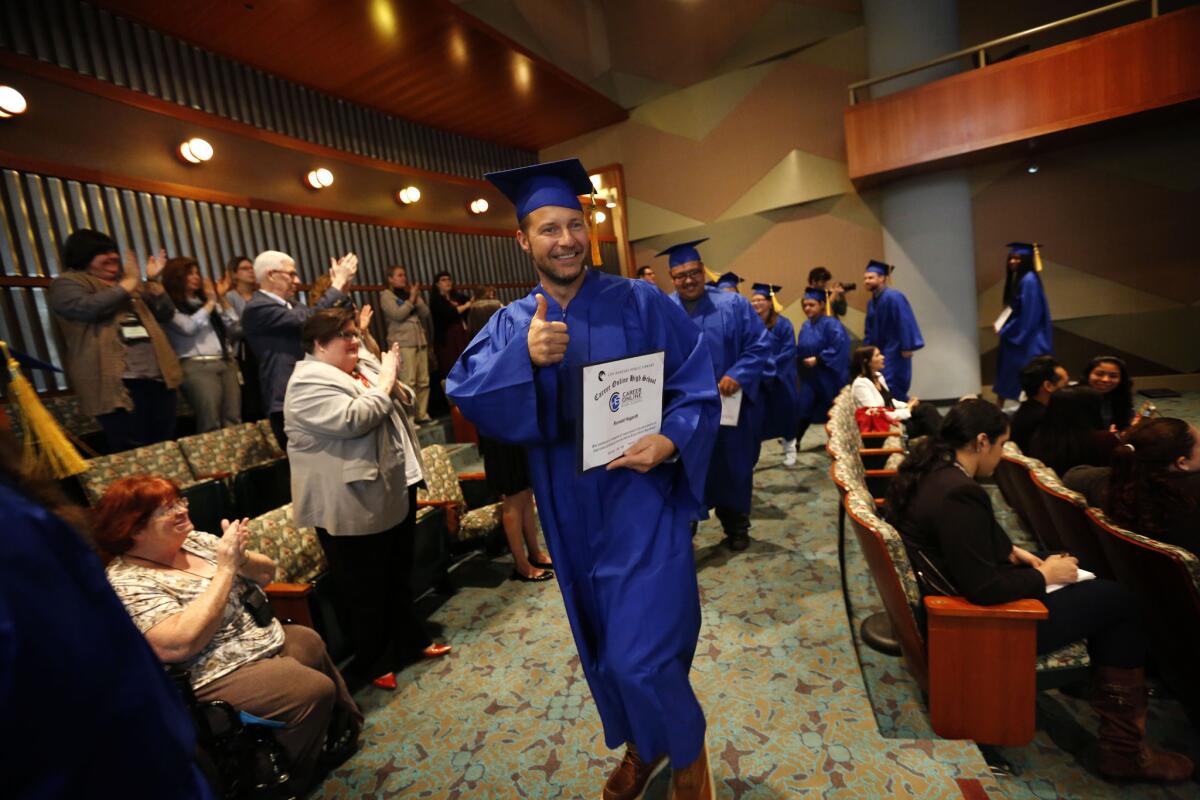 Ron Hagardt didn't finish high school when he was supposed to, in 1985. Drinking led to pot, which led to cocaine, which led to dropping out of Sonora High School in La Habra during his senior year.
Now he's 48, four years sober -- and a high school graduate. On Tuesday, Hagardt wore a blue cap and gown and moved the golden tassel across his mortarboard during a ceremony at the Los Angeles Public Library in downtown.
The library paid the $1,100 tuition, and Hagardt spent eight hours a day in front of a computer for about six months, either in the library or at home, finishing high school. He's one of 30 L.A. adults who earned a high school diploma through a partnership between Los Angeles Public Library and Career Online High School, an accredited high school degree program for adults.
In 2014, 8.4% of California's adults over the age of 25 had attended high school without earning a diploma. That percentage was higher in the city of Los Angeles, where almost one-tenth of adults over 25 fell into the same category, according to 2014 U.S. Census Bureau estimates from the American Community Survey.
With each diploma or degree, Americans are poised to make more money, and are less likely to be unemployed.
The scholarship recognizes "that there are many employers that require a high school diploma," said city librarian John Szabo, who leads the Los Angeles library system and implemented the program in 2014.
The library launched the scholarship program in 2014 and was the first public library system in the country to partner with Career Online High School. Other library systems across the country, from Sacramento to some in Florida, have since launched similar programs.
There are currently 124 students enrolled throughout the city, Szabo said. And the state library signed on last year to provide funding for the program at libraries throughout California, including more scholarships in Los Angeles.
To enroll, when a student starts, he or she should live in or work for the city of Los Angeles, be at least 19 years old, and have finished eighth grade. These requirements leave out the 15% of adults 25 and over who have less than an eighth-grade education in Los Angeles, the census estimates show. Program participants can transfer credits from their high school, and have 18 months to earn a diploma.
Their first graduation
Tuesday's event was both a celebration of the students who have graduated since the program launched, Szabo said, and an event to publicize the program and recruit.
For the graduates, though, this was a chance to give themselves and their families a day they'd never had.
"This is his first graduation," Hagardt's mom, Vicki Baker, said after the ceremony. She started to cry, talking about how proud she was. "We went through a lot of roller coasters together."
Other families had similar reactions. As each student's name was called, families stretched their arms to get the best angle for their phone pictures, crowding the stage. Kids missed school to cheer for their graduating moms and dads; skipping one day is worth learning the importance of finishing school, their parents said.
"That's my baby, Ebony!" called Adrienne Daniels, after her daughter Ebony Daniels sat down on stage holding her diploma. Ebony Daniels, 36, had driven in from Las Vegas. She started the program as a Los Angeles resident in October 2014, but moved to a more affordable home last year from her South L.A. place near the intersection of Florence Avenue and Figueroa Street. "It's no place to raise boys," the mother of three said.
She just finished in January, a few months before her oldest son will graduate high school. She "was determined to finish" before her son, she said.
Through the program, Ebony Daniels had access to an academic coach, with whom she could talk on the phone. But as she learned grammar and algebra and biology through her computer, it was useful to have a high-school-aged student in the house.
"I had him assist me with biology," she said.
Postgrad plans
Hagardt didn't listen when he was a teenager and his mom told him to stay in school.
"It goes in one ear and out the other," said Baker, his mother.
But in his 40s, after losing his job as a restaurant manager, Hagardt wanted a career change. His father has been a barber in Seattle for decades, and Hagardt decided to follow the same path, and maybe take over the business when his father retires.
To enroll in barber college, though, he needed a high school diploma.
He finished the library program last June and enrolled in Pro Barber College in Torrance soon after. He plans to earn his barber certification by this summer.
Hagardt got a shout-out during the graduation ceremony. L.A. Mayor Eric Garcetti told the graduates a story about his own grandfather, who opened a barbershop near USC, generations before Garcetti would go on to be a professor there.
"One of you is a barber, right, or becoming a barber?" Garcetti asked the graduates.
Hagardt raised his hand.
Reach Sonali Kohli on Twitter @Sonali_Kohli or by email at Sonali.Kohli@latimes.com.
Sign up for Essential California for news, features and recommendations from the L.A. Times and beyond in your inbox six days a week.
You may occasionally receive promotional content from the Los Angeles Times.