Here's what parents have to say about union efforts at Alliance charter schools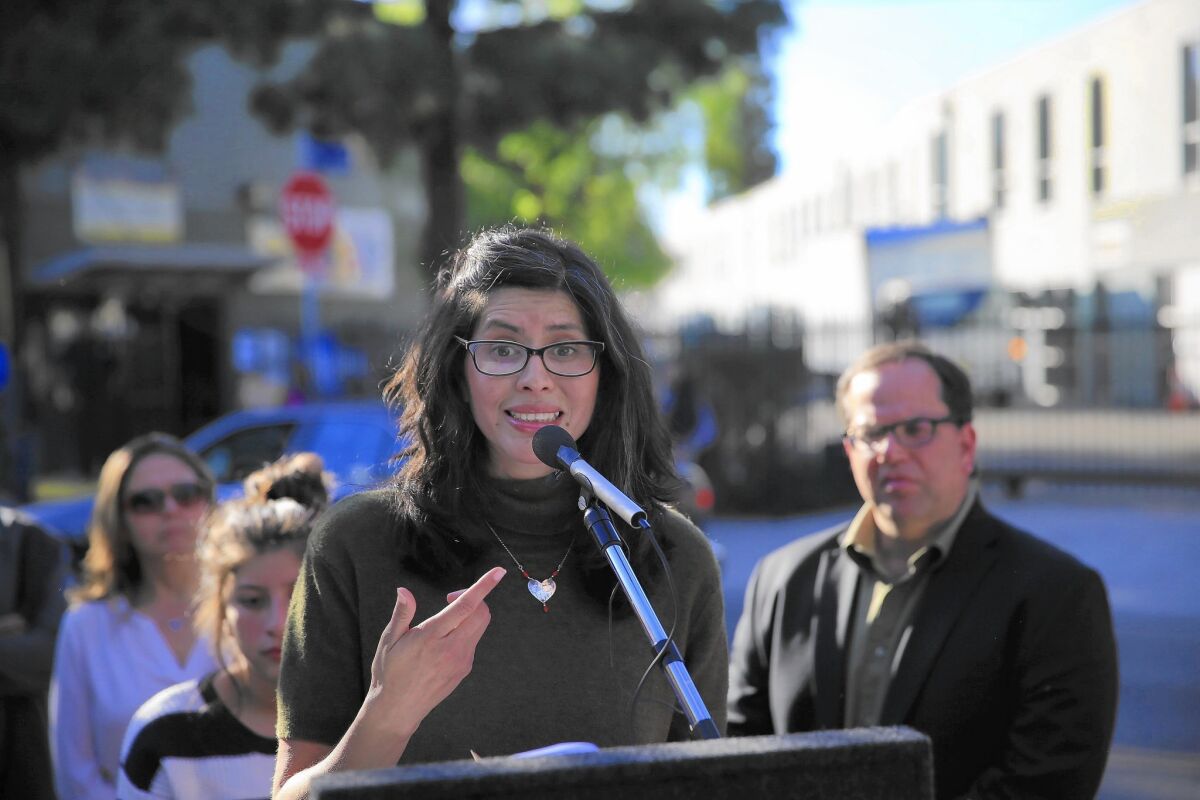 The fight to unionize the largest provider of charter schools in Los Angeles is beginning to divide parents.
At a news conference Wednesday, a small group of parents, community organizers and United Teachers Los Angeles members complained that they felt pressured by Alliance College-Ready Public Schools to take a stance against unionization.
"We are concerned by the illegal anti-union campaign ... and the campaign to discredit parents who stand in solidarity with teachers," said Gabriela Garcia, whose daughter attends Alliance Richard Merkin Middle School.
"We don't appreciate being inundated with letters telling us that if our teachers formed a union, it would be dangerous for our kids," Rosalba Naranjo, who also has a child at Merkin Middle School, said in Spanish.
The group spoke across the street from Merkin Middle School and Gertz-Ressler High School, both Alliance campuses. The parents were flanked by large copies — in Spanish and English — of a public records request they are sending to Alliance. The request asks for such information as "the name and amount paid to any and all consultants employed to write and develop the anti-union communication."
Meanwhile, three parents waited in an Alliance school building to respond to the claims. Brought together by the charter group, the parents said they have never felt any pressure from the school to fight unionization. The correspondence they've received from the school didn't bother them.
"I received a letter that was informing me, but definitely not trying to sway me," said Alma Marquez, whose daughter is in 11th grade at Alliance Leichtman-Levine Family Foundation Environmental Science High School.
"We've gotten letters from the union inviting the parents to get informed," said Linda Hernandez, a parent liaison at Alliance's Susan & Eric Smidt Technology High School, where her daughter is a senior.
The alleged harassment, part of a packet circulated by the union and the parents who support it, includes a Frequently Asked Questions document Alliance sent to parents in April. In response to the question "Why doesn't Alliance have a union?" the school chain wrote that "We believe UTLA's 359-page contract with LAUSD would create a barrier between teachers and their principals, limiting our ability to meet the needs of individual students."
Alliance responded with a statement accusing UTLA of assembling "a few loud voices that do not represent the views of a majority of our parents or teachers."
Alliance teachers launched a bid to unionize in March, starting with a letter signed by 70 educators asking for "a fair and neutral process," without retaliation. They said they wanted to help students without worrying about the security of their jobs.
To unionize, the group needs the majority support of the 650 teachers and counselors who work at Alliance's 27 schools. At the time, school officials said they would not stop teachers who want to unionize.
Interested in the stories shaping California? Sign up for the free Essential California newsletter >>
Teachers created a website and began planning unionization meetings.
About a month later, UTLA filed the first in a series of unfair-practice charges with the state, alleging that Alliance leaders had created an anti-union campaign. The charges included allegations that Alliance denied organizers the right to use school spaces for unionization purposes and blocked union-related emails sent from work accounts.
The complaint targeted provisions in California labor law that state that employees have the right to "use institutional facilities at reasonable times for the purpose of meetings concerned with the exercise of the [representation] rights."
California's Public Employment Relations Board has scheduled hearing dates regarding the claims.
In the meantime, a Los Angeles County Superior Court judge has issued a temporary restraining order against Alliance. A hearing that would determine whether the judge issues a restraining order — or scratches the temporary one — has been delayed until December.
Education Matters, The Times' new digital initiative devoted to more in-depth reporting on schools, is funded, in part, by the Baxter Family Foundation. Frank Baxter sits on the Alliance board of directors. Staff members from the Broad Foundation and the California Community Foundation also sit on the Alliance board. The Broad Foundation has given money to support Education Matters, through grants administered by the California Community Foundation.
Twitter: @joy_resmovits
ALSO
Driver arrested, charged in 2013 Yucaipa bus crash that killed 8
Santa Monica police investigating black exec's detention that she claims was based on race
Fullerton love-triangle feud ends with gunman shooting man, himself
---
The stories shaping California
Get up to speed with our Essential California newsletter, sent six days a week.
You may occasionally receive promotional content from the Los Angeles Times.