Faculty call new Cal State background checks intrusive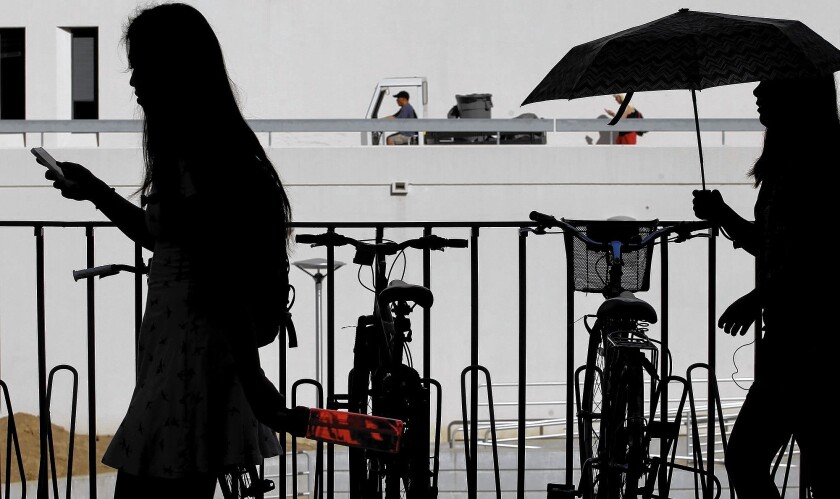 A new California State University policy requiring an extensive background check of all job candidates has sparked an outcry from faculty who say the screening is intrusive and could potentially freeze out qualified applicants.
The policy for all new hires took effect in August and requires criminal records checks as well as verification of employment, education and references. Other job-related screenings, such as credit checks, could also be required.
Some current employees who change positions, student workers, volunteers and consultants are also subject to the review.
In a resolution last month, the systemwide Academic Senate asked Chancellor Timothy P. White to suspend the new policy and establish a task force to examine how background checks are to be used in hiring decisions across the 23 campuses.
The faculty group said that the requirements lack adequate privacy provisions and that implementation could vary and be subjective. The group said it had no input in developing the policy and received no explanation of why new guidelines were needed.
Under previous policy, campus presidents determined whether a job was sensitive — caring for minor children, controlling financial resources or accessing personal information, for example — and required a background check.
"It's all done in the pursuit of keeping people safe, and we have no argument with the goals," Academic Senate Chairman Steven Filling said. "But the implementation should have encompassed a great deal more consideration and thoughtful consultation."
The checks, which can take weeks, could have unintended effects, said Susan Gubernat, an English professor at Cal State East Bay, who is also a member of the Academic Senate. These include possible delays and backlogs, especially for part-time lecturers who can be quickly hired on a contingency basis to teach classes, she said.
The Times' new education initiative to inform parents, educators and students across California >>
Some faculty members said they feared that arrest records for participating in such activities as protests could end up sabotaging job prospects. And some who headed up hiring committees, such as Gubernat, said they were blindsided and sent out job announcements earlier in the summer that didn't include the background check requirement.
"Maybe it won't make a difference, but people have a right to know beforehand," she said.
Cal State system officials said the new directive is intended to create a safe environment for students and staff, especially given recent instances across the country of weapons on campus and concerns about responses to sexual assault allegations.
The policy was developed over a two-year period, and all employee unions signed off, including the one representing faculty, said Lori Lamb, vice chancellor for human resources. In addition, the policy includes provisions to allow lecturers to begin working immediately while waiting for results of background checks. Thus far, only one individual has been denied a job: an applicant for a faculty position who had been convicted of lewd conduct with a minor.
"This is exactly the reason we have this policy," said Lamb. " I would hate to be in my job and have something negative happen to a student or visitor and then learn a person had a conviction for that."
Still, officials will monitor how the new policy is working and have invited members of the Academic Senate to participate, Lamb said.
Students have voiced concerns that the policy could hamper service learning programs where student volunteers participate in community projects for credit. Those programs may have to pay costs of the new comprehensive checks for the volunteers — up to $90 each, said Juan P. Cervantes, student body president at Humboldt State.
About 200 students participate in such programs at Humboldt, but if costs increased, that number could dwindle.
"I don't think the chancellor's office was trying to go after these kinds of programs, but it was an unintended consequence," said Cervantes. Cal State officials have told him they are trying to minimize any impact, he said.
The debate over Cal State's new policy comes at a time when some job screening practices are being questioned. Concern that the checks keep ex-felons from jobs prompted President Obama last month to direct federal agencies to delay inquiries about the criminal backgrounds of job applicants so that they are not rejected outright.
California law bans questions about criminal conviction for state, county and city job applicants and prohibits public and private employers from obtaining information on arrests that did not result in convictions.
U.S. Sen. Elizabeth Warren (D-Mass.) and Rep. Steve Cohen (D-Tenn.) have proposed legislation to ban employers from checking credit histories of job applicants in most cases.
The 10-campus University of California system requires that final candidates for positions designated as critical undergo background checks. UC considered broadening background checks to all employees, but a review determined it would be unworkable because of the number of applicants and cost, said spokeswoman Dianne Klein.
Many institutions want to prevent lawsuits without considering the negative consequences of some screening tools, said Michelle Rodriguez, senior staff attorney at the National Employment Law Project.
"When you think of privacy and the educational environment of a campus ... you would want to be very careful how you implement a policy so that it doesn't become a tool to screen out individuals who would be very effective in their jobs," Rodriguez said.
A representative of a group that represents college human resources officers said that there was no evidence of a trend toward stricter policies but that most institutions do require background checks of all new employees.
"This is an essential element of risk management for any employer," said Andy Brantley, president of the College and University Professional Assn. for Human Resources.
Twitter: @carlariveralat
MORE EDUCATION NEWS
Judge says charter group cannot interfere with unionization efforts
Cal State Northridge wins $100,000 grant to build student skills, confidence
L.A. school board to consider revised motion against rapid charter expansion
---
Life is stressful. Our weekly mental wellness newsletter can help.
You may occasionally receive promotional content from the Los Angeles Times.