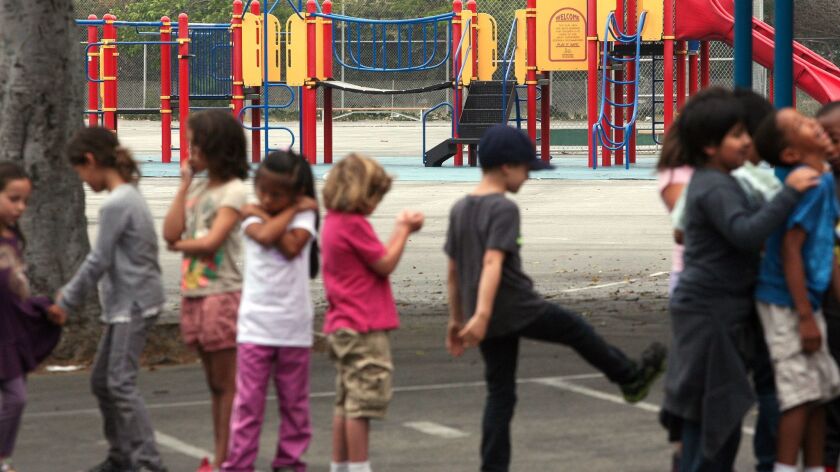 The California State Board of Education had been focused for hours on how to meet requirements to help its lowest performing schools and districts.
But after long, jargon-laden discussions about "building capacity" and "creating new systems," board member Feliza Ortiz-Licon took a step back and apologized to civil rights groups.
Ortiz-Licon, who runs K-16 education programs for the Latino advocacy group Unidos US, said she felt "heartbreak" because, in all the talk, she felt the board had missed an important opportunity to improve its commitment to educational equity.
"We haven't addressed, not even in a minimum way … the notion of achievement gaps," she said.
"I'm sorry, I really apologize to folks that looked to me to help move this along. I wasn't able to."
There was a brief pause, and then board president Mike Kirst said, "Yeah, OK, we'll move to public comment."
A little bit later, the board officially approved the state's draft plan to satisfy the Every Students Succeeds Act, a major federal education law. The plan is due — with Gov. Jerry Brown's signature — to Education secretary Betsy DeVos by Monday, Sept. 18. Brown signed the plan and the state submitted it to the federal government Wednesday.
Whereas the No Child Left Behind Act was reviled for being too prescriptive about how states should identify and sanction failing schools, ESSA gives states more agency — but mandates that they find and help such schools. ESSA requires states to identify the lowest-performing 5% of their high-poverty schools, as well as high schools with persistently low graduation rates, and help them improve.
California's plan for satisfying the law uses the California School Dashboard, the new color-coded school grading report, to define low-performing schools — but the state is submitting its plan without a methodology that fully identifies all schools in that bottom 5%. The plan gives low-performing schools seven years to reach the two colors on the Dashboard that represent the highest achievement or improvement. The state also hopes to combine the federal guidelines and state ones to create a more integrated approach.
Critics have alleged that the state's ESSA plan is thin on detail and doesn't set good goals for the progress of disadvantaged students. This August, a group of East Coast education experts released a report skewering the plan — which seemed to strike a nerve even though it got a few details wrong.
Barbara Murchison, who runs ESSA implementation for the state education department, said people think the plan is something other than it is, but really it is just "a state application for funds" from the federal government and doesn't discuss how school districts are doing.
"I'm woke, as I warned you a couple of months ago, and I'm telling you, I'm going to help you wake up, too."
California State Board of Education member Patricia Rucker
Kirst and other board members also said the plan was deliberately minimal, as it is essentially a grant application for federal money and anything written down amounts to a contractual agreement with the federal government.
State officials expect to get $2.6 billion through ESSA — a relatively small sum given the $8 billion it gets from the federal government overall and the state's own $92.5 billion K-12 budget.
But Ortiz-Licon, as well as several advocacy groups such as Children Now and the Education Trust — West, insist that this minimalist approach, sometimes dubbed "The California Way," misses the point.
"I don't see this only as a contract, only as a grant," Ortiz-Licon said. "We need to acknowledge that this [federal effort] is rooted in civil rights, because already the rest of the country is forgetting civil rights."
The board also discussed how counties are supposed to help underperforming school districts in a process that starts this fall under the state's LCFF, or Local Control Funding Formula.
In designing this process, the board is looking to other states. In Ohio, failing districts get extra technology, training and administrative services. In Texas, they can ask for specific things, such as discipline codes and special-education guidelines. California Department of Education and county education staffers talked about setting up systems, meetings, opportunities for collaboration and professional learning communities.
Board Member Patricia Rucker, a legislative advocate for the California Teachers Association union, said the discussion missed the mark.
"What is the plan," she asked, "for making sure you're not just going from meeting to meeting to meeting?"
In the same vein as Ortiz-Licon, Rucker said that the LCFF discussion didn't address the fact that many schools are failing minority students. "It is going to be possible that we will continue to fail the students we have always failed if we do not identify what the hard conversations are," she said. "I'm woke, as I warned you a couple of months ago, and I'm telling you, I'm going to help you wake up, too."
---
UPDATES:
7:05 p.m.: This article was updated with news that Gov. Jerry Brown signed the federal plan and the state submitted it to Betsy DeVos on Wednesday.
This article was originally published at 5:55 p.m.
---