Why only 19% of Cal State freshmen graduate on time -- and what lawmakers aim to do about it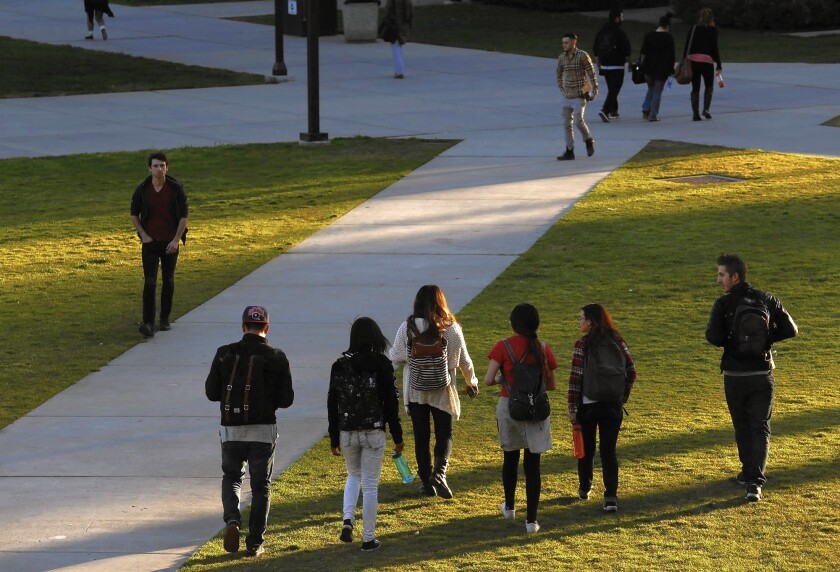 Cal State University campuses are under pressure to boost their four-year graduation rates, which in most cases are far below the national average. A new state Legislature bill set to be introduced Monday could make their task easier.
If the legislation is adopted, students who agree to take 15 units a semester and maintain a minimum grade-point average would get priority registration for popular classes, among other benefits.
The bill by state Sen. Steve Glazer (D-Orinda), a former Cal State trustee and strategist for Gov. Jerry Brown, is similar to pilot programs at four of the 23 Cal State schools. Participating students often get first shot at classes, additional academic advising and tuition waivers for any class that's required to graduate but isn't offered during the students' first four years.
The proposed legislation would go a bit further by freezing tuition for students in the program.
Only about 19% of Cal State students who enter as full-time freshmen are able to graduate within four years, according to the most recent Cal State data. Nationwide, the average four-year graduation rate for public universities is 34%, according to U.S. Department of Education statistics. Two CSU campuses have full-time four-year graduation rates close to or above that average.
Cal State officials say their low numbers reflect the fact that many of their 420,000 students are older working adults who are able to attend classes only part-time. In their view, a more accurate measure of student progress would also include the six-year graduation rate. Glazer and others said that aiming to get a degree in four years rather than five or six would potentially save students thousands of dollars in the cost of tuition, books and other expenses.
If passed, the bill would give participating students increased academic counseling that steers them toward classes they need to finish and an incentive to perform well the first time they take a course instead of repeating it over and over. That, in turn, would benefit all CSU students because it would reduce the waiting time for certain required courses and free up classroom space.
See more of our top stories on Facebook >>
Glazer said that if additional funding is necessary to implement the program, he would work to secure it.
"I am committed to student success whether that means achieving it in the traditional four-year period or with extra years of work," he said.
Cal State administrators have pledged to boost graduation rates at the nation's largest university system. Last year, Chancellor Timothy P. White recommended increasing the six-year graduation rate for first-time freshmen to 60% and the four-year freshman graduation rate to 24%.
Currently, about 54% of first-time freshmen finish within six years, including 19% who finish within four years, according to the most recent Cal State statistics.
Brown, who appointed Glazer to the Cal State Board of Trustees in 2011, has been pushing the system to focus more on four-year rates. And he has proposed sending more state funding to those campuses with greater success in reducing the time it takes students to obtain a degree.
Cal State officials said they are analyzing Glazer's bill, including whether it would entail additional costs to hire more faculty and advisors.
A task force created by White has proposed a long-range financial plan for the system that includes small, annual tuition increases tied to inflation. The potential for Glazer's legislation to reduce tuition revenue could raise eyebrows.
Still, "we look forward to working with him," said Cal State spokeswoman Toni Molle.
Glazer said the programs required little additional funding.
No extra faculty or staff were hired for Cal State San Bernardino's Four-Year Graduation Pledge Program in 2007, according to William Vanderburgh, the school's associate vice president and dean of undergraduate studies. By 2014, nearly 23% of students in the program had graduated, more than double the four-year completion rate compared with 2007.
And Cal State Fullerton officials said extra funding hasn't been needed for their Finish in Four program, which began in 2010.
"I have a high level of confidence that the program can be administered well without a big increase in expense," Glazer said.
Twitter: @byjsong

MORE EDUCATION COVERAGE
Court's move to give two nonprofits access to students' personal data ignites privacy debate
California's four-year universities reach out to immigrant students with low-interest DREAM loans
Despite new requirements, L.A. Unified's projected graduation rate soars
---
The stories shaping California
Get up to speed with our Essential California newsletter, sent six days a week.
You may occasionally receive promotional content from the Los Angeles Times.