20th Street Elementary parents protest potential change in school management
Not every parent at 20th Street Elementary School wants new leadership for their kids' school.
About 30 mothers gathered in front of the Los Angeles campus Friday morning with signs in English and Spanish, protesting a potential agreement that would give some control of school operations to the Partnership for Los Angeles Schools, a nonprofit that specializes in improving low-performing schools, often in under-resourced neighborhoods.
A different group of parents threatened to sue the Los Angeles Unified School District in March, after the district rejected a petition that 58% of parents at the school signed to invoke the state's "parent trigger law," which allows parents to take control of low-performing schools.
See the most-read stories this hour >>
To avoid a lawsuit, the district may agree to allow the partnership to take over school operations, which L.A. School Report first reported on Wednesday. The partnership runs 17 schools in L.A. Unified, including Roosevelt High School and Dolores Huerta Elementary.
Unlike an independent charter school, though, partnership schools are still Los Angeles Unified district schools, meaning the teachers are unionized and the district receives state money allocated for each student. Beyond the district resources, the partnership says it can fundraise for programs, enhancements and technology.
"We are not as bad as other schools that have gotten this partnership,"said Karla Vilchis, a 20th Street parent with one daughter in transitional kindergarten and another who finished fifth grade at the school in 2013. Changes, she said, should come from "working together instead of attacking each other."
She and other parents at the protest Friday morning were mostly silent. They didn't want to disrupt classes or fight, but they did want to show other parents that not everyone wants the school to change hands, Vilchis said. They held signs with phrases like "No to PLAS" (an acronym for the partnership), "We are improving" and "Padres que apoyan Calle 20."
The parents pushing for a change in leadership complain about low academic scores and a lack of resources at their school. Last year, they launched the first petition to transform 20th Street into a pilot school, a district-run school with more freedom than a traditional school. At the end of the 2014-15 school year, the district agreed to make improvements.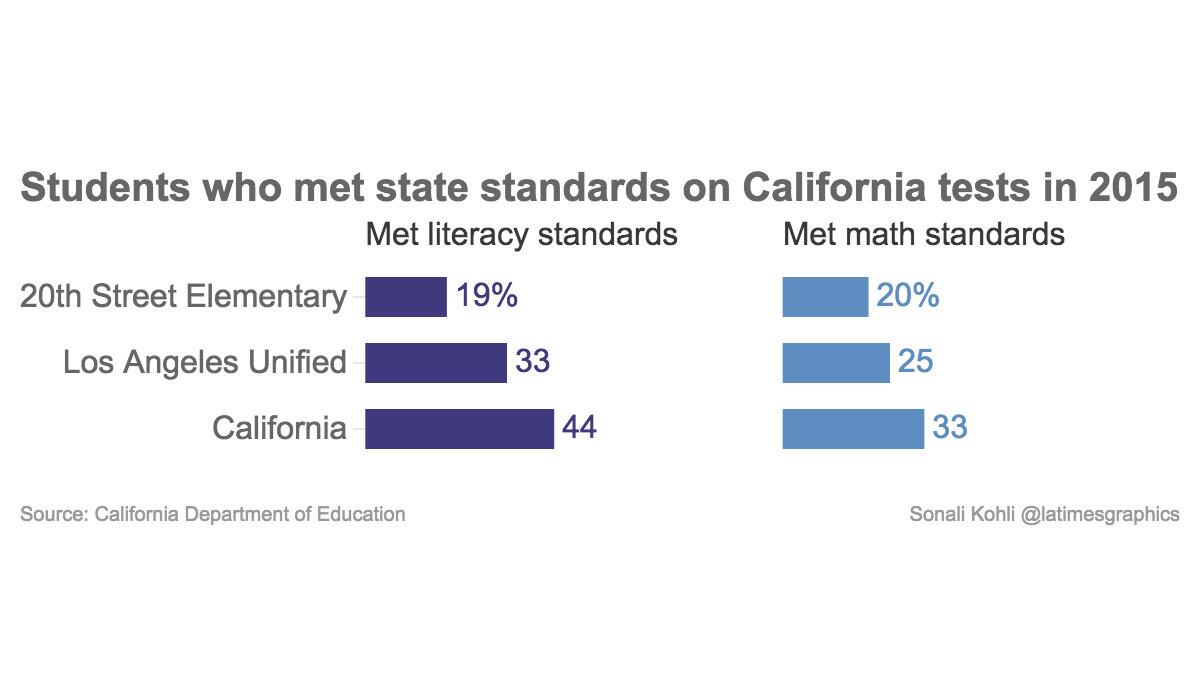 But the district didn't follow through on those promises, like having more coordinators to help students prepare for junior high school and teaching more rigorous classes, said Omar Calvillo, one of the parents leading the trigger actions. So the group launched another petition, this time to take full control of the school.
Some teachers and parents at 20th Street argue that the school has improved. The playground is open on Saturdays, there are more opportunities for parents to be involved and a program focused on reclassifying English-learner students began this year, said Javier Cruz, a third-grade teacher and the school's United Teachers Los Angeles chapter chairman.
Follow the Times' education initiative to inform parents, educators and students across California >>
A district spokeswoman declined to comment Thursday on the status of 20th Street. "We are still in negotiations regarding this issue and have no further comment," Shannon Haber said in an email.
When the 20th Street parents union submitted its petition in February, it also put out a request for proposals for charter school operators who would be able to run the school, said Gabe Rose, chief strategy officer for Parent Revolution, the group helping 20th Street parents invoke the trigger law. The partnership, though not a charter, submitted a proposal.
The parents' group will accept only an agreement that allows the partnership full autonomy over the school, Calvillo said. Otherwise, it is prepared to sue the district for full control.
MORE EDUCATION NEWS
How good is my kid's school? California tries to answer every parent's question
California to audit L.A.'s biggest group of charter schools after anti-union allegations
Superintendent's 'listen and learn' tour leaves LAUSD parents with questions unanswered
Reach Sonali Kohli at Sonali.Kohli@latimes.com or on Twitter @Sonali_Kohli.
Sign up for Essential California for news, features and recommendations from the L.A. Times and beyond in your inbox six days a week.
You may occasionally receive promotional content from the Los Angeles Times.