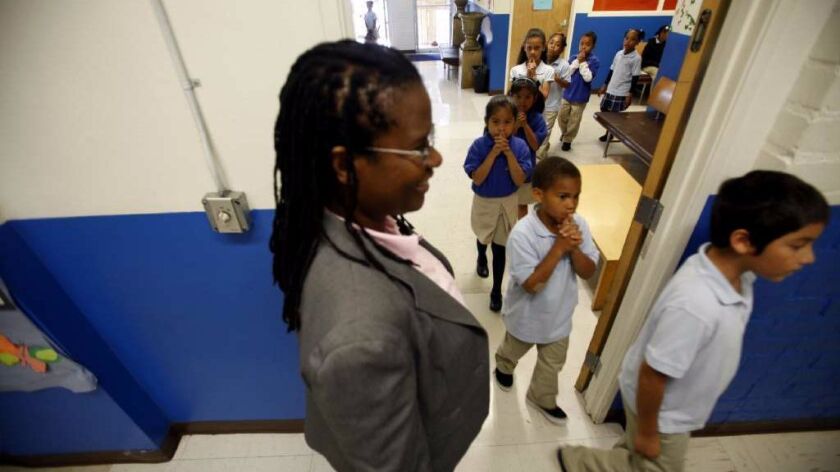 The fate of two Los Angeles charter schools remained an open question Wednesday, after a state commission declined to make a recommendation on whether they should remain open or close this summer.
The move comes amid a federal investigation of the charter network that operates the schools — the Celerity Educational Group. In January, Department of Homeland Security and FBI agents, among others, raided Celerity's offices as well as the headquarters of a related nonprofit, Celerity Global Development, and the home of its founder, Vielka McFarlane.
No one at the schools has been charged with a crime. But for the last six months, questions about their governance and financial management have threatened the schools' survival.
Opened nearly a decade ago, Celerity Dyad Charter School in South L.A. and Celerity Troika Charter School in northeast L.A. have test scores high enough to meet the state's bar for renewal. In fact, the state Board of Education previously was so impressed with the Celerity schools' performance on standardized tests that in November it voted to allow the charter network to open two more schools.
What's changed since then?
The board knew in November that the L.A. Unified School District's inspector general was investigating allegations of financial mismanagement by the Celerity network. But news of the federal inquiry has brought a new level of scrutiny.
Records obtained by The Times show years of questionable spending and potential conflicts of interest by Celerity at a time when former teachers said the schools lacked basic supplies and often leaned on students to raise funds.
The California Department of Education's charter schools division chose to forgo making a recommendation on Dyad and Troika, a move its director said was unusual. Asked why, staffers said they had too many unanswered questions about potential conflicts of interest and newfound concern that Celerity's schools might be paying "excessive" management fees.
The state Advisory Commission on Charter Schools — which exists to review charter school petitions and make recommendations to the state Board of Education — also threw up its hands Wednesday.
"I don't want to shut down a school that's performing well for kids, but the evasiveness and foot dragging … is a huge concern," said Caitlin O'Halloran, a member of the advisory commission. "I can't even cast a vote one way or another."
Instead of a straight yes or no, the commission approved a conditional recommendation: If Celerity's leaders answer all of the department's questions, fully assuaging the charter staff's concerns, then the commission would recommend renewal.
In October, the Los Angeles Board of Education voted not to give five-year renewals to the two schools. The board based its decision on a staff report that warned that Celerity appeared to have made questionable financial transactions and had a governance structure that hid much of its spending. The Los Angeles County Board of Education declined to consider the schools' renewal petitions.
"We believe you can't oversee what you can't see," Robert Perry, the administrative coordinator for L.A. Unified's charter schools division, told the state advisory commission.
Celerity CEO Grace Canada said Wednesday that her schools were victims of an unfair oversight process by L.A. Unified. District staff repeatedly demanded copies of the same documents, made requests on tight deadlines and then accused Celerity of not being sufficiently forthcoming, she said.
"Had we known that [a lack of transparency] was going to be the reason for non-renewal … we would have really tried to work things out with the district," Canada said.
Behind her sat rows of Celerity parents and former students who had made the trip to Sacramento to show support for the network.
"We hope the state will not deny renewals based on just the existence of an investigation," Canada said. "That's just not fair."
The state Board of Education is expected to vote on Celerity Dyad and Troika's renewal next month.
To read the article in Spanish, click here
Twitter: @annamphillips
---