With magnet and single-gender schools, LAUSD hopes to boost enrollment this school year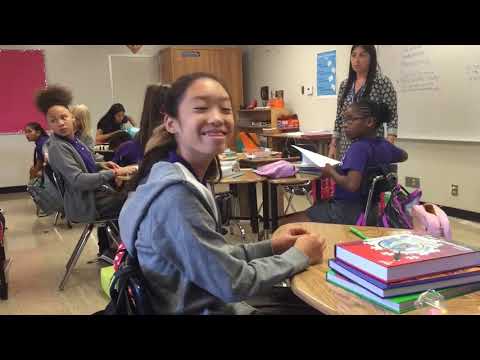 GALA is an all-girls school in the Los Angeles Unified School District.
New school year, new survival strategy.
Faced with declining enrollment and a growing challenge from independent charter schools, the Los Angeles Unified School District opened the academic year Tuesday highlighting one balm for its problems: 16 new magnet schools.
The nation's second-largest school system hopes to replicate its established, successful magnets — which have strong test scores, diverse student bodies and waiting lists.
"Magnets are a real solution," said school board member Richard Vladovic. "They are an attractive alternative that parents can choose, that will help stabilize enrollment and increase enrollment in many places. And they're under close scrutiny to make sure they're meeting academic goals and achievement."
Besides overseeing the new programs, L.A. schools Supt. Michelle King also is opening up more seats at existing magnets and making them available faster, Vladovic added.
See the most-read stories this hour »
There is demand: Fewer than half of the students who applied to magnets last year were accepted to the one they requested.
That's not the big picture for the district, which now has about 542,000 students in district-operated schools. Overall, gentrification, declining immigration and charter school growth have led to an enrollment decline of some 200,000 students since 2003. Even some magnets have seats for the asking, and some also struggle academically.
Meanwhile, charter enrollment has grown to more than 101,000. Because charters are under the control of their own nonprofit boards and funded directly by the state, the vast majority contribute little or nothing to the programs and legacy costs of L.A. Unified. And pro-charter groups are working to rapidly and massively expand the number of local charters.
For embattled district officials, stemming the enrollment loss feels very much like putting out a fire. So perhaps it was especially appropriate that two new magnets — at Banning High School in Wilmington and Wilson High in El Sereno — are designed to prepare firefighters.
"You are the future leaders of our fire department," L.A. Fire Capt. Eddie Marez, the department's youth programs coordinator, told students gathered in the gym at Banning.
Local crews from Fire Station 38 rolled up in a fire truck for students to examine.
Students walk to class on the first day of school at the new, single-gender Girls Academic Leadership Academy in the Los Angeles Unified School District.
(Mark Boster / Los Angeles Times)
Lots of photos are taken at the front gates of the academy. The school is housed at Los Angeles High in Mid-Wilshire.
(Mark Boster / Los Angeles Times)
Alexis Escuadro, left, Delia Mizrahi and Leila Shiva greet one another at the academy.
(Mark Boster / Los Angeles Times)
A sixth-grade English and history class at the academy. The school, which serves grades six to 12, has a technology emphasis — and a flight simulator to go with it.
(Mark Boster / Los Angeles Times)
Ninth-grade English teacher Carina Miller carries a computer to the school.
(Mark Boster / Los Angeles Times)
Last year about 67,680 students enrolled in district magnets. The district added 7,943 seats this year and plans an additional 4,652 seats for next year.
Magnets are schools or programs with a special theme or academic focus. They originally began as part of the district's court-supervised plan, adopted in 1981, to promote voluntary integration.
"We're still trying to integrate these schools," said Keith Abrahams, executive director of the district's Student Integration Services department.
L.A. Unified magnets are supposed to be 30% to 40% white, but white students now make up only 10% of total district enrollment — and there are no longer enough to go around. Nearly 75% of today's district students are Latino.
Magnets also initially were set apart because the district provided bus service from far-flung corners of the sprawling school system. But transportation no longer is guaranteed from every neighborhood to every magnet.
Last year, nearly three in four magnet students lived outside the neighborhoods in which their magnets were located. About half of those commuters rode district buses to school.
One of the school system's most popular magnets is the Los Angeles Center for Enriched Studies, or LACES, in Mid-City, where Cynthia Burstein Waldman's son, a 9th grader, is beginning his fourth year.
A few years ago, Waldman had been leaning toward City Charter — also popular, also with a waiting list. Her son happened to get into LACES first. When a spot later opened at City Charter, her son was enjoying LACES too much to leave.
Officials want to see that narrative repeated more often.
Other new magnets this year include visual and performing arts at Henry Middle School, computer science and engineering design at Madison Middle and robotics at Mulholland Middle. Several magnets are for gifted students. Several others claim a particular focus on science, math and technology, which, of course, also are offered in traditional public schools.
There are even some so-called "residential" magnets, which must take neighborhood students first.
UCLA education professor Gary Orfield worries about magnet mission drift.
"For a magnet to really serve its purpose, it should draw students" from outside the neighborhood," said Orfield, who also co-directs the university's Civil Rights Project. "A lot of these magnets aren't even magnetic."
Some observers wonder if all these new programs will be that much more special than — or different from — what they are replacing. If schools adopt the "magnet" title mainly to win cachet, they could end up undermining that cachet.
"Just saying something is a magnet doesn't make it so," said Genevieve Siegel-Hawley, an assistant professor at Virginia Commonwealth University, who is part of a federally funded team analyzing successful magnets. "A lot of background work and resources are required."
She has concerns about magnets primarily created to compete with charters.
"Then magnets become a version of market-based choice," she said. "And the strength of magnets lies in their capacity to integrate. We have too few tools and too few conversations about how important that is for all kids. To take away that core focus of magnets does a disservice."
Magnets are not the district's only strategy. The school system also is debuting the single-gender Girls Academic Leadership Academy for grades six through 12, housed at Los Angeles High in Mid-Wilshire. It also has a technology emphasis — and a flight simulator to go with it. (Separately, a single-gender charter school, the Girls Athletic Leadership School, is opening for grades six through eight in Panorama City.)
In its annual tour of selected schools on opening day, the district shone a light on Fourth Street Elementary in East Los Angeles, where enrollment bumped upward even without a magnet.
The school had been projected to lose 40 students, resulting in the removal of two teachers. But by Tuesday, Principal Lupe Carrandi had 30 more students than last year. She hopes to get at least one teacher back.
She attributed the uptick to rising test scores and increased outreach to parents, some of whom obtained permits to exit their neighborhood schools.
"This is a school with a lot of history," Carrandi said. "We have a good reputation in the community, and we've had increased test scores compared to other schools in the area."
The district also tried to burnish its prospects Tuesday with the help of L.A. Mayor Eric Garcetti, who appeared at Fremont High School in Florence with Supt. King. Together, they touted a developing plan to provide all graduating seniors with a free year of community college. Current district students also will be provided with city library cards.
Charter students are expected to benefit from the city-led efforts too. And nine new charters are scheduled to open this fall.
sonali.kohli@latimes.com | Twitter: @Sonali_Kohli
anna.phillips@latimes.com | Twitter: @annamphillips
howard.blume@latimes.com | Twitter: @howardblume
MORE EDUCATION NEWS
Harry Briggs Jr., once the center of a school desegregation lawsuit, dies at 75
A nonprofit that favors school choice offers help to Los Angeles Unified parents
Sudden closure of visual arts school leaves students in the lurch
Sign up for Essential California for news, features and recommendations from the L.A. Times and beyond in your inbox six days a week.
You may occasionally receive promotional content from the Los Angeles Times.