Parents vote on removing Michael Jackson's name from L.A. school auditorium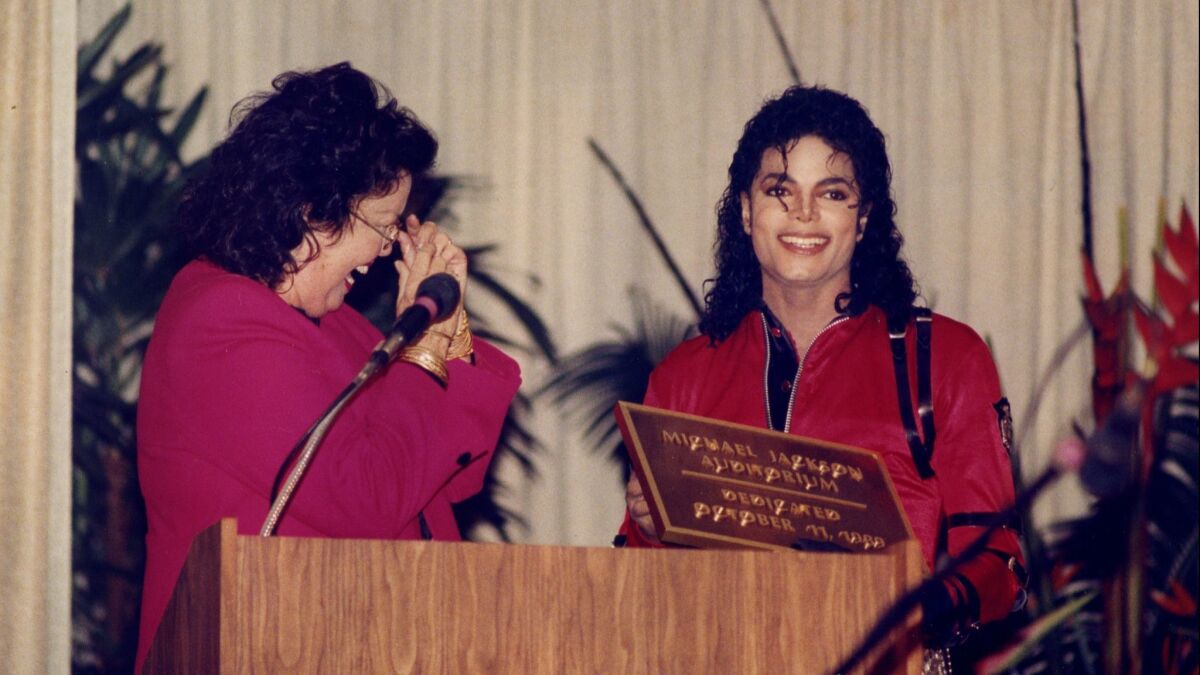 Gardner Street Elementary School is undergoing a most unusual soul searching this week, weighing whether to break a symbolic link with pop star Michael Jackson, whose name is on the auditorium of the Hollywood campus.
A man in a white T-shirt and tan shorts said he was conflicted.
"I've tried to digest this," said the man, whose daughter is a fifth-grader at the school. "I've grappled with it and I haven't come to any decision."
"The documentary was a dark thing," he said. "And I believe the two men. But his music still lives. My gosh, people love his music. It's a huge joy for them."
He walked away shaking his head.
The documentary is "Leaving Neverland," which aired on HBO in March and portrays Jackson through the eyes of Wade Robson and James Safechuck, two men who allege Jackson sexually abused them when they were children. Jackson was never charged with molesting either.
Still, the broadcast was deeply unsettling for parents and staff at Gardner, who are voting this week on whether to banish Jackson's name.
The documentary should not convict Jackson in the eyes of the Gardner community, said Howard Weitzman, who represents Jackson's estate, which has sued HBO.
"It would be a terrible shame to remove Michael's name from the auditorium based on an intentionally one-sided film," Weitzman said. "There is no fair consideration when you only hear from one side. Michael Jackson is not guilty, and he, like all citizens, is entitled to the presumption of innocence."
The man in shorts requested anonymity because he knew people who worked for the Jackson estate and said he couldn't afford to damage personal and professional relationships. Gardner has a sizable contingent of parents in the entertainment industry, who know its dark and light sides.
Their presence at Gardner represents something of a middle-class resurgence at the diverse campus, where families speak languages from across the globe and range widely across the spectrum of prosperity.
Outside the campus Tuesday morning, some parents or grandparents replied in broken English that they didn't know enough to comment. Others said they wished the school could be left alone to settle the matter out of the spotlight.
Jackson long has been a small but significant piece of the school's history, starting as an 11-year-old, when he attended the school for several months — before stardom whisked him away and ended any semblance of a normal childhood. He returned to the school in 1989, to celebrate the naming of the auditorium.
It has been a subject of pride or embarrassment and a regular tourist stop for out-of-towners.
The issue has divided the campus, which is nestled on a quiet street just north of Sunset Boulevard in the flats below the Hollywood Hills. For some, the path ahead is clear.
"The name probably should be taken down," said parent Robert Fitzgerald. "It's just not appropriate for an elementary school. The documentary painted the picture pretty clearly."
Fitzgerald, who spoke after dropping off his daughter for kindergarten, found the accusers believable and felt "disgust" toward Jackson.
But Myreon Arslan said he voted to keep the name.
"There are people in this country who have done worse things to the country that have been convicted and that still have their names on buildings," Arslan said. "The gentleman's passed away. His name's been on that building for, God only knows, more than 20 years, I think.
"We have people like President Trump, who's assaulted women, and he becomes president of the United States," Arslan added.
(Trump has denied the numerous allegations of assault and improper conduct levied against him. He has not been charged in connection with any alleged acts.)
Voting among parents began April 10 and 11 and will resume Wednesday and Thursday. Staff members have been able to vote by picking up ballots in the office.
One teacher said she did not want a name on the school "that is associated with allegations of pedophilia." She declined to give her name because she wasn't authorized to speak. Principal Karen Hollis also declined to be interviewed, but she had lots of hugs for students and parents as she waved students across a crosswalk before school.
District officials said Tuesday they would follow the lead of the Gardner community, but school board member Nick Melvoin, who represents the school, said "the figures whose names adorn our school buildings should be held to the same standard of values that we wish to impart on our students."
He added, "Many of his alleged victims were the same age as the students who gather in that auditorium daily."
So indeed was Jackson when he enrolled after his family moved in 1969 from Gary, Ind., to Los Angeles. Family members were staying in the nearby home of famed Motown founder Berry Gordy Jr. The youngest of the Jackson Five attended school only briefly before the group — comprising Michael and four older brothers — scored a hit record, and that was it for public school.
His association with a local campus was so brief that Jackson is not included in an authoritative online site of famous students from the L.A. Unified School District. But Jackson attended the 1989 dedication of the spruced-up auditorium in his name.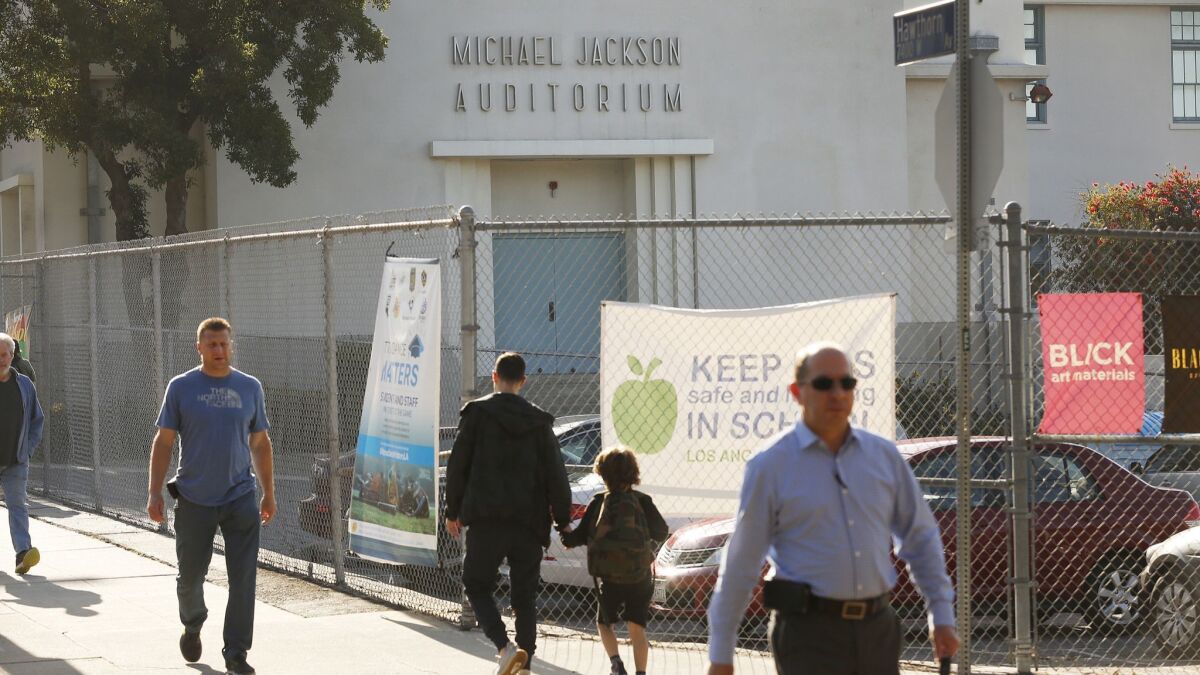 Jackson, dressed in a tight-fitting black-and-red outfit with silver buckles and a thick silver belt, walked onstage to loud applause and scattered screams. A school chorus performed his song "We Are the World."
"I am deeply touched and honored that the PTA, principal and faculty members and students have been so kind as to dedicate the auditorium, where I sat as a child, in my honor," Jackson said. "We must all never forget that the children are our future and without them humankind will become extinct."
After receiving the key to the school, Jackson was escorted by security to Room 8, his former classroom, where he autographed the wall. As he walked, he flashed the peace sign and blew kisses to children.
Since then, Jackson's evolving reputation has made for an on-, off-, on- and off-again love affair with the school. Some parents complained about the name on the auditorium in 1993 — just four years after the dedication — when word leaked that Jackson was under investigation for his conduct with a boy. Jackson settled out of court with his accuser and prosecutors filed no charges.
In 2003, district officials ordered that Jackson's name be covered with plywood — but not removed — after Jackson was arrested on charges of sexually abusing another boy. He was found not guilty following a criminal trial in 2005.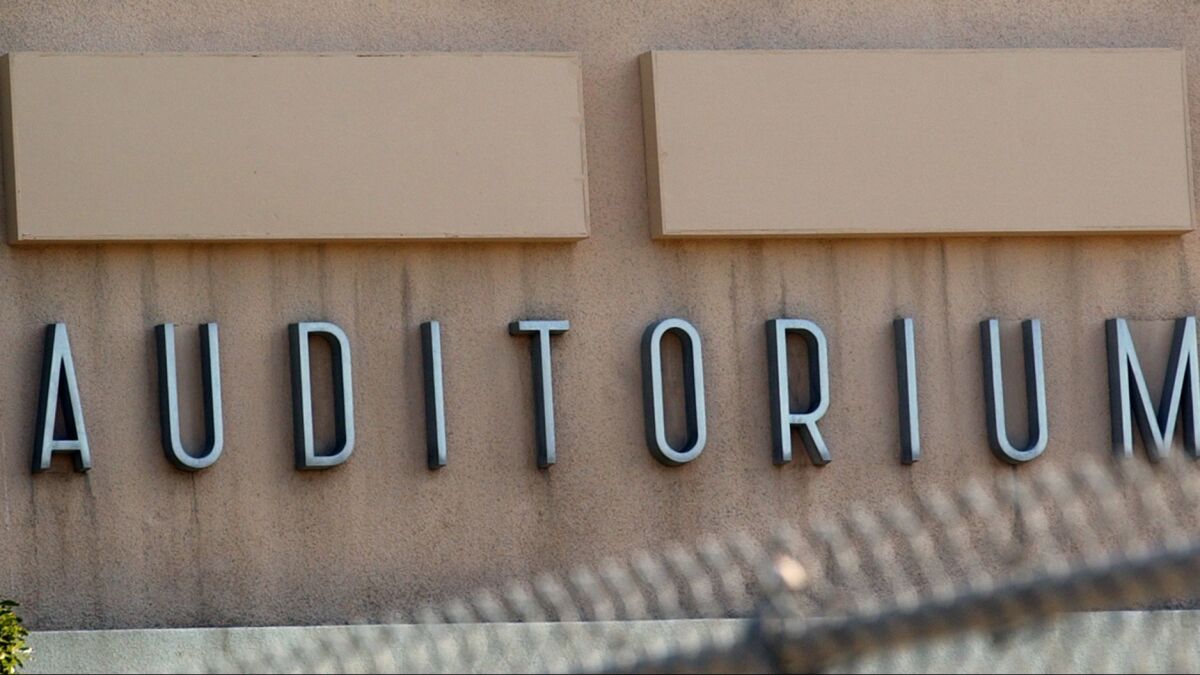 In 2010, a year after Jackson's death from an accidental drug overdose at age 50, school district officials ordered the covering removed — amid much celebration from Jackson fans.
The man in the shorts, a longtime area resident, remembers feeling mixed emotions.
"To me it was a little strange when the sign came back up," he said. "The general feeling was that there was something weird going on here."
Parent Maria Frank said she'd love to see the end of the association and all the distraction that came with it.
But another parent, Meredith Patterson Brayley, opposed removing the name. She felt that weight should be given to the fact that Jackson was tried and acquitted in the 2005 case. She felt the documentary was not enough despite content that she agreed was "shocking."
"It's a dangerous road we are going down," she said.
Heather Fox, parent of a kindergartner, supported removing the name from the auditorium but said it was important for people to separate the art from the artist.
She admires Jackson's music, Fox said. "I still believe he should be recognized for his place in music history."
Parents were making their way to home and work, and school was getting started when the man in the shorts returned.
"I've made up my mind," he said. "The name needs to come down."
---
Life is stressful. Our weekly mental wellness newsletter can help.
You may occasionally receive promotional content from the Los Angeles Times.