L.A. education reform group names board, signals shift from charter-school-only focus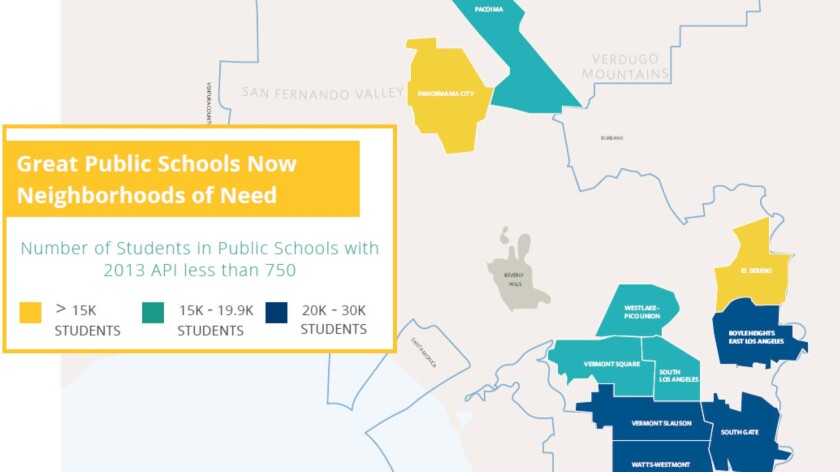 A controversial group that began with the mission of rapidly expanding charter schools in Los Angeles has named its board of directors, come out with a plan and publicly defined its mission as supporting new, successful public schools of any kind.
The board for Great Public Schools Now mostly includes faces and groups that are familiar in the education reform wars of L.A., including representatives from the Eli and Edythe Broad Foundation and the Walton Family Foundation.
The chair of the nonprofit is retired banker Bill Siart, the only board member who had been previously announced. In 1997, Siart vied to become superintendent of L.A. Unified, losing out to insider Ruben Zacarias. Later, Siart founded ExED, a company that provides specialized office services to charter schools.
Nearly all the other board members are widely regarded as pro-charter, even though their backgrounds are diverse.
Charters are independently operated, free public schools that are exempt from some rules that govern traditional campuses. Most are nonunion.
Follow the Times' education initiative to inform parents, educators and students across California >>
Siart said he hopes L.A. Unified will work with the nonprofit to create superior schools.
"They have some very good schools — some magnet schools and traditional schools — that are performing well for kids," he said, then added, "and they have other schools that don't," even after repeated turnaround efforts.
"A lot of turnarounds don't turn around," Siart said. "We need to see demonstrated success, not hope."
The group's glossy, 16-page plan identifies 10 low-income, low-achievement neighborhoods as areas of focus. Clustered in the east San Fernando Valley and south and east of downtown, they include Boyle Heights, Pacoima and South Gate.
Although the plan is short on specifics, the group plans to announce its first grants Thursday. They could help schools in the targeted areas in a variety of ways.
One goal is to help new schools find classroom space — which is often difficult for charters.
The nonprofit also said it will fund efforts to recruit and train high-quality teachers and principals.
In the near future, the group also plans to distribute start-up grants for the operation of new schools. Such grants — from federal and private sources — have typically gone to charters, but the nonprofit said district projects also will be eligible.
L.A. Unified could benefit by being able to expand its popular magnet schools. The magnet program began as an effort to promote integration by creating special offerings that would attract white students to schools with high-minority enrollment.
"What's been disappointing is that those things that have worked have not been expanded across the district more broadly," said Virgil Roberts, one of the group's board members. "When we ask: Why don't you create more magnet schools, the answer generally is financial constraints. Maybe we could supply that money to the district…. To the extent that money is a barrier, I hope Great Public Schools will be able to remove it."
Roberts, an attorney, has been involved in school-reform efforts for decades, and has long been associated with campaigns to oppose teachers' union-backed candidates for the Board of Education. He is a founding board member of Alliance College-Ready Public Schools, a charter school management organization.
The newly released plan differs substantially from a draft obtained last year by The Times. That draft, which was not intended for public release, harshly criticized L.A. Unified and identified charter schools as the path forward, with the goal of moving half of district students into charters over eight years. The draft appeared to have been prepared to give to potential funders.
Critics probably will continue to view that draft as the real blueprint and the document released this week as public relations.
"We'll have to continue to articulate what our vision is and what our plan is. And we'll have to walk the talk," said Yolie Flores, another newly named board member.
Flores was viewed as a charter ally during her one term as an elected member of the L.A. Board of Education. She now works at the Annie E. Casey Foundation.
Timed with the release of its plan, Great Public Schools Now will launch a six-figure TV and print campaign, including ads in the L.A. Times.
"Let's stop fighting and start fixing," urges one, which then guides readers to the group's website.
While insisting that its focus will be on all schools, not charters alone, the group isn't disclosing all pertinent details. It declined this week to provide information on its funders and how much money they are providing.
The group's board members dismissed concerns that the rapid movement of students to charters could lead to a financial crisis in L.A. Unified, shrinking its budget as it struggles with long-term pension and healthcare obligations.
"To just say we're going to continue to have failing schools because we can't afford the district to lose more money, that's immoral," Flores said.
On this point, the new plan minces no words: "More than 160,000 low-income students and English Language Learners are enrolled in schools whose performance is so dismal that 80% of students are learning below grade level."
The other board members are:
Marc Sternberg, a former New York City principal and senior district official who now heads the K-12 efforts of the Walton Family Foundation, one of the nation's leading incubators of charter schools.
Gregory McGinity, executive director of the Broad Foundation, which has made growing the number of charters a major focus. McGinity also serves on the board of the California Charter Schools Assn.
Maria Casillas, a former senior L.A. Unified official who also has led local nonprofits and served as an advisor to Students Matter, which is pursuing litigation to overturn traditional teacher job protections such as tenure.
Allison M. Keller, the executive director of the L.A.-based W. M. Keck Foundation, an organization that is not especially associated with charter support. The foundation focuses on science, engineering and medical research; undergraduate education; and local efforts to benefit children and their families.
Twitter: @howardblume
Editor's note: Education Matters receives funding from a number of foundations, including one or more mentioned in this article. The California Community Foundation and United Way of Greater Los Angeles administer grants from the Baxter Family Foundation, the Broad Foundation, the California Endowment and the Wasserman Foundation. Under terms of the grants, The Times retains complete control over editorial content.
MORE IN EDUCATION:
Prosecutors remove judge in Stanford swimmer sex assault case from new sex crimes case
Less test-iness over L.A. teacher evaluations
---
The stories shaping California
Get up to speed with our Essential California newsletter, sent six days a week.
You may occasionally receive promotional content from the Los Angeles Times.