A 6-year-old got shot in an apparent gang fight. Here's what her mother wants you to know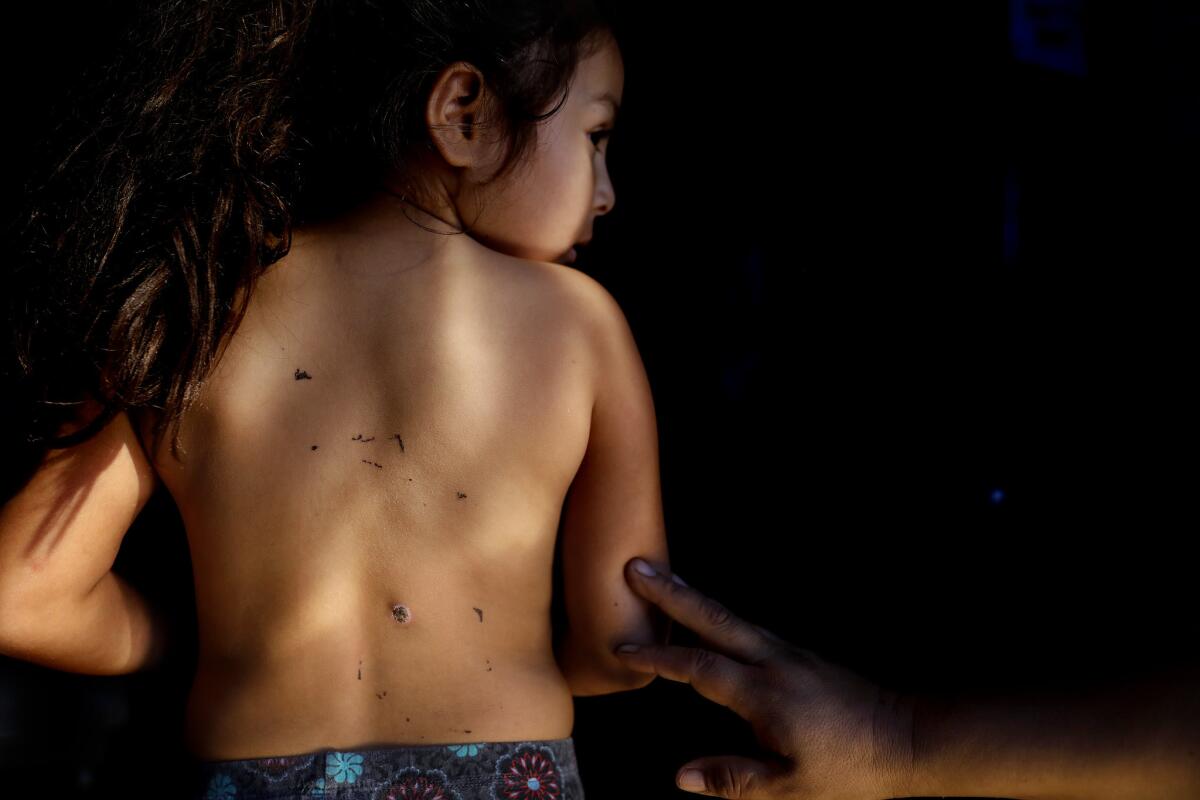 There's a bullet inside Emely Ramirez, but it only hurts when the 6-year-old bends down.
On a rainy Friday night this month, she was strapped into her car seat at a South Los Angeles gas station — her mother and 13-year-old sister were trading jokes outside the car. A nearby Pontiac was making Emely's mother, Brenda Ramirez, nervous. Then a BMW pulled up and people from both cars began shooting at one another.
In the ensuing gunfight, the shooters didn't hit one another. But a bullet struck Emely in the back.
Emely's mother was screaming to her two older daughters to get on the ground as she scrambled to get Emely out of the car seat. Brenda said the unstrapping took longer than usual — as she felt bullets hitting metal, shattering glass. Finally she got Emely out and felt wet blood.
She said her daughter told her, "Mommy I'm tired, I want to go to sleep."
Brenda tried to keep Emely awake — asked what her teacher did in school that day, how her test had gone. Nearby, the 13-year-old was having her first seizure in two years. Her aunt, Nina Ramirez, would later say this was the only seizure she was glad to hear of, because her niece doesn't remember the shooting.
It happened about 8 p.m. Oct. 12. After the shooters' cars pulled out, only one person offered help, Brenda said. He told her to wrap a sweater around Emely and hold it tight to stanch the bleeding. Emely soon was taken to a hospital, where she would spend nine days.
Within a day, Emely was watching cartoons and charming the police officers who visited, said Los Angeles Police Det. Ryan Bellows of the 77th Street Division.
Now, 2½ weeks later, Emely is mostly herself. She's a bold kid with a huge smile and a laugh that seems to fill her whole face. She loves unicorns, the color pink and watching YouTube crafting videos. Though the bullet isn't impeding Emely, she has an appointment this week to check on it.
On Monday, toting a pink backpack, she returned to school — to her friends and to her favorite subject, math. After school, she spent time as usual at her family's party decoration shop.
Her mother says she plans to get counseling for her through her elementary school. She says Emely is throwing more fits than usual, occasionally demanding — to no avail — that her mother buy her something.
The 13-year-old and 17-year-old, both in high school, are resisting help, their mother said. "They say, 'I'm OK,' but I know they're not."
The older one wants to stay in bed with her mom, and the 13-year-old has trouble sleeping. They don't want their mom to reclaim her car from police.
The shooting in Vermont-Slauson neighborhood has forced Brenda to confront the reality of danger in the neighborhood where she lives and works. Police believe the suspects were rival gang members.
"I never feel fear. I always say, 'Well, everything's gonna be good, and we're gonna fix it and everything's gonna be right,'" Brenda said. "At that moment, I feel like nothing was good and nothing was right. And I don't know why it was happening to me."
It's not fair that people who had a problem with each other disregarded her children and shot through them, she said. It's not fair that her daughter has a bullet lodged in her body. "They saw there were kids ... and they didn't care," Brenda said of the shooters. "They just care about their anger or whatever it was in their heads, the evil things."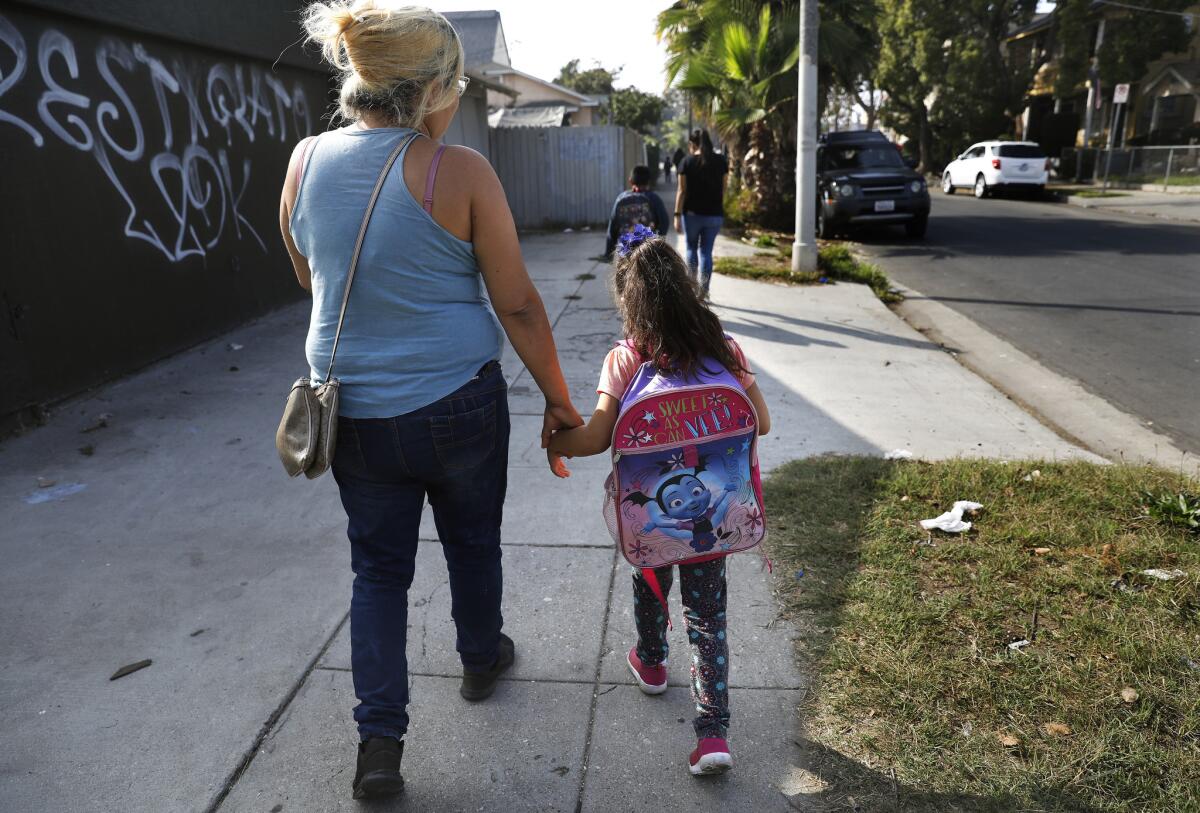 Authorities have arrested and charged the two men they say were in the Pontiac — Corey Lee Ware, 30, and Larry Hawkins, 32 — with 10 felony counts each, including premeditated attempted murder, assault with a semiautomatic firearm and possession of a firearm by a convicted felon, authorities said. If convicted, they could face multiple sentences of 25 years to life in state prison, a spokesman for the Los Angeles County district attorney's office said.
Police are still searching for the suspects who were in the BMW, Bellows said. Anyone with information can contact him at (323) 786-5414, or call LAPD's tip line at (800) 222-8477.
About two weeks before the shooting, Brenda said there were gunshots near the shop. Her brother told her to get on the ground. Otherwise, she said, she wouldn't have known what to do. Now she wants to see more preparation for children and adults in schools.
"If there's an earthquake I have my gallons of water here, in my car," she said. "Wherever I go, I have alcohol, bandages. … I always prepare for everything. I wasn't prepared for this. Nobody told me how to act."
Reach Sonali Kohli at Sonali.Kohli@latimes.com or on Twitter @Sonali_Kohli.
Sign up for Essential California for news, features and recommendations from the L.A. Times and beyond in your inbox six days a week.
You may occasionally receive promotional content from the Los Angeles Times.