Following L.A., Oakland teachers strike for smaller classes and better pay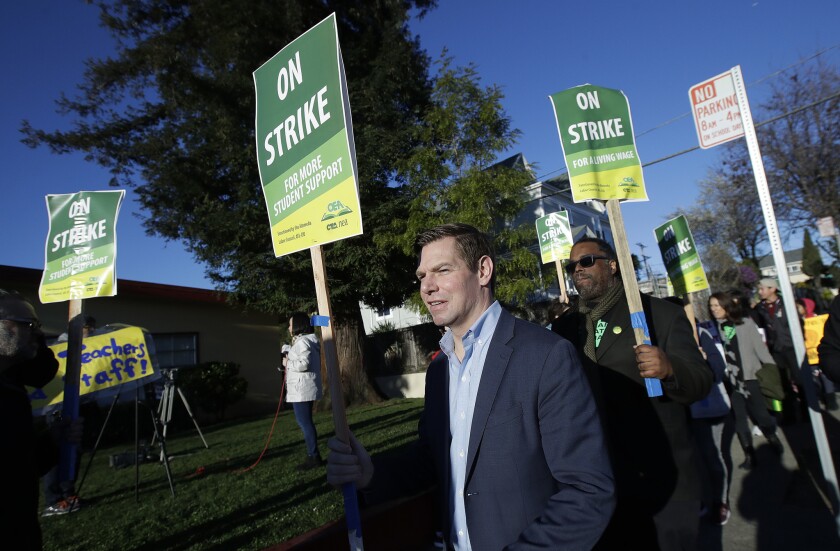 Oakland teachers are headed to the picket lines Thursday morning, the latest group of educators to demand better wages, smaller class sizes and stronger support staff by walking out of schools.
Representatives of the Oakland Education Assn. and Oakland Unified School District met Wednesday morning, and no agreement was reached, said Keith Brown, the president of the teachers union. The district, he said, offered nothing "that will dramatically increase the quality of education for our students."
The Oakland Education Assn. represents about 3,000 teachers at 86 schools.
Teachers plan to picket in front of schools beginning at 6:30 a.m. before heading to a rally at City Hall at 11:30 a.m. followed by a march to the school district central office.
The union has raised concerns similar to those by United Teachers Los Angeles. More than 30,000 nurses, counselors and librarians went on a six-day strike in January, prompting concessions from the Los Angeles Unified School District, including raises, decreases in class sizes and a commitment to keeping a full-time nurse in every school.
"What happened in L.A., West Virginia and all over the country is an inspiring movement of teachers coming together and saying we must demand more for our students," Brown said.
In mid-January, Oakland teachers staged a one-day "sick-out," a shot across the bow as negotiations with the district stalled.
Brown said classes are too large, wages are lagging behind surging rents, and classrooms lack key support staff, such as counselors. Just 21 nurses attend to a district of nearly 37,000 students, he said.
The cost of living in Oakland is among the highest in the country. But a beginning K-12 teacher in the Oakland Unified district makes $46,570, according to district figures. The maximum teacher's salary is $83,724.
"We're the lowest paid teachers in Alameda County," he added. "It's driving great educators out."
The district on Wednesday offered teachers a 7% raise over three years, along with a bonus of 1.5%. The union is asking for a raise of 12% over three years.
School closures are another concern. Oakland Unified's school board voted in January to shutter Roots International Academy at the end of the school year — a decision Brown said had angered many in the mostly minority community it serves.
Like leaders of UTLA, he blamed the growth of "unregulated charter schools" for draining district resources.
In preparation for a strike on Thursday, the city of Oakland and local churches planned to open "solidarity schools" for parents who want to support teachers but cannot keep their children home.
Oakland Unified has said it's committed to reaching an agreement with the teachers union to minimize disruptions to learning. As in L.A. during the teachers' strike, all schools will remain open. Principals, central office staff and "screened temporary teachers" will lead instruction, the district said.
---
The stories shaping California
Get up to speed with our Essential California newsletter, sent six days a week.
You may occasionally receive promotional content from the Los Angeles Times.