School's out for only part of the summer: Why classes are starting earlier and earlier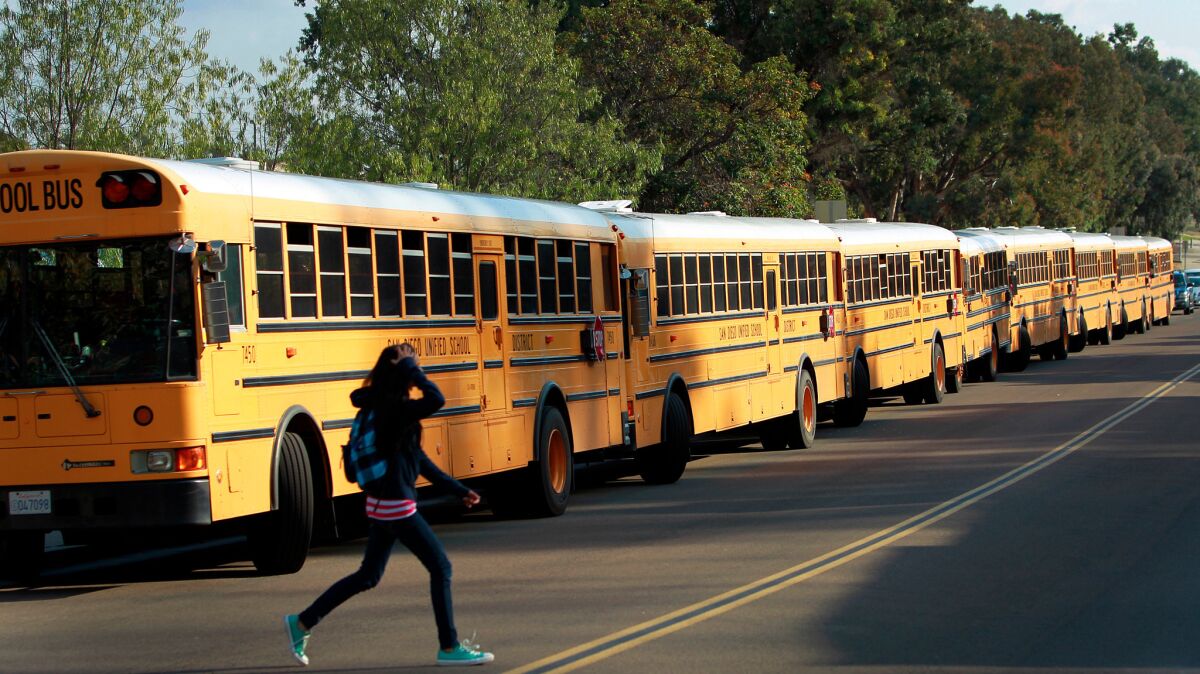 Once upon a time, we took it for granted that August was summer vacation and that schools opened their doors after Labor Day. But the first day of school has been creeping earlier into the last month of the season.
The Los Angeles Unified School District, the nation's second-largest district, will start its new year Tuesday. Several districts across the county already have opened their doors.
"When I was a student, it was always after Labor Day," said Alex Rojas, superintendent of the Bassett Unified School District.
Now, a September start date is actually a rarity in Los Angeles schools. Torrance Unified seems to have the latest start in the county on Sept. 8.
So, why the shift?
1) It helps the instructional calendar
Bassett, a 3,800-student district in an unincorporated area in the San Gabriel Valley, went back to school Aug. 10. It wasn't always that way.
Over the last two to three years, Rojas said, the date has been shifting earlier and earlier. The calendar, he said, is negotiated with the local teachers union. Teachers and administrators strive to balance instructional needs with personnel needs.
Previously, he said, students would leave for winter break, and come back in January only to face finals. The district also noticed a slew of absences in December as families left early for vacation. Starting earlier, Rojas said, puts winter break in a better spot and allows students to finish with finals beforehand.
"Before break, we're wrapping up finals and grading," Rojas said. "In January, we start a new semester when kids return."
One issue, though, is the weather. It's hard to predict when a heat wave is coming — and just last week, a teacher preparing a classroom found that the compressor of the air conditioner had broken. The classroom was 102 degrees. The district scrambled for fans and temporary solutions but got the air conditioner back in action by the first day.
2) There's more time to prepare for standardized tests
Advanced Placement and state standardized tests are given in May. Before them, students study. Afterward, sometimes they tune out. The timing of the tests is one of the reasons why Glendale Unified School District began looking at its calendar in 2009, and moved its first day from Sept. 1 then to Aug. 8 this year.
But the Glendale school system is revisiting the decision and looking at the possibility of moving the start date to later in August, said Supt. Winfred Roberson Jr. Next year's first day still hasn't been negotiated with the union.
The Alhambra Unified School District, which started Aug. 11, also moved its first day earlier over time. "We had a lot going on at the same time — state testing, high school exit exams, AP exams," said Gary Gonzales, assistant superintendent. "When we started school later, our kids had almost two months of school after those tests."
And when high school districts reorient for testing reasons, their elementary school counterparts often follow. The Los Nietos School District in Whittier, an elementary school district, started Aug. 9. "We've tried to align our calendar with the high school calendar as we had younger siblings that have older siblings in high school," Supt. Jonathan Vasquez said.
As the Los Nietos start date creeped earlier into August, Vasquez said, there were some growing pains as people tried to sort out their vacations. But students still showed up and enrollment has remained consistent, he said.
3) To make life easier for college-bound seniors
Pasadena Unified started on Aug. 8, the same day as Glendale. "We wanted to end our school year in time for graduating seniors to attend summer school at colleges if necessary, which begins in June," Chief Academic Officer Shawn Bird said in an email. "Beginning the year closer to Labor Day forced us to end the school year more toward the middle of June, which complicated matters for these students."
Bird added that the shift made it easier to have fall and winter break at "reasonable" times, and to get in more class time before tests.
Times reporter Sonali Kohli contributed to this report.
You can reach Joy Resmovits on Twitter @Joy_Resmovits and by email at Joy.Resmovits@LATimes.com.
MORE ON EDUCATION
How LAUSD successfully tackled the racial divide in 1969
A nonprofit that favors school choice offers help to Los Angeles Unified parents
Crash course in credit recovery yields best-ever graduation rate of 75% for L.A. schools
The stories shaping California
Get up to speed with our Essential California newsletter, sent six days a week.
You may occasionally receive promotional content from the Los Angeles Times.