Fledgling L.A. ordinance revives an old idea: the small house in the city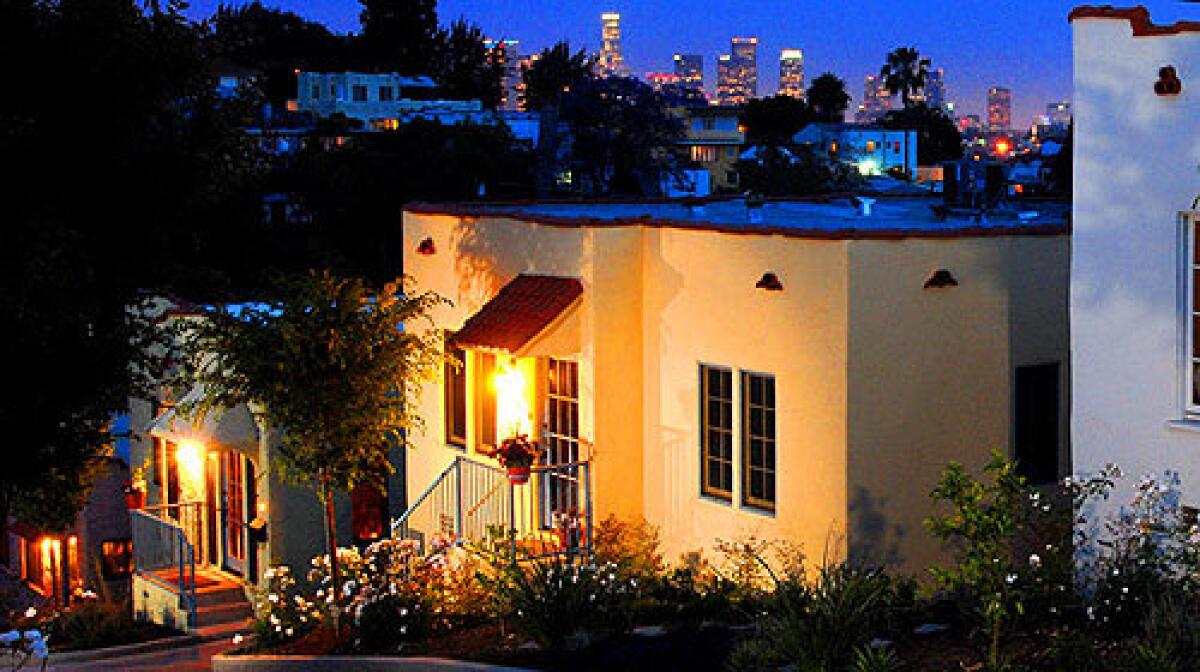 Times Architecture Critic
NEAR THE END of 2005, when home prices in Southern California seemed to top themselves by the week, a property whose best days seemed long past appeared on the market in Silver Lake. Located on a hilly stretch of Maltman Avenue, just south of Sunset Boulevard, it consisted of 17 small bungalows, built in 1926 in a boxy, abstracted Spanish style and lined up along a narrow driveway.
The bungalows, all rentals, had some obvious charm. With red-tile parapets and tiny front stoops, they were a reminder that Los Angeles was once quite good at producing housing that combined moderate density, a sense of community and quick access to the city at large. But restoring them as condos wouldn't have penciled out: At about 700 square feet apiece, they were too small to justify a pricey conversion. It seemed likely that the property would be torn down and replaced by a sizable condo or apartment complex -- the usual anonymous, no-soul stucco job sitting atop a concrete bunker of parking and pitched to the high end of the market.
Ultimately, the bungalow court was rescued by an unlikely savior: a piece of legislation called the Small Lot Subdivision Ordinance. Developed by the Los Angeles planning department, passed by the City Council at the end of 2004 and still obscure to most Angelenos, the ordinance allows developers to build a collection of single-family homes or detached town houses on a single lot. It also allows rental properties such as the Maltman bungalows to be converted so that residents can own their units outright, with easements for the driveways and other common areas.
For first-time buyers and those looking in the middle of the market, the ordinance has added a fresh category to the city's housing stock: properties bigger than some lofts and usually closer to the ground -- literally and psychologically -- but still smaller and more affordable than traditional single-family houses. The new homes have their own gardens, however small, and avoid the fees and restrictions associated with condos.
The Maltman property was purchased by Civic Enterprise Associates, whose founders, Mott Smith and Brian Albert, were on the lookout for a small-lot test case. After a thoughtful restoration by the Santa Monica firm Drisko Studio Architects, the bungalows went on the market as single-family houses last year. Each has a shade tree and fruit tree planted in front, and an attached garage that looks capable of holding a Mini Cooper, or maybe a Toyota Prius. Listed in the low $500,000s, all but one have sold. Though not all of the renters were happy about the conversion, three tenants were able to purchase their units. Last month, the project won a preservation award from the Los Angeles Conservancy.
"The houses are only connected by the garages, so there's complete privacy," resident Butch Noland said. "Plus I liked the idea of having an older house that had been updated -- a brand-new old house."
NOW 3 1/2 years old, the small-lot ordinance is very much a work in progress. The first projects are beginning, at long last, to emerge from the approval and construction pipeline. They have been slowed by bureaucratic problems and by infighting and poor communication among the vast number of city agencies -- including the Bureau of Engineering and the Fire Department -- that have a say in shaping the built environment in Los Angeles. Those issues, according to Civic Enterprise's Smith, "are emblematic of the complexity of trying to do infill in a city planned for sprawl."
To succeed as a vehicle for smart architecture and progressive urban design, the ordinance will need substantial refinement, much of it likely to be opposed by those agencies. There are questions about how aggressively the city's planning director, Gail Goldberg, will support changes to strengthen it in the face of complaints from Supervisor Zev Yaroslavsky and others that denser development will worsen traffic and hurt quality of life.
Nonetheless, the small-lot initiative is a sign of a newly aggressive and creative planning department -- an indication that the city, faced with a housing crisis that even a continuing drop in prices will not fully solve, is working to produce more homes that residents can afford.
Developers find the ordinance attractive because it allows them to build several properties on a single parcel of land without paying the liability insurance that has made condo projects so costly, in extreme cases adding $40,000 or $50,000 per unit. Because it applies only in areas zoned for multifamily or commercial development, it won't change the character of single-family neighborhoods -- an important detail in staying out of the anti-growth movement's cross hairs.
More broadly, the ordinance represents an effort to turn inside out some old definitions and assumptions about what defines a house. Its authors, led by Jane Blumenfeld in the city planning department, bet that many young would-be buyers are willing to give up the privacy and space of L.A.'s old suburbia in exchange for new construction, contemporary design and a sense of community, all at a fairly reasonable price.
"I have kids in their 20s," she said. "If they could find a cool 1,000-square-foot house like this, they'd be ecstatic. They're just not interested in a 6,000-square-foot house in Encino -- even if they could afford it."
The bet seems to be paying off. A considerable number of small-lot projects are under construction, several poised to hit the market this year.
"Pretty much our whole portfolio is made up of small-lot projects now," Mark Surdam, senior construction manager for Enterprise Home Ownership Partners, said last week on a tour of an eight-unit development near USC. "We're in the business of developing affordable housing, and this is one way to do that more easily."
Designed by John Kaliski and the firm Urban Studio, the project is on Leighton Avenue, filling land Surdam said had been vacant for more than two decades. Each unit will cover about 1,350 square feet and include parking below two airy, light-filled stories of living space. They'll soon be on the market for about $400,000 each, with many potential buyers in the neighborhood eligible for subsidies and down-payment assistance.
For Surdam, the issue is more than just affordability. Fee-simple houses, as these developments often are called, promote stability and community among residents. "If you're an owner, you're simply more invested," he said -- not just financially, but psychologically. "That makes a huge difference for the neighborhood."
From his point of view, the ordinance still has kinks. Changing what qualifies as a single-family house in Los Angeles requires adjustments to a range of city codes and departmental regulations. Previously, for instance, each house was required by law to sit on a lot of at least 5,000 square feet, with a minimum 20 feet of street frontage. It had to have its own address, sizable setbacks from the lot line on all sides, and so on.
Stacking eight houses side by side on a single lot requires convincing a long list of city agencies that the small-lot ordinance allows the developer to sidestep those requirements.
"When the ordinance was passed, I think the planning department thought it had real buy-in from the various city departments," Surdam said. "But it took some of them a year and a half, two years to even start dealing with the implications."
Even as affordable-housing groups work to take advantage of it, the small-lot ordinance, for all its complications, has been like catnip to certain young developers. Many see it as the only means of selling crisply designed modern houses or town houses for less than $1 million.
In Silver Lake, just above Rowena Avenue and about two miles north of the Maltman bungalows, a group of seven small-lot homes called Auburn 7 -- designed in attractive, full-on neo-Modernist style by Mass Architecture & Design -- is nearing completion, with three-bedroom units starting around $800,000. In Eagle Rock, the Heyday Partnership -- founded by 31-year-old Kevin Wronske, an architect, and his 33-year-old brother, Hardy, a developer -- is getting ready to break ground on a 15-unit small-lot project on Yosemite Drive. The average asking price for a 1,400-square-foot town house will be just over $500,000.
Blumenfeld estimated that more than 1,000 new homes are in the small-lot approval pipeline. Many of those -- like construction projects of all types -- may not survive the credit crunch and larger market downturn. But the ones that do will stand out as an example of an attractive new hybrid for L.A.: a home that offers more freedom than a condo, costs less than a typical house and is better connected to the city outside the front door.
New owners of the Maltman bungalows, developer Smith said, "care about history and architectural character and living in a walkable neighborhood. They look at gated communities as aberrations. Believe it or not, they actually wanted to be in a community rather than retreat from one."
Sign up for Essential California for news, features and recommendations from the L.A. Times and beyond in your inbox six days a week.
You may occasionally receive promotional content from the Los Angeles Times.