California ports watch for unusual water patterns after Chilean quake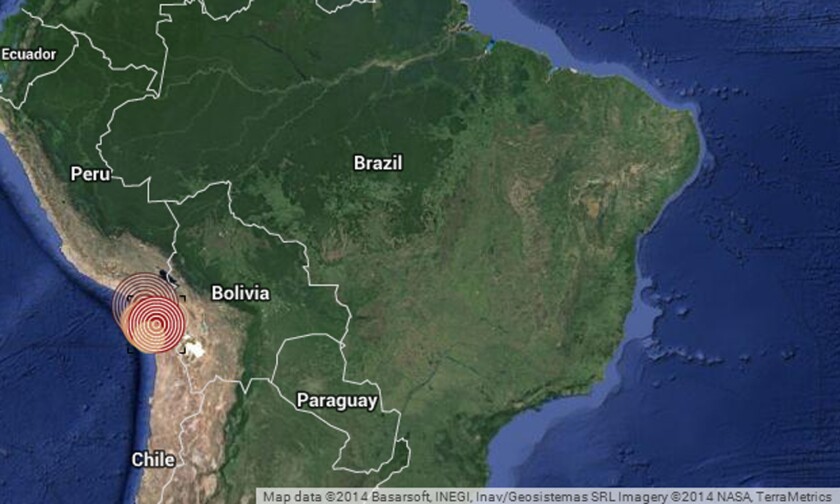 Small tsunami waves and other unusual "water movements" arrived on the California coast Wednesday following an 8.2 earthquake that struck Chile's northern coast.
Although officials stressed that no tsunami warning had been issued for California or the West Coast, the abnormal wave heights, tide fluctuations and current changes may have surprised boaters, they said.
The first waves to strike California that were connected to Tuesday night's South American earthquake may have hit La Jolla about 4 a.m., said Bill Knight, an oceanographer with the National Tsunami Warning Center based in Alaska.
From there, officials said, the waves appear to have traveled north. The National Weather Service in Oxnard said on its Facebook page that small tsunami waves arrived just before 5 a.m. in Los Angeles County and reached San Luis Obispo County about 20 minutes later.
Observed tsunami heights reached nearly 7 feet in the Chilean port city of Iquique, and evacuations were ordered along the country's Pacific Coast. But by early Wednesday local time, officials lifted tsunami warnings and watches for Chile and other Latin American countries.
By about 7:30 a.m. Wednesday, officials also ended a tsunami advisory for Hawaii.
In California, Port of Los Angeles spokesman Phillip Sanfield said officials were not aware of any issues connected to tsunami-related waves, tides or currents. The same was true for Marina del Rey, said Carol Baker, a spokeswoman for the Los Angeles County Department of Beaches and Harbors, which oversees that area. "We haven't had any issues … no surge, no reports of damage."
"Wave heights have been just a few inches," the NWS Facebook post said, "but there have been reports of noticeable currents in both the Ventura and Santa Barbara harbors this morning."
Kathy Hoxsie, a meteorologist with the NWS Oxnard, said "one-foot tide fluctuations" occurred in the Santa Barbara harbor as of about 7:45 a.m. Such tides were unlikely to damage boats in the harbor, she said.
The Ventura Harbor also experienced three-to-four knot fluctuations in its currents, as well as swirling water, Hoxsie said. Those fluctuations can act like "a sudden push," similar to a wind gust, she said.
If a boat owner was returning to a dock or harbor, such a jolt could cause damage by suddenly slamming the vessel into the dock.
Knight said one of the largest fluctuations in wave height could hit San Luis Obispo County, where waves could reach up to 20 centimeters above normal.
He said the "wave action" could continue for a full day but called the situation "pretty typical."
"I think there's nothing to worry about here, but we want to do our due diligence," he said. "We haven't seen anything yet to make us worry. And we don't expect to."
Twitter: @MattStevensLAT
Times staff writer Rong-Gong Lin II contributed to this report.
---
For reporting and exclusive analysis from bureau chief John Myers, get our California Politics newsletter.
You may occasionally receive promotional content from the Los Angeles Times.