L.A. County supervisors' sudden haste on jail issue is baffling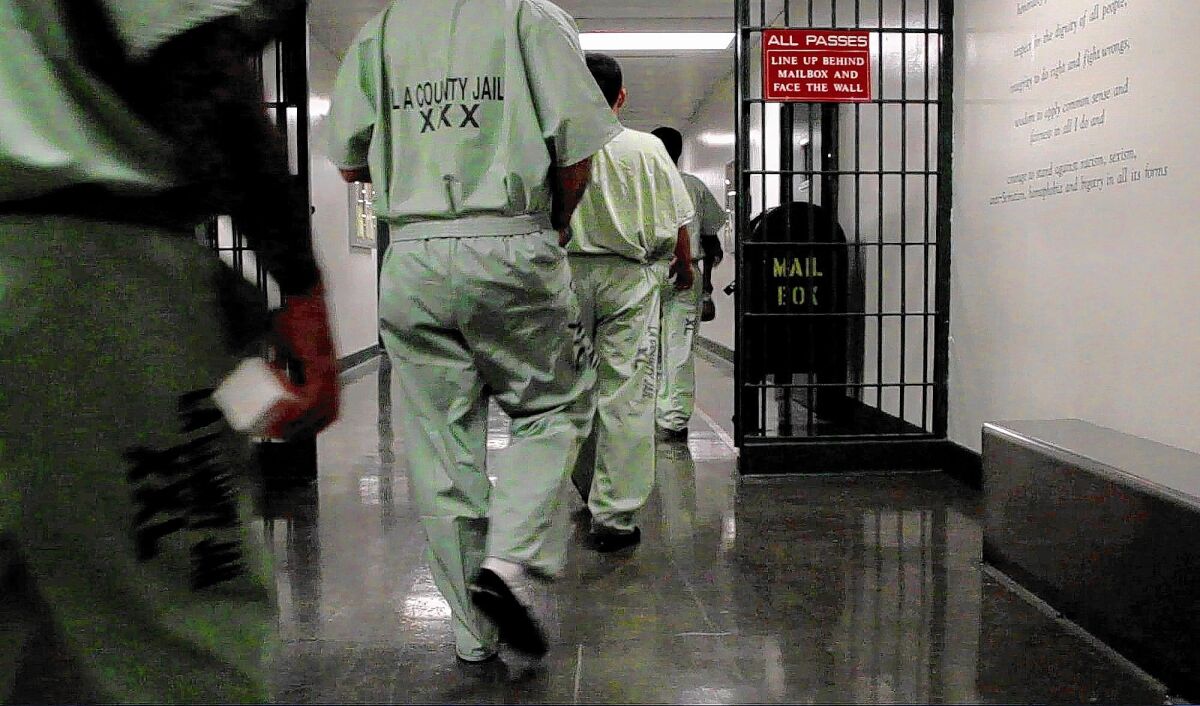 I am going to try to tell you about the high drama and profiles in courage at Tuesday's L.A. County Board of Supervisors meeting, but I'm not even sure where to begin.
The issue was whether to build a new county jail to replace the dungeon called Men's Central, and if so, which of five jail design proposals to support.
This was not a brand new topic for the supervisors. And what I mean by that is that the supes have been dithering over the matter for about a decade.
That's not necessarily a long time for this crew. But to put it in perspective, James Hahn was mayor back then. Barack Obama was an obscure state legislator in Illinois. And no one had heard of "Breaking Bad," "Mad Men" or "Downton Abbey."
Supervisors Mike Antonovich and Gloria Molina, quite clearly, were ready to move on. I'm not sure whether they truly believe that building a $2-billion jail downtown and a women's facility in Lancaster is the best option, or if they were just tired of talking about it. But they introduced a motion to move forward on that proposal, and Supervisor Don Knabe decided he was on their side.
Here's what seemed a little crazy, though:
After a decade of putting off a decision, why decide to act just a month before an election to pick a new sheriff?
I know, I know. I've just criticized them for taking forever, and now I'm wondering why they're moving so fast. They would argue that it's because the federal government might crack down because of inhumane conditions, but that's been the case for a long time. My point is that we might want the new sheriff to weigh in on the jail he's likely to be overseeing one day.
Aside from all that, though, the supervisors — as usual — didn't disappoint. It was remarkable to watch two conservative supervisors, Antonovich and Knabe, team with a liberal woman of color, Molina, in support of one of the biggest public projects in L.A. County history.
But it was just as remarkable to watch Supervisors Mark Ridley-Thomas and Zev Yaroslavsky go through their moves.
Sure, the county needs a new jail, they agreed. But why hadn't there been a harder look at diversionary programs aimed at getting more inmates with mental illness and drug addiction into community programs instead of locking them up?
That's a very good question, and it's been raised by many people — including me — for years. So why were Ridley-Thomas and Yaroslavsky suddenly acting like it was breaking news?
I think because the votes had already been counted, and Tuesday was about covering the bases.
Or covering something.
Ridley-Thomas came off as if he were aghast at the idea of moving forward with a $2-billion plan. Why, he wondered, had diversion been all but ignored by the private company the county hired to come up with the jail proposals?
Did this just occur to him?
I'm pretty sure the report was available for his perusal, since it was a public document. Did he read the hundreds of pages the company had filed, or the criticism from those screaming for the county to help people recover from mental illness rather than punish them for it?
Ridley-Thomas wasn't quite passionate enough about his position, however, to vote against the $2-billion jail option. He abstained, a neat trick because if everything works out, he's not on record as being against the jail, but if it turns out to be a boondoggle, he certainly wasn't on board.
Yaroslavsky, meanwhile, had presumably counted votes and knew the jail plan would be approved, which gave him the luxury of being the guy willing to ask the tough questions about cost.
The environmental impact report alone would cost $30 million, he said. And why did the prices of the different options keep going up?
Well, as a matter of fact, they went up in part because he and others asked for additional considerations, such as mental health services. But suddenly the liberal Westsider had traded places with Antonovich and Knabe and was playing fiscal Doberman.
"All of us have been around long enough to know that if you're telling us it's $2 billion today, it's not going to go down," Yaroslavsky warned. "It's only going to go up."
I've been around long enough to know that he's right, and also to suspect that he doesn't want to one day be the former supervisor who green-lighted a massive hit to taxpayers.
Yaroslavsky and Ridley-Thomas highlighted comments made to the supervisors by L.A. County Dist. Atty. Jackie Lacey. She said she's formed a mental health task force to study diversion, and she thinks the county's system of dealing with mentally ill offenders is unjust. Lacey said she thinks 1,000 of the more than 3,000 incarcerated inmates with mental illness should be in less-expensive and more therapeutic settings than jail. Other jurisdictions have successful models, Lacey said, and in Memphis, Tenn., they're closing wings of their jail.
That's good work by Lacey, but if Yaroslavsky and Ridley-Thomas wanted to champion the cause, they should have been leading the way months ago.
Better late than never, I guess. Ridley-Thomas introduced a motion to take a hard look at diversion, even as the jail proposal moves forward, and supervisors voted 5 to 0 on that one.
Just another day at the sausage factory.
---
The stories shaping California
Get up to speed with our Essential California newsletter, sent six days a week.
You may occasionally receive promotional content from the Los Angeles Times.