New command center will protect L.A. infrastructure from cyberattacks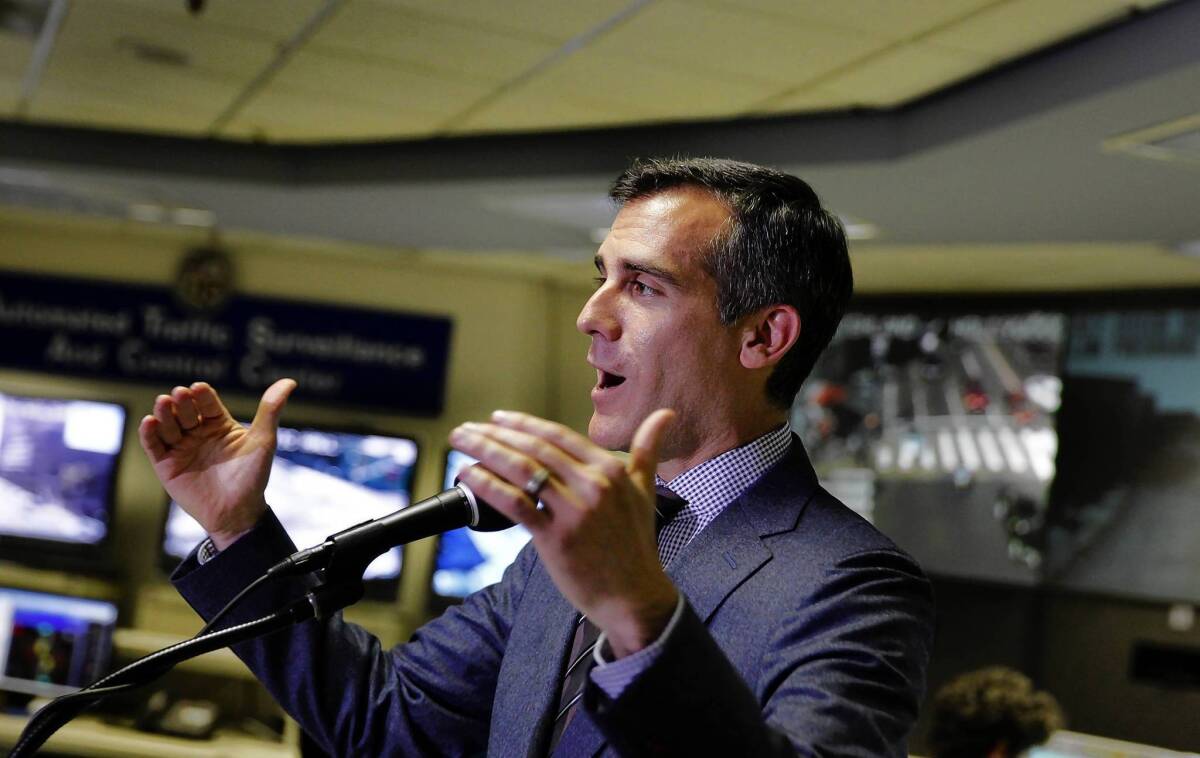 Los Angeles Mayor Eric Garcetti has set up a new command center to minimize the threat that hackers, terrorists or foreign enemies will disrupt water, power, transportation and public safety systems.
In an executive directive creating the Cyber Intrusion Command Center, Garcetti cited warnings from the Obama administration that computer attacks aimed at crucial infrastructure could cause panic and destruction and effectively paralyze the nation.
Working with the FBI and U.S. Secret Service, the command center will serve as a "rapid reaction force" to respond to cyberattacks, Garcetti said.
"The command center will identify and investigate cyberthreats to city assets, ensure any intrusion is immediately addressed and will constantly work to reduce security risks and prevent unauthorized access," he said during a news conference Wednesday. "It will also plan for continuity for recovery in case of a severe attack on our city."
The city's computer networks offer attractive targets to attackers. Its harbor and international airport are among the busiest in the world, and both are widely seen as vulnerable to terrorist strikes. And the L.A. Department of Water and Power is America's largest municipal utility, with a vast network of electricity plants and water lines that extend far beyond the city's borders.
As Garcetti has often pointed out, much of the technology used by the city is outdated, a problem he has promised to fix. The most glaring troubles include frequent breakdowns in the computer systems that connect 911 callers to Fire Department rescuers, which delays emergency responses.
The city's technology networks are a complicated patchwork of systems. The DWP, airport and harbor agencies each run their own networks separately from the Information Technology Agency that oversees most of the city's other computer systems.
Garcetti said the new command center would serve as an "umbrella" to coordinate security. He announced the plan at the Police Department's emergency command center downtown, where he appeared before a wall of monitors showing live city traffic scenes, cable TV news and maps of the city. At his side were Police Chief Charlie Beck and FBI and Secret Service officials.
"One of my top priorities is to make sure that we bring our city government into the digital age," Garcetti said. "New technology can make City Hall run cheaper, faster, more efficiently. But if we don't do it right ... critical city services that we provide are vulnerable through viruses, hacking, privacy invasions and security breaches."
The stories shaping California
Get up to speed with our Essential California newsletter, sent six days a week.
You may occasionally receive promotional content from the Los Angeles Times.