On 50th anniversary, survivors recall Baldwin Hills dam collapse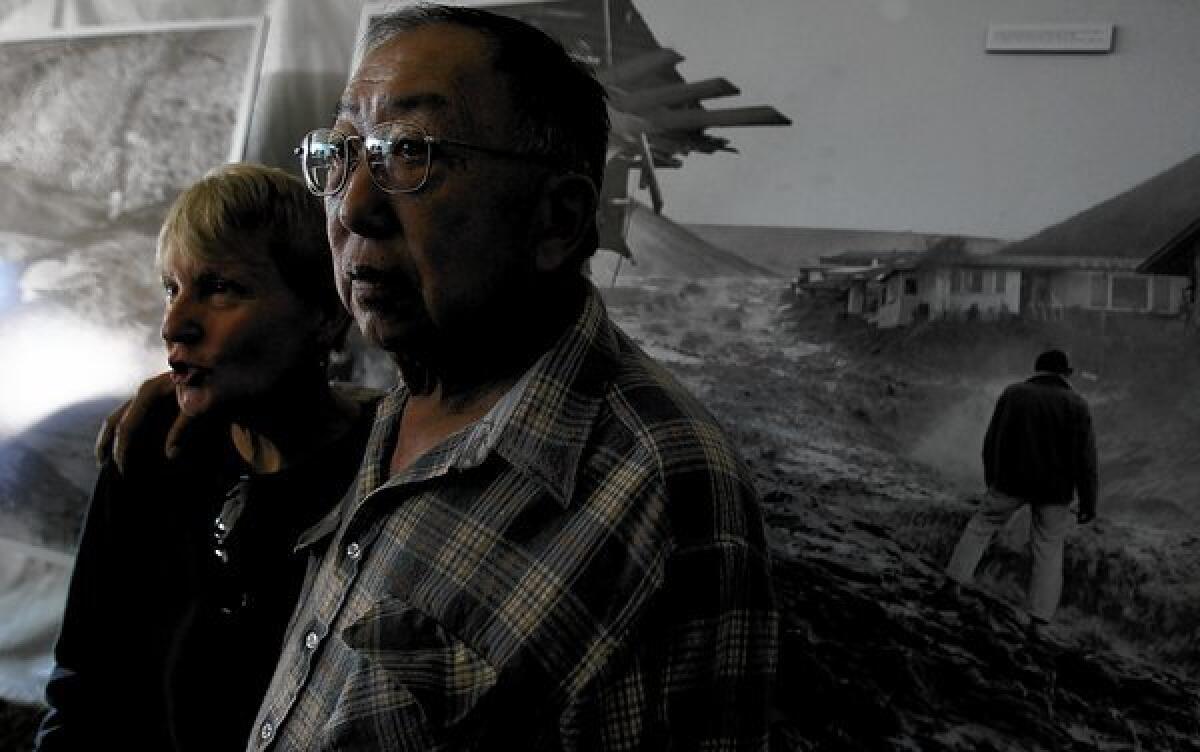 Survivors of the sudden collapse of the Baldwin Hills Reservoir dam gathered Saturday in a grassy valley to commemorate the disaster that sent 150 million gallons of Los Angeles drinking water cascading into their homes 50 years ago.
Hundreds filed into what is now Upper Kenneth Hahn State Recreation Area, where the earthen edge of the 66-foot-deep reservoir — holding 292 million gallons — ruptured Dec. 14, 1963, sending a 50-foot wall of water roaring into homes and cars along nearby Cloverdale Avenue.
Five people were killed, 65 hillside homes were torn apart and 210 other homes and apartments were damaged in an area between Jefferson and La Cienega boulevards and La Brea Avenue.
The father of Barbara Whitaker, a 76-year-old retired executive assistant from Irvine, was one of those who died. Archie V. MacDonald was 71 when he helped evacuate his wife, Marie, from the 627-unit Village Green residential complex.
"Mom got across to the car, but Dad went back to see if he'd locked the front door. The water just picked him up and carried him off," recalled Whitaker, who had not returned to the reservoir site since the disaster. "Mom held on to a tree and was rescued by a helicopter."
Fred Kong, now an 81-year-old retired city inspector, was shopping in the nearby Fedco discount store when the dam split open. "Water started coming in, and I didn't pay any attention until it got to my ankles," he said. "Then they announced over the P.A. to get out right away and people started running."
Kong, who still lives with his wife, Ruth, on Cloverdale Avenue, went home and climbed into his rubber chest waders before setting out for Village Green to help people. The scene he encountered was surreal.
"Police black-and-whites were floating down La Brea like Dixie cups," he said. "I saw some clothing in the bushes and then saw a hand and saw it was a man. I put him in a tree so the body wouldn't wash away. Forty-five minutes later I found another body and put it in a tree so it wouldn't float away, either."
Katherine Cohen was doing yardwork in her new home on Sanchez Drive when she glanced up and saw water coming down the street.
"The firemen said to leave, so we did. We took cookies and cake and toys for the children. But we forgot to take important papers. We were surprised when we found our house had survived," said Cohen, now 87, of Los Angeles.
Distraught neighbors gathered at Cohen's home, and those living on Stillwater Drive behind her used ladders in her backyard so they could climb up to their houses. "They had to do that because Cloverdale, which led to their street, was cut off by the flood," Cohen said.
Mim Shapiro, now 91 and a Culver City resident, lived on Wrightcrest Drive, a little above the flooded area. Her two children were attending services at their temple and were unable to get home because of the water, mud and debris.
"I'm surprised only five people were killed," Shapiro said. "If you were caught in it, I don't know how you would have gotten out."
Michael Papierman was 13 at the time, and he rode his bicycle to the top of the dam before it even started to rupture.
"I didn't have a clue that it was about to crack open. We'd gotten up there about 9:30 in the morning and nothing was going on," remembered Papierman, now 63 and a semi-retired investor from Laguna Woods Village. "Then Clete Roberts from TV came up and asked what we were doing there. We were advised to go back down the hill, so we rode down Cloverdale on our bikes. If it had broken when we were underneath it, we'd have been a statistic."
Robert Lee Johnson, now living in Inglewood, was 7 at the time of the disaster. "We were glued to the TV all afternoon watching this," he said. "My mom said, 'Look, there's Dad on the screen!' They showed him standing on top of the Thrifty drugstore sign taking pictures."
Saturday's commemorative ceremony included a display of historic photos of the reservoir's construction, its failure and the aftermath. Village Green resident George Rheault told visitors his research into the disaster suggests that the reservoir's earthen dam was built across an earthquake "spur" connected to the Newport-Inglewood fault and was subject to settling because of that and nearby oil pumping.
"The DWP guys were heroes," Rheault, an attorney, told those examining the old photos. "They heard rushing water and alerted the engineers who started emptying the reservoir. They got a third of the water out. A hundred motorcycle cops came in to evacuate people. About half of them lost their motorcycles in the flood. If this had happened at 2 in the morning, maybe a thousand people could have been killed."
Saturday's ceremony included a moment of silence at 3:38 p.m. — the exact moment the dam collapsed that day a half-century ago.
Sign up for Essential California for news, features and recommendations from the L.A. Times and beyond in your inbox six days a week.
You may occasionally receive promotional content from the Los Angeles Times.