Southland landmarks re-created in miniature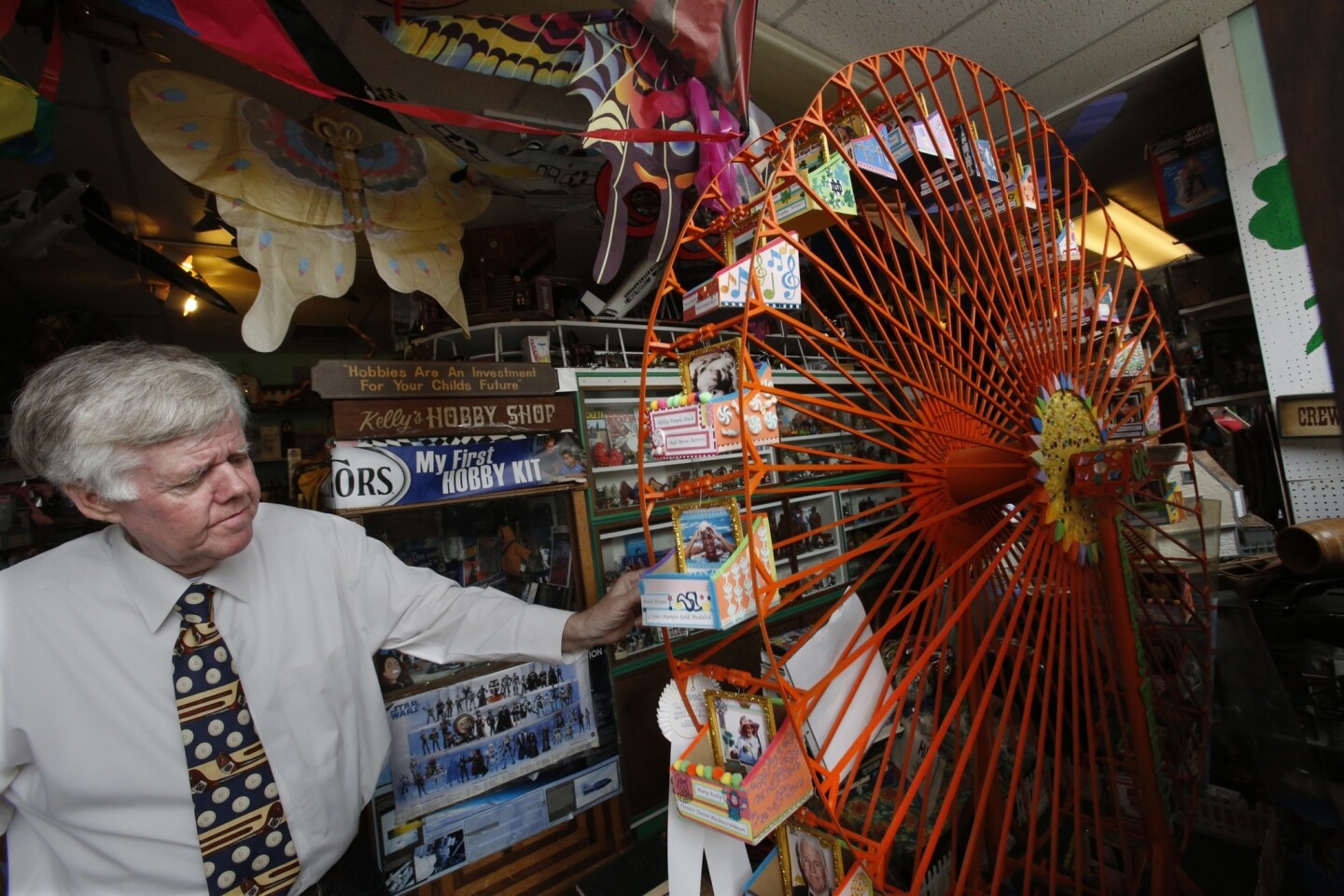 Gregory Kelly, who creates scale models of attractions out of scraps, spins a ferris wheel he made at Kelly's Hobby Shop in Old Town Tustin on March 24, 2014.
(Anne Cusack / Los Angeles Times)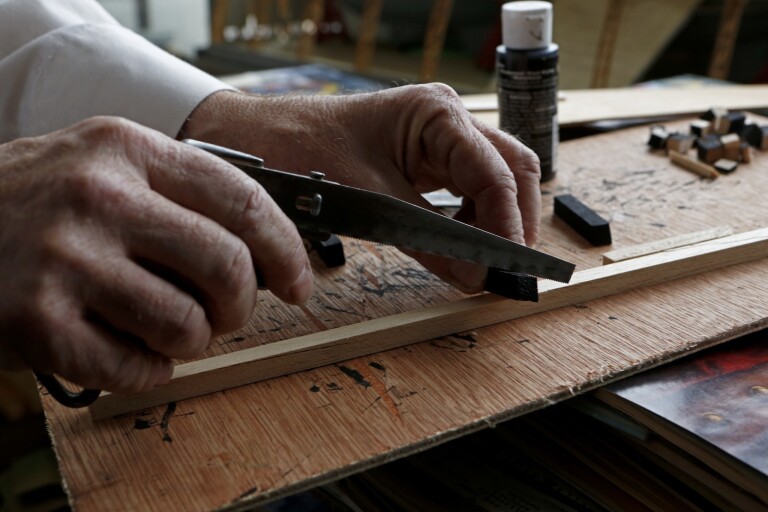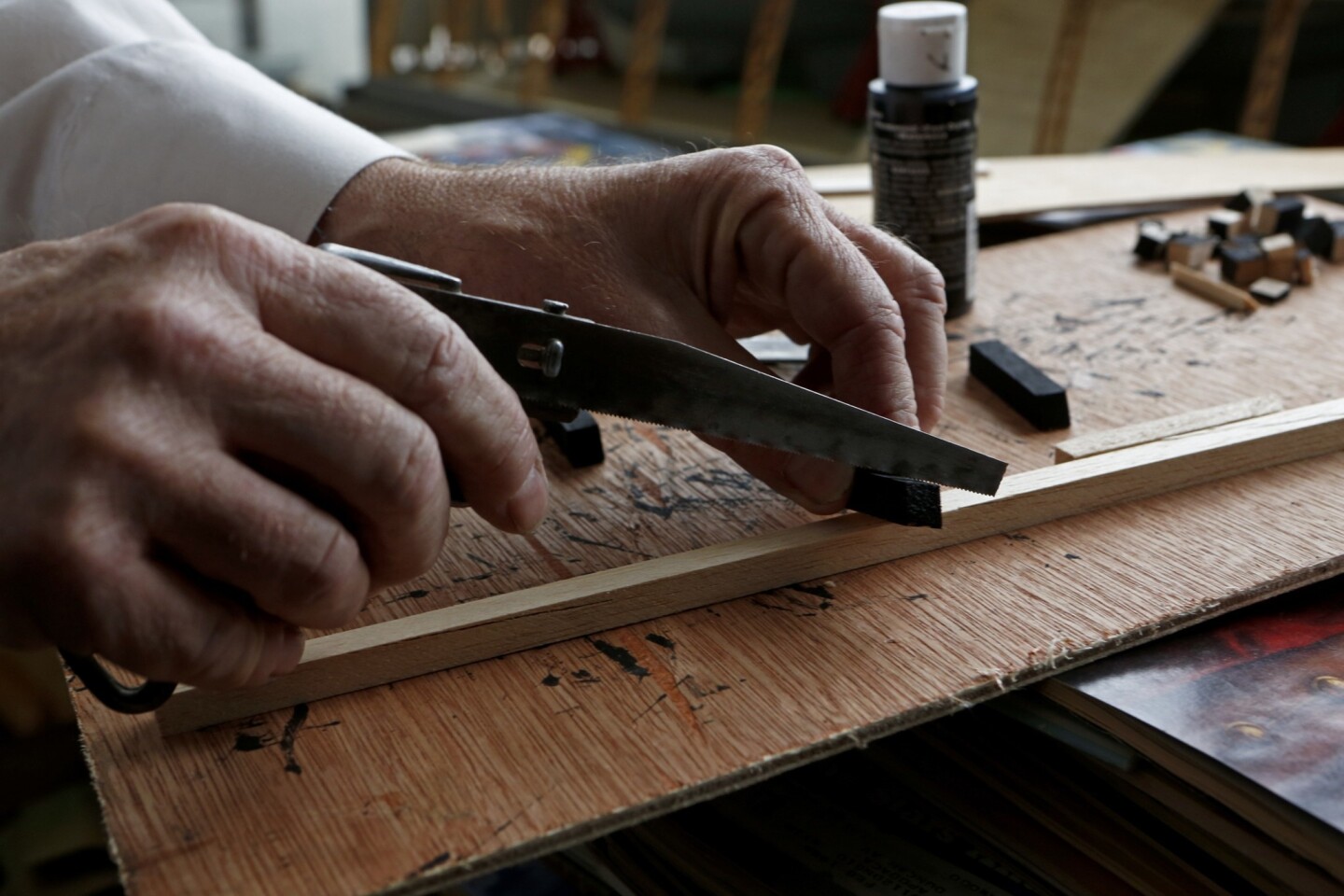 Kelly is building a scale-model staircase from the Laurel and Hardy classic "The Music Box."
(Anne Cusack / Los Angeles Times)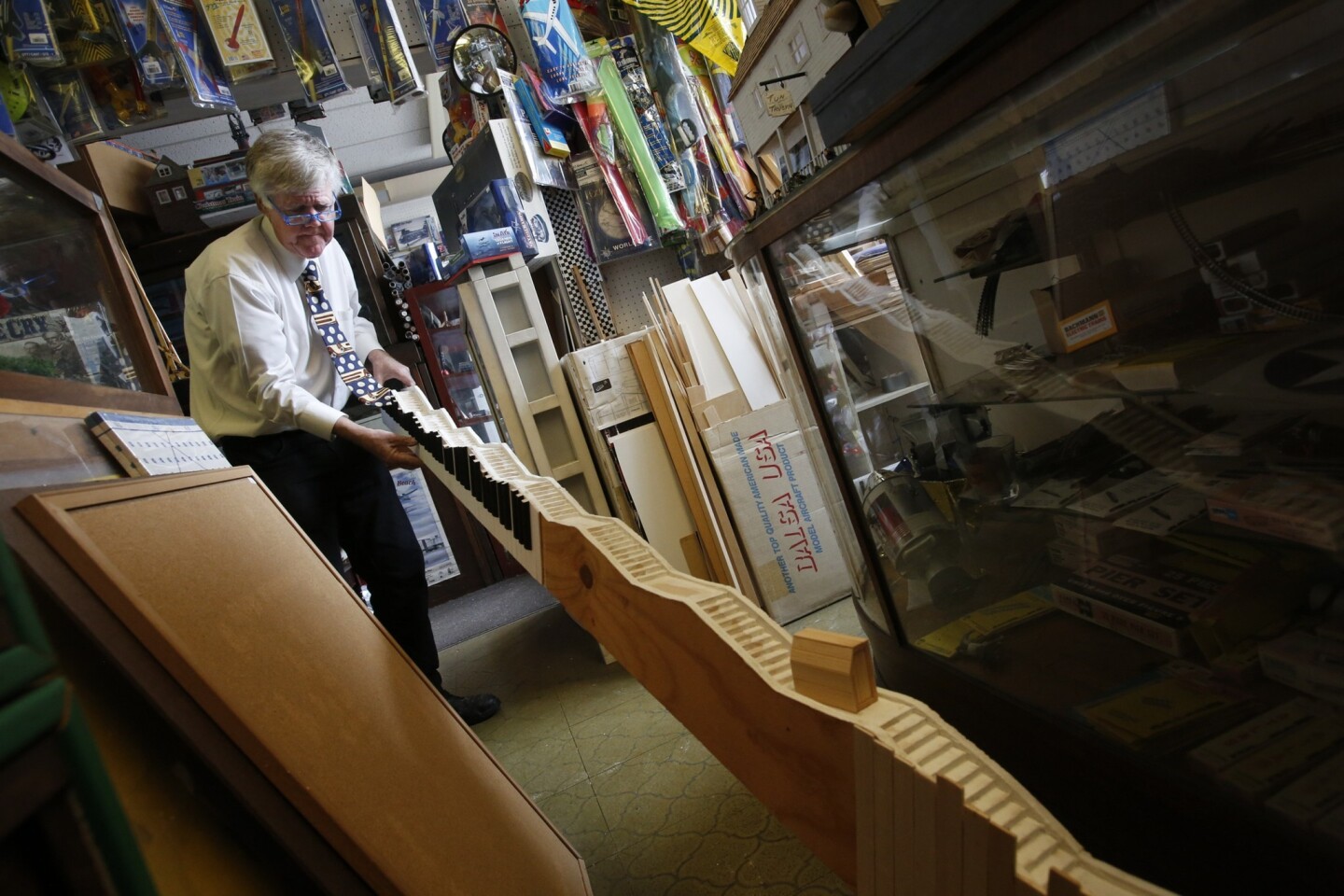 The 9-foot staircase is a re-creation of an outdoor staircase in Silver Lake where Laurel and Hardy carried a piano.
(Anne Cusack / Los Angeles Times)
Gregory Kelly, right, talks to his mother Mary Kelly, 87, in Kelly's Hobby Shop in Old Town Tustin.
(Anne Cusack / Los Angeles Times)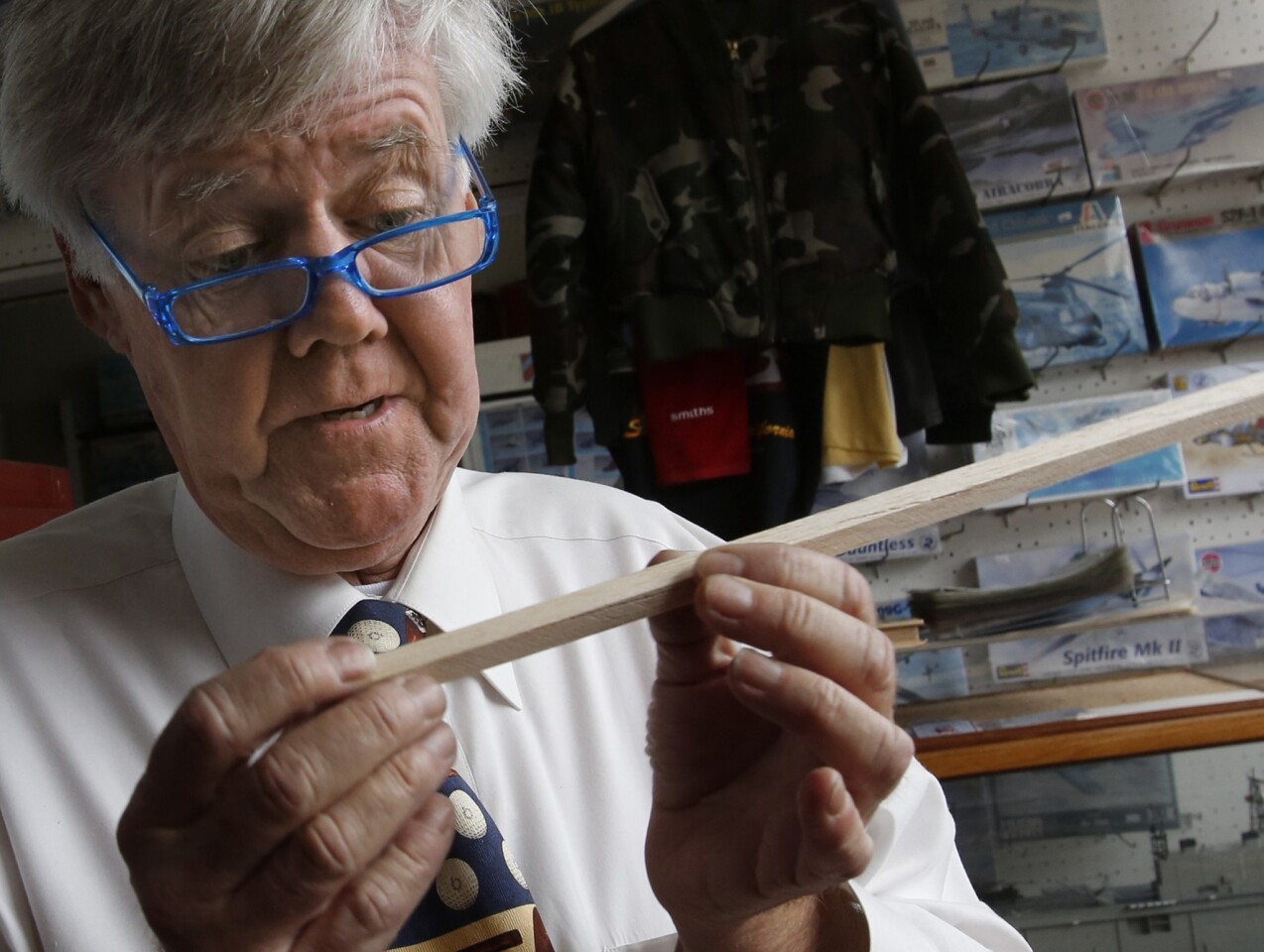 Gregory Kelly examines a piece of balsa wood.
(Anne Cusack / Los Angeles Times)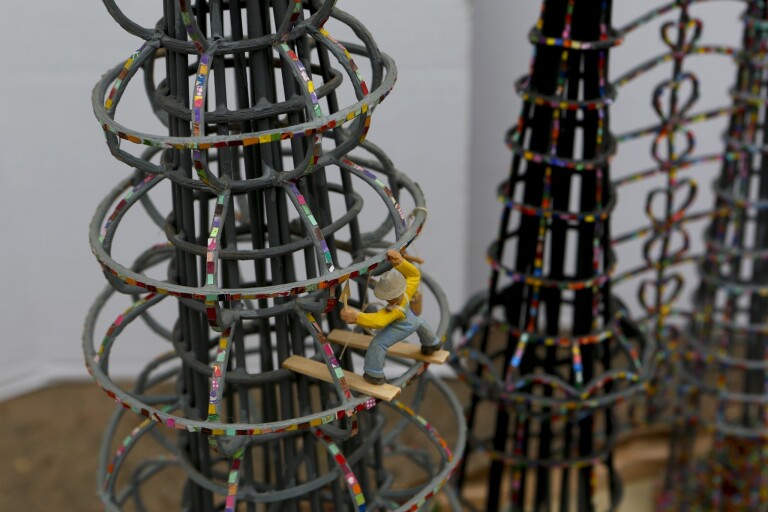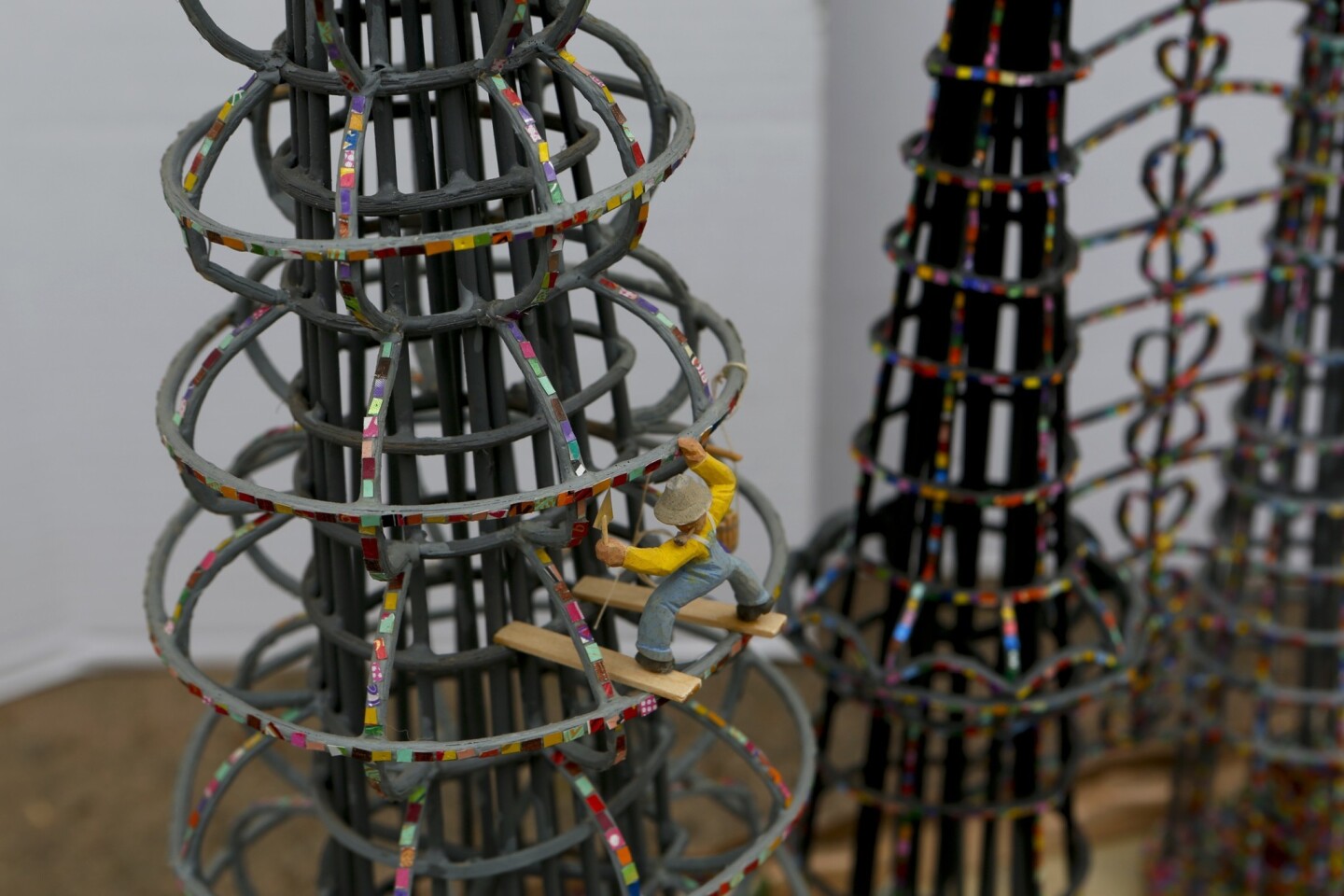 Detail of the Watts Towers model made by Gregory Kelly. The model won first place at the O.C. Fair last year.
(Anne Cusack / Los Angeles Times)
Gregory Kelly is a small-scale historian who is out to memorialize big-time Southern California landmarks, one by one.
There's the miniature Watts Towers, an elaborate depiction of Newport Beach's Balboa Pavilion and a proportionally correct model of Silver Lake's Music Box Steps — all tucked in Kelly's crowded Tustin hobby shop.
Not bad for a man who had never even built a plastic model airplane before deciding at age 20 to open his own shop in a building owned by his father.
"I started out in 1972 with $325 worth of model kits," he said. "As a 9-year-old I'd made two attempts at making models before giving up. So when I started building models, I learned the fundamentals by making airplanes, cars, boats and rockets."
Over time, Kelly's creations became more unique — one-of-a-kind models of the birthplace of the U.S. Marine Corps, Philadelphia's Tun Tavern, Shakespeare's Globe Theatre, the Titanic's grand staircase, a giant Ferris wheel honoring Orange County luminaries, a Wild West town and Tustin's 1942 Naval blimp hangar.
Then along came his Watts Towers project.
"I'd been curious about the towers since the day my dad put us in the car and took us there. Later, when I was making models, I figured that thousands of paintings of the towers have been done, so I decided to make one of them."
Kelly started out by taking photos and drawing sketches of the towers.
To simulate the rebar that Simon Rodia used for his 100-foot-tall towers, Kelly turned to raffia reeds, which are used by basket weavers. To mimic the slivers of ceramic tile and pieces of glass that Rodia embedded on the concrete-coated rebar, he used tungsten scissors to cut beer and soda cans into tiny squares and glued them to the reeds. The model required about 5,000 of the sparkling aluminum pieces.
Kelly added actual mosaic tile to the base of the 2-foot-tall, 42-inch-long model to illustrate the minute detail of Rodia's original work. The colorful tile pieces spell out "Watts Towers." A friend, wood carver Don Converse of Los Alamitos, created a half-inch figure depicting Rodia climbing one of the towers as he carries a trowel and puffs on a pipe.
The Watts Towers model won first place and two other ribbons at last year's Orange County Fair.
Converse is collaborating with Kelly on the Music Box Steps model. He is carving small figures of Stan Laurel and Oliver Hardy to depict them carrying a crated piano up the 133-step Silver Lake staircase that was featured in the pair's Oscar-winning 1932 film "The Music Box."
Kelly and Converse traveled to the stairway that climbs from Vendome Street to Descanso Drive to measure the steps and their steepness.
"I didn't realize the model would end up being 9 feet long. When it's finished it will be positioned at an angle to illustrate the actual incline," he said. The side of the completed staircase will be decorated with two sets of piano keys — one keyboard the mirror image of the other.
"I'm not a super Laurel and Hardy fan, but 'The Music Box' was acclaimed. The steps have survived earthquakes and development and they're still there. In the film, Laurel and Hardy showed you can't move a piano up them without help. Same with me — that's where Don comes in," Kelly said.
Converse said he is a huge Laurel and Hardy fan. "I inherited that from my father, who really liked their films," he said.
A wood-carving hobbyist for 30 years, the 67-year-old Converse is a semi-retired machinist who recalls being Kelly's "second or third customer" when his hobby shop opened in 1972. He said he hasn't decided whether to carve the 6-inch-tall Laurel and Hardy figures out of basswood or jelutong.
He knows he'll use a knife to re-create the two comedians, however. "I don't use power tools or an engraver," he said.
---
The stories shaping California
Get up to speed with our Essential California newsletter, sent six days a week.
You may occasionally receive promotional content from the Los Angeles Times.