A gallery of superstars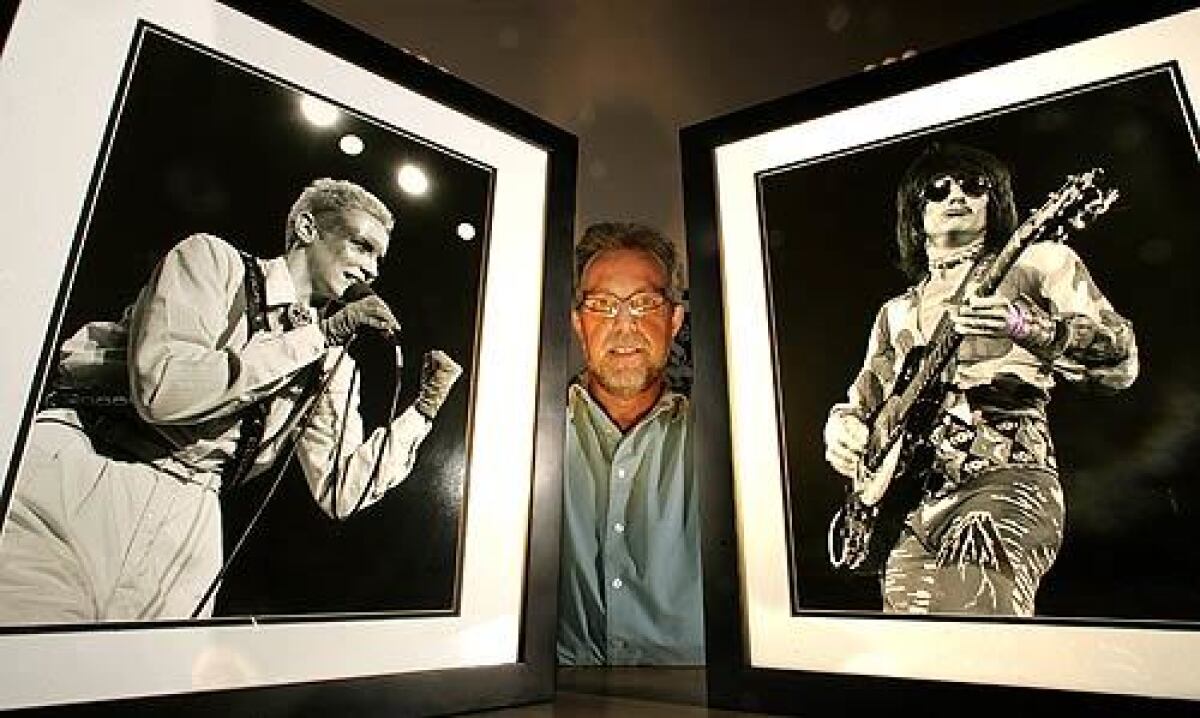 He didn't have to cobble together a show when he decided to turn his shoe repair shop into an art gallery.
All Greg Papazian had to do was reach into the shoe box that for 35 years held a one-of-a-kind photographic record of Los Angeles in its glittery rock 'n' roll heyday.
He was a high school junior when he turned a visit to an Allman Brothers concert at the Sunset Strip's Whisky a Go Go into a gig of his own -- as club photographer for the legendary hub of Los Angeles' rock scene.
"At first I'd just buy a ticket and kind of 'upgrade' to a closer spot when I got inside," Papazian said. "Back then you could walk in with a giant case -- nobody was searching purses. It was not like it is today. Anybody could walk in with a camera."
On his next visit to the Whisky, he handed the person in the ticket booth three 11-by-14s shot at the Allman Brothers show.
"Elmer Valentine, the owner, came out as I was walking off and asked if I wanted to be the club photographer. I said yes."
Later he took his camera to Valentine's Roxy and the Palace theaters, spending years documenting the biggest names and flashiest music acts of an era that boasted big amplifiers and even bigger hair.
The Kinks, Led Zeppelin, Peter Frampton, Procol Harum, Rod Stewart, The Who, Mott the Hoople, Edgar Winter, Humble Pie, Fleetwood Mac, Eric Clapton, Judas Priest, Chuck Berry, Deep Purple, the Bee Gees, Arlo Guthrie, Traffic, T. Rex, Uriah Heep and Tina Turner. They were among the hundreds of rock stars who found themselves in front of Papazian's Nikon F lens.
At the end of each show, young Papazian would quickly develop his 35-millimeter Tri-X black-and-white film and make blowup prints of the three best frames on each roll to deliver to the club. Then he carefully filed away the negatives in glassine sleeves.
Classmates at Van Nuys High School would ask him for a print of their favorite performer or group and Papazian would cheerfully oblige. For a time, he provided concert pictures for a monthly collage published in Phonograph Record Magazine.
After the school day, Papazian held down a part-time job in his father's Sherman Oaks shoe repair shop. When the shop closed, he would hitchhike with his camera over Laurel Canyon to the Strip, where he would deliver the club's pictures and stake out a vantage point in front of the stage for the night's show.
Bands would often ask him to shoot group pictures for them at the Strip's Hyatt Hotel, where most of them stayed. Musicians such as Elton John and Rod Stewart invited him to play soccer with them at a local park.
"It was a good time to be 17," laughed Papazian, now 54 and a resident of Van Nuys.
In time, punkers elbowed rockers off the Strip. Papazian became disenchanted with the punk music scene and drifted back to his father's Sherman Oaks shop to work full time. His 3,500 concert negatives lay forgotten in his bedroom.
Eventually he took over operation of Eddie's Shoe and Handbag Repair -- continuing the third-generation storefront shop run since 1946 by Eddie Papazian and, before him, Joseph Papazian.
A chance encounter two years ago with high school friend Greg Mastrogiovanni sent Papazian digging through his film cache.
"He'd given me some pictures a long time ago -- Zeppelin and Jeff Beck -- and they were great. I told him he should be doing something with them because they're works of art that should be in a gallery," said Mastrogiovanni, a videographer who lives in the Miracle Mile area.
Papazian decided the walls of his shop would make a perfect canvas for a commemoration. He is slowly hanging his favorites and plans a formal opening at 13716 Ventura Blvd. between 6 and 10 p.m. on Dec. 6.
Customers are stunned when they learn the images above the display shelves of shoe dye, polish and laces came from their shoe repairman.
"I was very surprised, taken aback, when I saw these pictures," said longtime patron Judith Shevin, a Sherman Oaks interior designer. "I've pointed several of my clients his way."
In the world of sole, a new rock star is born.
Pool is a Times staff writer.
latimes.com /rocknrollphotos In their glory Portraits from the Whisky a Go Go and other L.A. clubs.
---
The stories shaping California
Get up to speed with our Essential California newsletter, sent six days a week.
You may occasionally receive promotional content from the Los Angeles Times.