Coliseum Commission takes heat over transparency, halts meeting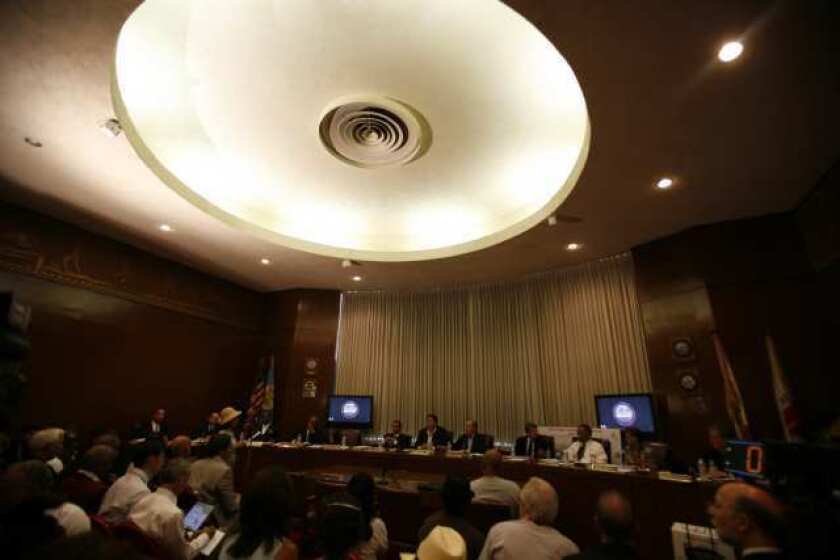 The Los Angeles Memorial Coliseum Commission came under fire from state officials Wednesday for a lack of transparency, then was forced to cancel its monthly meeting halfway into the session after officials acknowledged the venue had failed to publicly post the agenda as required by law.
The cancellation came just hours after members of the California Science Center board, which owns the Coliseum land, chastised the stadium's top executive for not sharing more information about a proposal to surrender day-to-day control of the financially strapped stadium to USC.
At the morning board meeting of the Science Center, which is next to the stadium, panel Chairman Robert L. Stein told Coliseum Interim General Manager John Sandbrook that "we have not had any input whatsoever" on the lease terms. "We have been specifically excluded from any negotiations."
Said Charmaine Jefferson, head of the neighboring California African American Museum: "Can't we just make this easier if we just had just two seconds of input?"
Later, after the Coliseum Commission convened its meeting, Sandbrook and panel members bristled at the criticism. "This was done in the light of day," commission President David Israel said, adding that the panel voted Sept. 7 to start the lease negotiations. "And whatever has occurred since then has occurred as a result of that vote."
But the vote was taken in closed session. And the commission was secretive about the USC talks in several subsequent meetings.
The cancellation of Wednesday's meeting was unusual. After the commission heard public comment on the proposed lease, a Times reporter asked why the agenda had not been posted outside the hearing room three days before the meeting. Sandbrook said the failure to post the agenda had been an oversight, but he believed the legal requirement was met because the document was on the Coliseum's website.
The commission's attorney, however, said the state's open meeting law was violated.
City Councilman Bernard C. Parks, a commissioner, accused Sandbrook of putting the panel in legal jeopardy by not alerting it to the possible violation before the meeting began. Parks has called for Sandbrook's firing on grounds the interim general manager has done a poor job correcting financial irregularities that have kept the Coliseum mired in scandal for the past year.
"For him to allow the nine members of the commission to show up for a meeting today is inexcusable," Parks said. "It's one more embarrassment that this guy brings to the commission."
County Supervisor Mark Ridley-Thomas, another commissioner, said in an email that he could not recall such a cancellation in his 20 years as an elected official, but he did not fault Sandbrook. Ridley-Thomas said "the good news is that we remedied it."
---
The stories shaping California
Get up to speed with our Essential California newsletter, sent six days a week.
You may occasionally receive promotional content from the Los Angeles Times.