Aviation buffs of Condor Squadron keep vintage WWII aircraft flying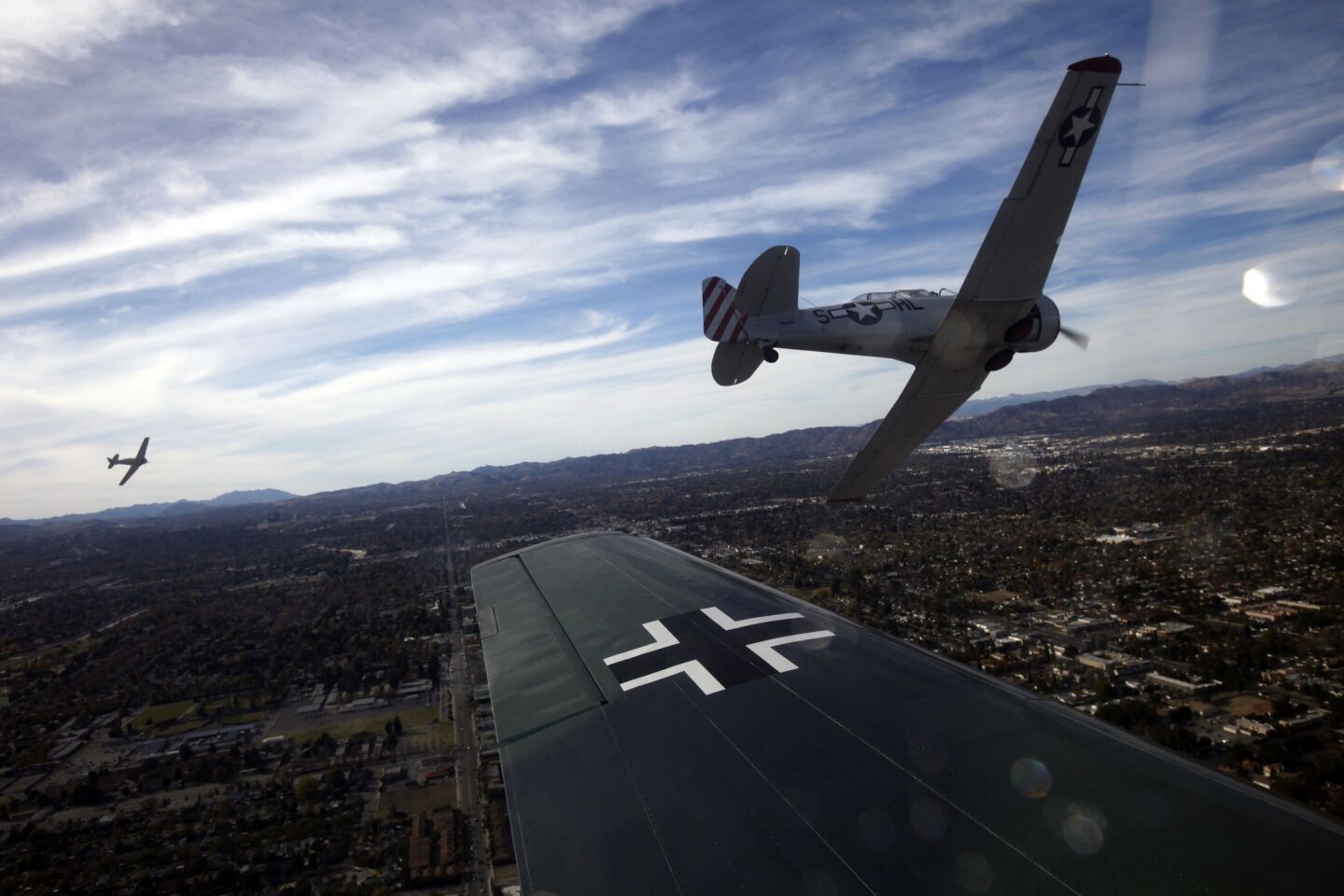 The Condor Squadron flies North American AT-6 planes from the WWII era out of Van Nuys Airport. The planes prepare to land after a flyover of the Chatsworth holiday parade.
(Michael Robinson Chavez / Los Angeles Times)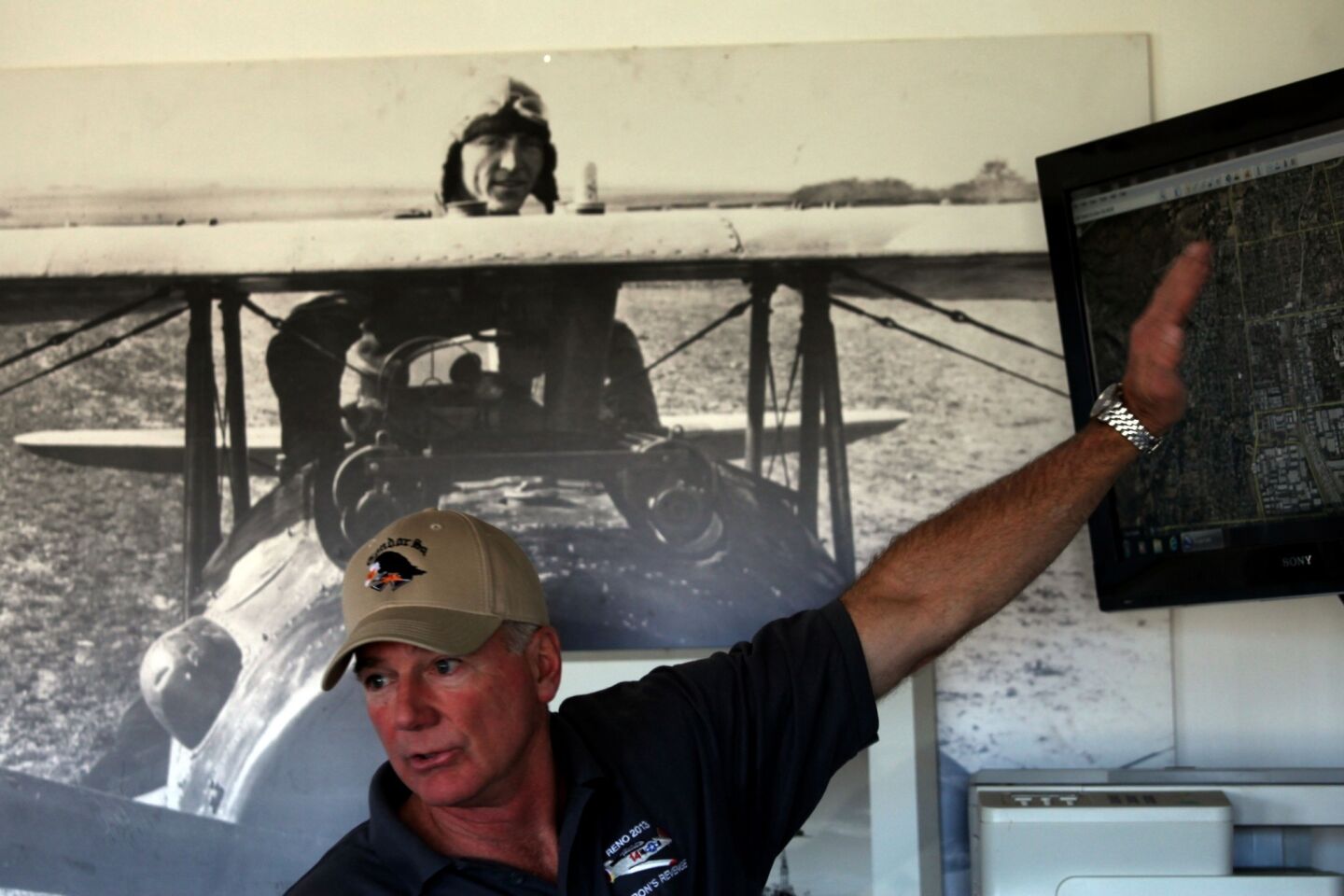 Chris Rushing goes over the flight plan during a briefing before the squadron's flyover of the Chatsworth parade and Malibu.
(Michael Robinson Chavez / Los Angeles Times)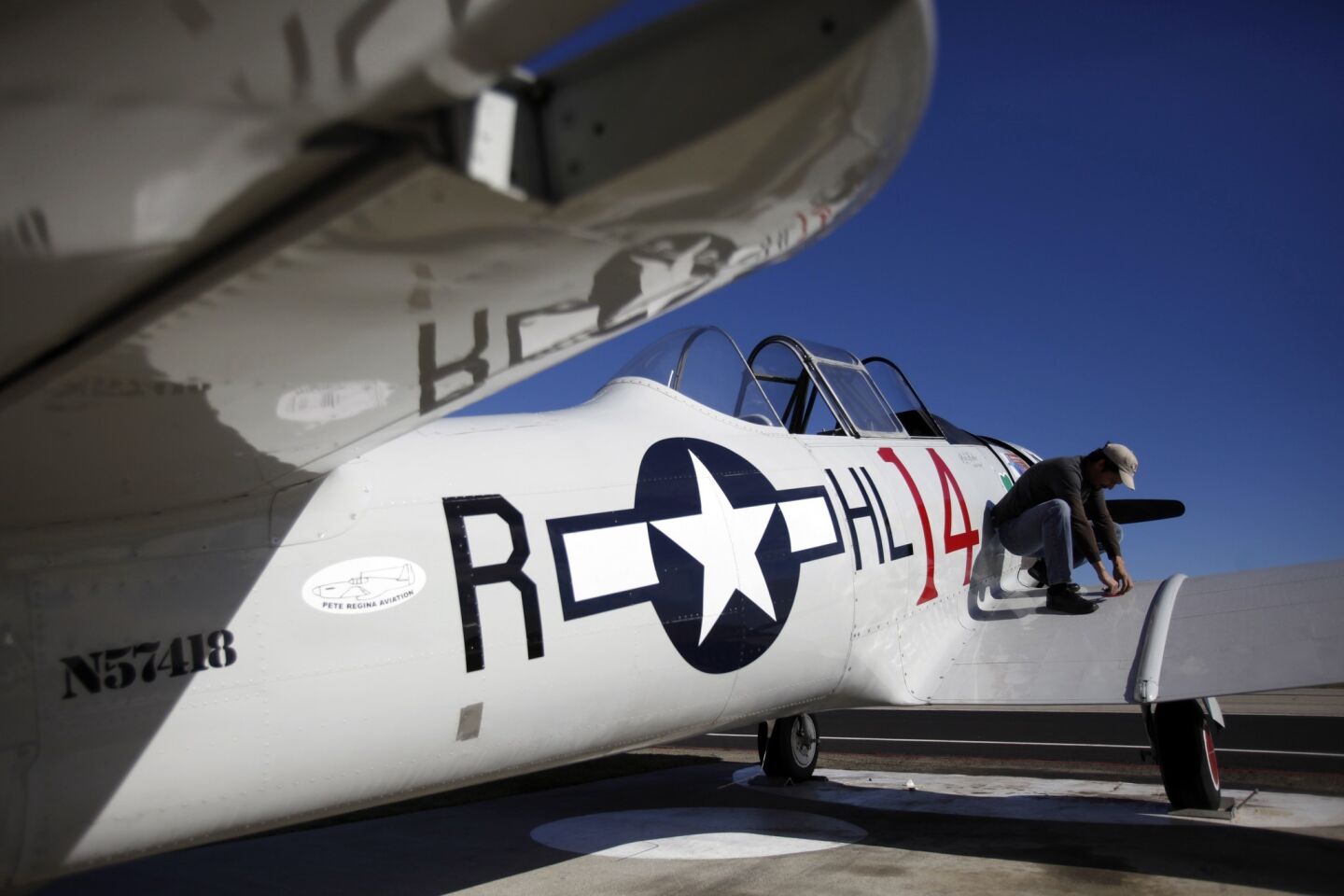 Vitaly Pecherskyy checks one of the two fuel tanks before takeoff.
(Michael Robinson Chavez / Los Angeles Times)
On the west side of Van Nuys Airport it's like World War II never ended.
Vintage propeller planes once flown by U.S. Navy, Army Air Forces and Royal Air Force pilots are parked wingtip to wingtip along the taxiway. Nearby buildings are painted in camouflage. The sound of swing music sometimes drifts across the tarmac, and olive drab flight jackets are de rigueur.
The planes and buildings belong to Condor Squadron, a nonprofit organization dedicated to honoring America's veterans and the public display of the North American AT-6/SNJ Texan — a sturdy two-seater that helped train tens of thousands of military pilots during World War II and the Korean War.
The group and its members own eight of the planes, making Van Nuys the site of one of the largest collections of such aircraft in the nation.
Bearing authentic U.S. and German markings, the squadron's AT-6s regularly appear in local parades, veterans events, memorial services and mock attacks on the Lane Victory, a refurbished WWII-era cargo ship that offers day cruises to the public from the Port of Los Angeles. In October, they flew in formation over a playoff game at Dodger Stadium at the close of the national anthem.
"If you are preserving and flying the AT-6, my hat is off to you," said Harold Cannon, president of Warbirds of America, a 5,000-member division of the Experimental Aircraft Assn. "It's important to preserve that portion of our history. It's a great plane that trained the pilots who helped win the war."
The Condor Squadron was founded at Van Nuys in 1965 by Walter Morrison, who flew P-40 Warhawks in North Africa, and attorney Richard T. Sykes, who completed 50 combat missions over Europe in a P-38 Lightning.
It started out as a flying club, air show act and part of the Civil Air Patrol, an auxiliary unit of the U.S. Air Force that performs search-and-rescue missions.
Several of its pilots, including Sykes, also flew in the AT-6 category at the National Air Races, a competition that member Rob "Hollywood" Sandberg and Condor President Chris Rushing still enter.
Over the years, the squadron dropped out of the Civil Air Patrol and increasingly concentrated on air shows, charity events and other community activities, including an annual Easter egg hunt for the public on the organization's grounds. More than 1,500 eggs are hidden and the Easter bunny arrives via helicopter.
The present group has more than 50 members, including many experienced pilots, but time in the air is not always required. Some members were recruited for their mechanical skills to help keep the aging planes aloft.
They get together regularly at their headquarters off Hayvenhurst Avenue, which is part clubhouse, briefing room and watering hole. The soft drink machine dispenses cans of beer.
In one corner is an old-fashioned barber chair that is often the place of repose for Raymond "Sparky" Sparks, 87, the group's oldest member.
Memorabilia from World War II and photos of famous pilots and aircraft are everywhere, including a floor-to-ceiling picture of a banking AT-6 going around a pylon of boards and oil drums set up in the Mojave Desert. The left wingtip is less than 6 feet off the ground.
Like any squadron, everyone here has a nickname. In addition to Hollywood and Sparky, there is Vitaly "V" Pecherskyy, Konstantin "K-man" Nossachev, Will "Jam" Tinsley and Dustin "Smoker" Gelbard. Rushing, who is a chief master sergeant in the Air National Guard, is simply called Chief.
They are a diverse group that includes military veterans, mechanics, pilots of all types and a tattoo artist. However, they have one thing in common — an intense interest in the AT-6 and World War II.
"When I slide the canopy back and climb into the cockpit, it feels just like 1940," said Sandberg, an airline captain and the squadron's director of flight operations. "Sometimes I sit there and think of all the guys who have flown this plane."
From 1937 to the early 1950s, American and Canadian aircraft companies produced more than 21,000 AT-6s. Many went on to serve in training, utility and even combat roles for air forces worldwide until the mid-1990s. Sought for their fighter-like performance and low cost compared with other warbirds, more than 500 are still airworthy in the U.S.
"There are a lot of things to like about it," said Gelbard, who is less than half the age of the aircraft he flies. "It's good-looking and it's probably the most challenging plane I have flown. The minute you relax, it will eat your lunch."
Known as the "pilot maker," the AT-6 is not as forgiving as frontline fighters from the same era. Handling at slow speed and in certain crosswinds can be tricky. The plane also is more difficult to land and taxi because of rudder limitations and the narrow width between the landing gear.
One of the squadron's specialties is formation flying, a skill that requires training, practice and constant focus. Whatever the lead plane does, the following pilots must react to almost instantly to maintain their proper positions.
So far this month, the group has flown diamond-shaped formations for a military-related charity called Operation Gratitude, the Chatsworth holiday parade and for Richard Walker of Culver City, a decorated B-25 bombardier who completed 70 missions during World War II.
Walker sat in his wheelchair and tears came to his eyes as he watched the flight of four AT-6s pass over his home. Trailing a long, narrow plume of white smoke, one plane pulled away from the group to create the missing man formation used to honor fallen aviators at their funerals.
Walker's care-giver, Diana Lopez, suggested the flyover and the old veteran agreed to it, figuring that at age 95 he did not have long to live and wanted the aerial display performed while he was still alive.
"I was deeply impressed that somebody's still interested in World War II," said Walker, who was wounded by anti-aircraft fire during a mission. "We've had so many wars since then it seemed like World War II had been forgotten."
The stories shaping California
Get up to speed with our Essential California newsletter, sent six days a week.
You may occasionally receive promotional content from the Los Angeles Times.