Concern in an unspoiled corner of L.A. County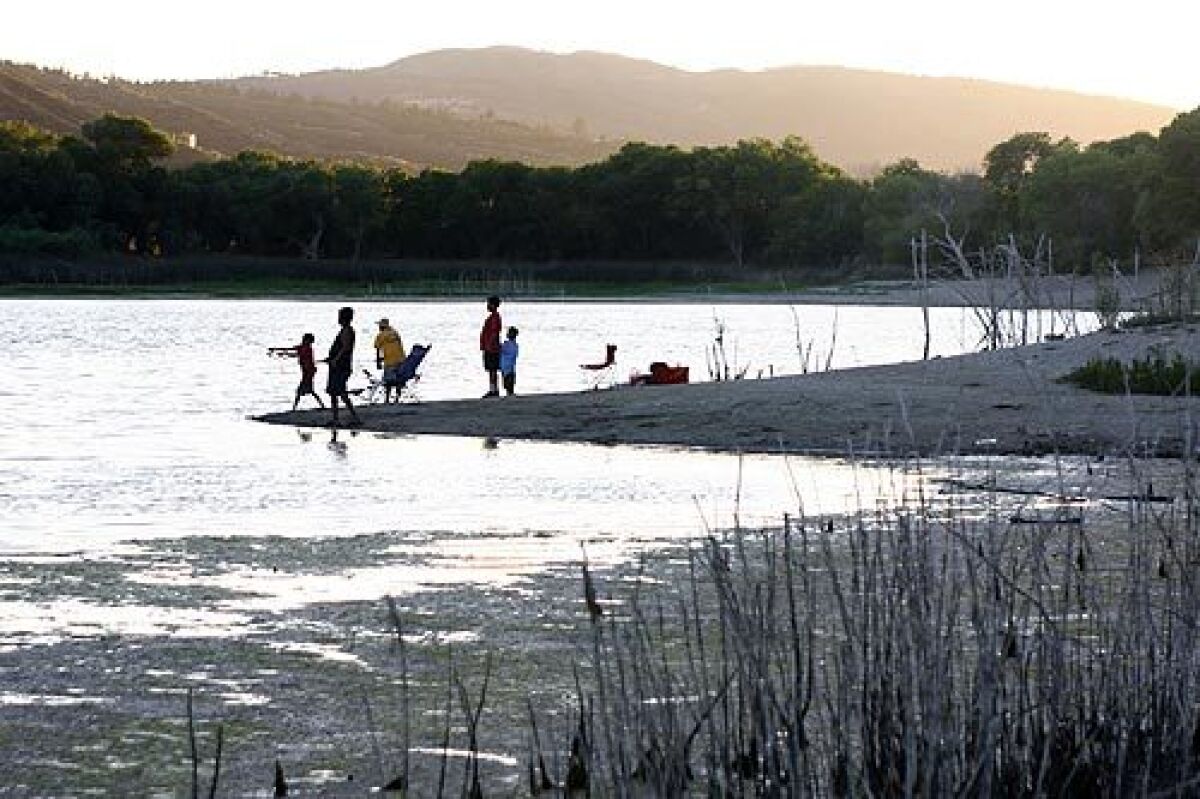 Rustic, dotted with willows and cottonwoods and largely untouched, the tiny Leona Valley communities of Lake Hughes and Elizabeth Lake mark a slow and quiet corner of Los Angeles County.
Known jointly as The Lakes, it is a community rich with tales of stagecoach stops, bandit hideaways -- even legendary lake monsters. But a welcome sign sums up residents' greatest pride: "The Lakes: Where Nature Is Your Neighbor."
"That's why we chose to live here," said Allaire Koslo, the community's honorary mayor, whose family has lived in the area for more than 40 years.
And that's why there is panic over the possible sale of part of Elizabeth Lake and adjacent property, the community's centerpiece. If purchased, it could sprout commercial enterprises that some fear would spoil The Lakes' bucolic setting.
It's easy to understand the attraction to a buyer. The property includes 155 acres of open water and wetlands, more than two miles of shoreline and 16 acres of commercial land.
Swimming, fishing, kayaking and bird watching are common at Elizabeth, the largest natural lake in Los Angeles County and the headwaters of the Santa Clara River
The lake's western half belongs to the U.S. Forest Service, which maintains a daytime picnic area and bans high-impact activities, such as hunting, jet skiing and the use of motorized vessels of more than 10 horsepower.
The land on the other side of the lake belongs to Lancaster-based Ridgetop Ranch Properties, which after two decades of ownership has put it on the market for $19.5 million.
Mark Simon, the listing agent, said the land actually has considerable value just as it is: open and mostly unspoiled.
The wetlands, marsh and riparian forest provide habitat for more than 138 wildlife species. It is home to the declining tricolored blackbird, the Southwestern willow flycatcher and other "special status" species such as the Western patch-nosed snake.
For a developer, that's not necessarily bad news. The land could be used as a "mitigation bank," meaning the owner could earn development credits elsewhere by improving or simply restoring the wetlands area. Such credits can even be sold.
But the site for sale is also zoned for resort and recreational uses, such as hunting, fishing, water skiing and jet skiing, Simon said.
"That's the reason there is more of a pressing sense of urgency. That's why we feel so threatened," said Louisa Stephen, an artist and conservationist who lives in the area.
"Development, encroachment . . . that's the No. 1 issue right now," said Jim Walker, president of the Lakes Town Council, an advisory group that represents residents before the L.A. County Board of Supervisors.
It's unclear if there are any would-be buyers, but residents aren't taking any chances.
Last year, the Town Council voted to form the Lakes and Valley Conservancy, with Stephen as its president. The group is seeking nonprofit status and researching ways to raise funds to purchase the lake property itself.
In June, the Board of Supervisors took steps to protect the area, including banning billboards and public streetlights, and requiring lots or parcels to be at least 2 1/2 acres.
The community is now home to about 3,400 mostly middle-income residents. They live in houses ranging from cabins to rambling ranches that sit on roads with names such as Walkatop and Lookabout. There are two places to eat in town -- and three places to drink.
There's the Country Market grocery store, a beauty salon, two churches, a firehouse, a post office and an elementary school.
"I don't want any more commercial anything in town. Nobody does," said Jeanette Marshall, 61, who after 30 years of service retired as the community's postmaster in June. "That's why we live here."
Her husband's family has lived in Lake Hughes since 1885. Bob Marshall's great-grandfather built the family's original dwelling: a lean-to. Two other structures have since been added, creating a seven-bedroom home.
Deer, coyotes and bobcats are among the wildlife that wander the Marshalls' 26 acres of land, which flourishes with fruit trees bearing Bartlett pears, plums, almonds and apples best used for baking.
"Small-town living is a comfortable lifestyle," said Marshall, 66, a general engineering contractor. "You have no secrets."
And no one remains a stranger for long.
"You can never come in here . . . without knowing somebody, or knowing everybody," said Robin Kennard, 57, as he finished a grilled chicken sandwich at the Greenside Grill, a popular dining spot at Lake Elizabeth Golf Course.
It is that sense of community, as well as the beauty, that attracted the native New Zealander to Elizabeth Lake 10 years ago. Here, he found a wife and a slice of America that reminded him of home.
Like many other residents, Kennard volunteers on the community's patrol. There is one resident L.A. County sheriff's deputy in town, so the locals share the responsibility of policing their own.
"We have very little crime, and we want it to stay that way," said Kennard, hinting at a sentiment shared by many here: that more commercial ventures and people could lead to increased crime.
Stephen escaped the hustle and bustle of city life when she moved from Hollywood six years ago. Now she savors the serenity, the quiet morning outings on her kayak and the night skies that sparkle with stars.
"It's positively poetic," said Stephen, standing at the lake's edge. "There is something about this place that you just don't experience in many places anymore."
Though there's fun to be had on karaoke night at The Rock Inn (the other restaurant in town), at book readings by local writers or at dinner parties, most all recreational activity leads to the lake -- and to the wildlife with which residents have learned to coexist.
Croaking frogs kept Teri Gordon awake the first time she visited her brother from her San Fernando Valley home.
"It was such a new sound . . . not traffic, not cars, but frogs," recalled Gordon, 44, a real estate agent.
Now, an Elizabeth Lake resident of 20 years, she's lulled to sleep by the amphibians.
---
Life is stressful. Our weekly mental wellness newsletter can help.
You may occasionally receive promotional content from the Los Angeles Times.