A payroll company leaves its clients in the lurch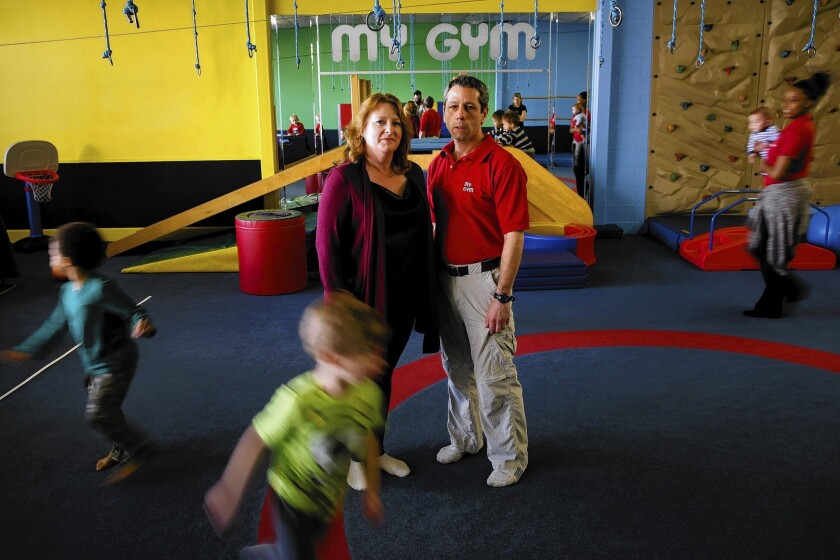 They were chefs and chiropractors, haircutters and hoteliers, some 150 small-business owners across Southern California.
All had entrusted LA Payroll, a privately held company with a single office, to deal with financial necessities that can be a perennial headache: Issuing paychecks and W2 forms. Handling employment-tax payments.
The firm's clients first realized something was amiss when the IRS and the state sent out late-tax letters. LA Payroll employees soon confirmed their fears.
The money in their impound accounts was gone. And so was Tovmas Grigoryan, LA Payroll's owner.
"It is a very awful situation, to say the least. A lot of people got hurt," said Babak Dardashti, a Los Angeles dentist. "I lost $20,000 myself. For a small business, a chunk like that all at once is not easy to swallow."
People who worked for Grigoryan, 56, said he personally oversaw the tax impound accounts. Clients' individual losses range from hundreds of dollars to more than $350,000, according to police reports, court records and interviews.
Lyuba Kovzhun, a former payroll manager who previously had dealt with the impound accounts, estimated total losses at $4 million.
Payroll services companies are not subject to rigorous regulation by state or federal bodies that oversee banks and other financial institutions. Nor do most states, including California, require them to be bonded. If the tax money they collect disappears, it is the business owners who are on the hook for the amounts owed, plus interest and penalties.
It was just before Christmas, Kovzhun and other former employees said, when the company started receiving notices from the California Employment Development Department and the Internal Revenue Service that the last six months of payroll taxes owed had never been paid.
That was about the time, they said, that Grigoryan told them he was headed to Palm Springs for the holidays.
"I have no idea where he is, maybe Russia," his brother Ruben Grigoryan told The Times, without addressing the allegations. "He left about a month ago. We had a merry Christmas together, and he left. He said he had some business in Russia."
Another family member said Grigoryan, who could not be reached for comment, was in Armenia.
LA Payroll has closed its Wilshire Boulevard office, leaving stunned and angry clients in the lurch and highlighting the question of who, if anyone, investigates when such businesses are accused of wrongdoing.
Dardashti and others said they have filed complaints with police departments and state and federal agencies, including the LAPD, the FBI and the IRS. But clients said they were given little encouragement by various police officials and federal agents.
"Justin Bieber eggs his neighbor's house, and 15 sheriffs show up to get to the bottom of it," Dardashti said in late January. "We lose millions and nobody cares."
An agent with the Department of Homeland Security, which has wide latitude to investigate financial crimes, has since begun looking into the allegations, according to an agency spokeswoman.
A surprise to clients
That Grigoryan even owned LA Payroll surprised clients, many of whom had signed up years ago with Gene Moroz, the company's founder.
For a monthly fee, Moroz issued employee paychecks and W-2s for small businesses. He also handled their direct deposits and made their quarterly tax payments to the state and the IRS.
When a broker brought him a prospective buyer in 2011, Moroz said, he took the offer. "I'd been doing it at that time for about 10 years and wanted to move on to other things," he said.
Moroz sold LA Payroll for $450,000 to Dmitri Paiu, who he said was in his mid-30s and told him he had business interests on the East Coast and in Europe. Moroz, who provided The Times with records of the sale, stayed on as a part-time consultant.
In 2012, Moroz said, Paiu introduced Grigoryan as his partner.
"I didn't know him at all when he came into the picture," Moroz said of Grigoryan, who told others in the office that he was from Armenia and that his wife still lived there.
"Dmitri was a low-key kind of guy," Moroz said. "Tovmas was more likely to brag about his wealth, his cars, his lifestyle."
Moroz said he saw no wrongdoing before the new owners ended his consulting gig last year. After that, former employees said, neither Paiu nor Grigoryan spent much time in the office. Nor did they say much about their personal lives or other businesses.
"Dmitri was a really young guy, and I remember thinking: 'Wow, this guy has got some kind of connections or someone with very deep pockets,'" said Eddie Cabrera, a former sales representative.
LA Payroll's most recent corporation statement lists Paiu as chief executive officer and Grigoryan as chief financial officer. It was filed in January 2013, about the time Grigoryan took over and Paiu stopped showing up, former employees said.
Paiu also could not be reached for comment.
Grigoryan's name is linked in public records to addresses in Kern County and Los Angeles, but he appears to have owned only one property: a modest house in Eagle Rock he acquired in September.
Bankruptcy court records show that Grigoryan filed for a Chapter 7 liquidation in 2005, three years after Ford Credit won a $13,000 judgment against him for defaulting on a car loan. His bankruptcy listed assets of $1,700 and liabilities of $17,313, as well as monthly income of $2,600 from a job as a truck driver.
Public records indicate that Paiu was president of a Los Angeles pharmaceutical company and headed a Texas medical imaging office, but it is unclear if either is still in business.
After taking over LA Payroll, Grigoryan left most of the day-to-day tasks to others but took on the impound accounts himself, former employees said. Clients' money was debited from their banks and deposited into the accounts from which LA Payroll was to make tax payments.
Until late December, clients and former workers said, they had no inkling of problems.
"The date we got all the notices from the state was the date that Tovmas left for vacation," Kovzhun said, adding that when 40 notices arrived in one day, employees concluded that Grigoryan had known what was coming. "We emailed and called each client and stopped the impounding immediately."
Little recourse
Zack Grey, who owns three Urban Pet stores in Los Angeles and South Pasadena and has 22 employees, said he got the call Christmas Eve.
"Are you telling me that all the funds in that account from the last six months have been taken?" he asked an LA Payroll employee. "She said yes."
Grey reported his $87,000 loss to police and consulted an attorney, but has little hope of recouping it.
"I met with a lawyer who said, 'Honestly, there's not much you can do,'" he said.
At least three lawsuits have been filed against Grigoryan and LA Payroll, including one claiming losses of about $500,000. With the company out of business and Grigoryan apparently in the wind, their prospects are uncertain at best.
The losses already have hit some hard.
Mark Tabesh, who owns two Inland Empire computer-repair shops, compared his $20,000 loss to the theft of his motorcycle at age 19.
"Back then, I could roll with the punches," he said. "Now I'm older, with a family of six to support … and it's not as easy for me. My wife was crying for like a week straight, knowing what a catastrophe this is for us."
Melissa Meltzer said the My Gym children's fitness franchise she owns in Los Angeles with her husband had been with LA Payroll for six or seven years. Their first hint of trouble arrived in a state notice that their third-quarter taxes hadn't been paid.
The fourth-quarter payments weren't made, either. All told, the business is out about $55,000, Meltzer said.
"We don't have that much just lying around," she said.
A lawyer, Meltzer said she was taken aback by a three-page document that one of Grigoryan's employees found in office files. Dated Aug. 16, 2013, and apparently signed by Grigoryan, it commits LA Payroll to a $3-million investment in a Panamanian company's unspecified "business project."
Grigoryan was to wire the money to an Austrian bank account. It's not clear if the transaction was made, but if it was, Meltzer said, she thinks it should have set off alarms with the company's bank and has asked it to investigate.
"If I want to move $10,000 of my own money, I'm told, it's going to be reported," she said. "If this guy moved $3 million to Vienna from the impound account, there should be records."
Mark Gilula, whose company sells DVDs and other entertainment products over the Internet, moved it from California to Illinois two years ago, in part to cut costs. Business was tough already, he said, but losing $30,000 is disastrous.
"I'm going to take a hit and I can't afford it," he said. "I just laid a person off last week in anticipation of this. It's awful."
Times researcher Scott Wilson contributed to this report.
---
The stories shaping California
Get up to speed with our Essential California newsletter, sent six days a week.
You may occasionally receive promotional content from the Los Angeles Times.