L.A. County sheriff's deputies test 4 types of body cameras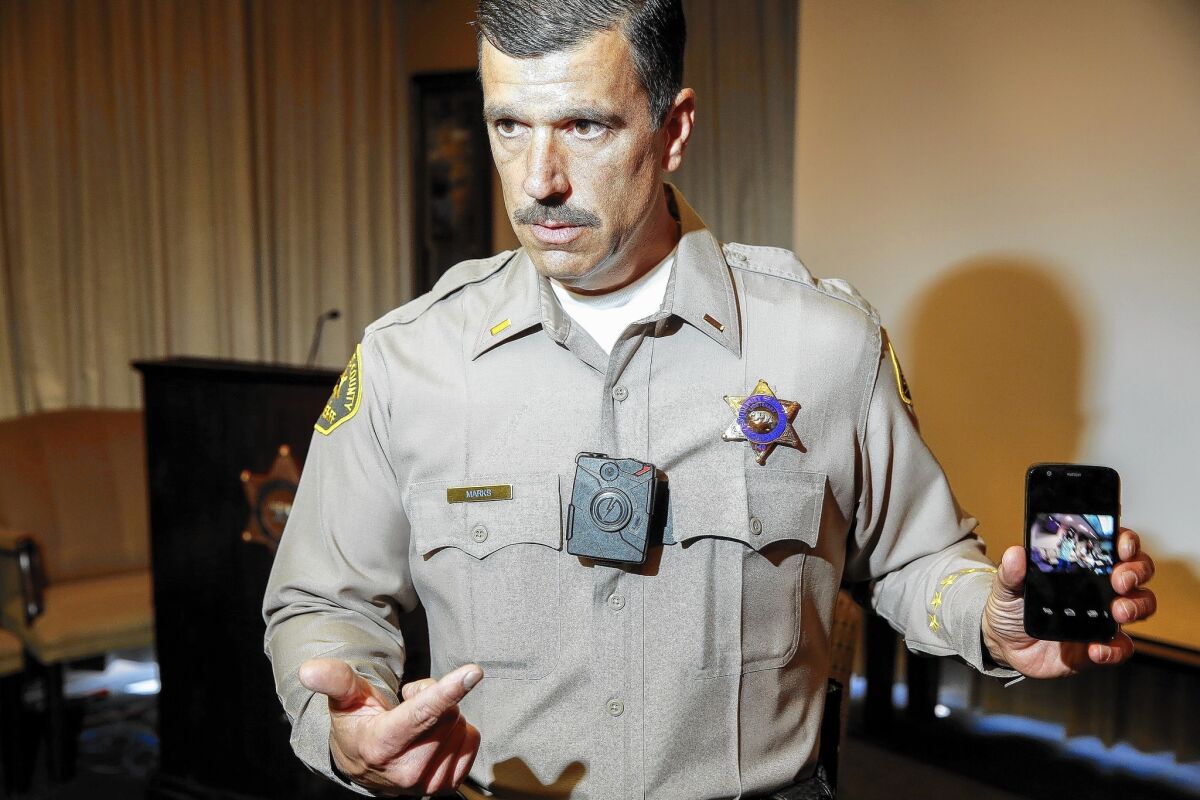 As a patrol deputy at Carson station, Dennis Conway carried an audio recorder to document what happened when he stopped or arrested someone.
The recorder was his own — he was among a sizable group of Los Angeles County sheriff's deputies who carry their own personal devices to protect themselves from false allegations.
A few weeks ago, Conway exchanged his audio recorder for a high-tech camera pinned to his shirt that starts filming at the press of a button.
"It's given me the peace of mind that the person I'm dealing with is not going to say the opposite of what happened," he said. "It's all recorded, and the transparency is there."
Conway and other deputies have begun testing four types of body cameras as part of a pilot program that may eventually lead to the department-wide recording of everything from routine traffic stops to deputy-involved shootings. Until now, the Sheriff's Department has not used in-car cameras or body cameras.
The pilot program has been in the works for over a year and is not a response to the controversial police shootings of Michael Brown in Ferguson, Mo., or Ezell Ford in Los Angeles, sheriff's officials said. But it comes at a time when police work is under intense scrutiny from the public and an increasing number of law enforcement agencies are testing body cameras or implementing full-scale programs.
In addition to protecting officers, cameras can help victims of excessive police force and resolve situations where witness recollections differ. With some incidents already being recorded by bystanders on cellphones, it is time for police to step up with their own technology, said sheriff's Chief Bobby Denham of the Central Patrol Division.
"We're in an age now where this kind of technology is expected. It gives us an opportunity to do better," Denham said.
The four camera prototypes being tested at four sheriff's stations — Lancaster, Temple, Century and Carson — were provided free of charge by the manufacturers.
One, the Taser Axon Flex used by some Lancaster deputies, can be clipped onto sunglasses, caps, helmets or collars. The others are attached to the deputy's shirt.
In 2012, similar body cameras tested in the jails routinely fell off or broke, and downloading the data proved difficult. The jails now use wall cameras.
The technology has improved since then, sheriff's officials said. But even if the cameras work well, they caution, there are limitations, since they are clipped to a person's body and can't capture a scene as well as a handheld device.
"A camera attached to the chest is not a cellphone with nice panoramic view," Denham said.
During the pilot project, deputies have been instructed to turn the cameras on during arrests, traffic stops, pursuits and other incidents at their discretion. They are not required to announce that they are videotaping an encounter. Educating the community about the cameras will be part of the process.
"When somebody notices a camera, is it a negative or positive reaction?" said Lt. Chris Marks of Temple Station. "It's a balance between better transparency and more documentation, while also respecting people's privacy."
Camera footage can provide citizens with reassurance that their version of events will be believed, said civil rights attorney R. Samuel Paz, though there are instances when cops turn off cameras or turn their bodies away.
"It makes the citizen feel a little more comfortable in their interactions, that they can be truthful and honest and frank — 'I didn't do this, I'm not the one you're looking for,'" Paz said. "At least there'll be some objective evidence of what transpired during the discussion."
The prototypes cost between $400 and $900 each, a cost that is likely to go down when the cameras are ordered in bulk. The Sheriff's Department has about 2,000 personnel in field patrol, with another 800 transit deputies.
The Anaheim Police Department is spending $1.15 million on body cameras over the next five years, and police in Fullerton are spending $650,000 on 140 cameras.
The Orange County Sheriff's Department, which has in-car cameras, will be testing body cameras in the next few months, a spokesman said. The LAPD has a limited number of car cameras and has tested body cameras on officers in skid row.
The implementation of a full-scale body camera program in Los Angeles County will fall to the next sheriff, who will be elected Nov. 4. Long Beach police Chief Jim McDonnell, one of the candidates, said he supports body cameras and expects they will encourage both deputies and suspects to behave better.
The Long Beach department has been researching the cameras and will begin testing them soon.
"I think they benefit both the community and the officer, as far as transparency, safety and in the spirit of community policing," McDonnell said.
The other candidate, retired Undersheriff Paul Tanaka, did not respond to requests for comment.
Recently, Conway's body camera was on when he arrested a woman who refused to leave a hotel room and had other outstanding warrants. He retrieved $200 in cash from her room, recording himself counting the money in case she later claimed he had pocketed some of it.
"I had the peace of mind going home. I know this lady can't accuse me of taking her money," Conway said.
Twitter: @cindychangLA
---
The stories shaping California
Get up to speed with our Essential California newsletter, sent six days a week.
You may occasionally receive promotional content from the Los Angeles Times.