Spears hospitalized for 'mental health'
1999
: Spears, 17, releases her first album and it debuts at No. 1. In the spring of that year, she is featured on the cover of Rolling Stone and the busty photo launches rumors that the singer had breast implants. A few months later, she kicks off her first headlining tour. She wins four Billboard Music Awards that year but loses the Grammy for best new artist in February of 2000 to teen rival
Christina Aguilera
.
(Lori Shepler / LAT)
2000
: Spears releases her second album, ""Oops'…I Did It Again."" The album sells more than 1 million units in the first week. At the
MTV
music awards that year, she makes headlines by donning a nude-colored, crystal-adorned outfit.
2001
: Spears ups the spectacle ante at the MTV music awards by performing "I''m a Slave 4 U" with an albino python. (
PETA
is predictably outraged.) She also releases her third album, "Britney"" which debuts at No. 1 but does not sell as well as her first two albums.
(Suzanne Plunkett / AP)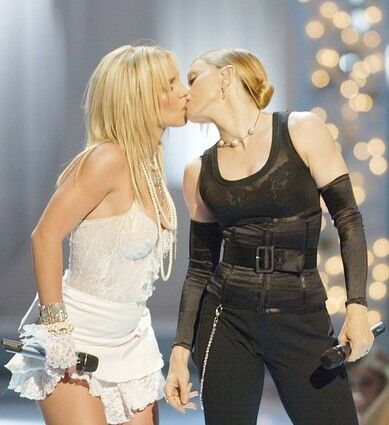 2003
: After a year of lying low, Spears creates a sensation at the
MTV
music awards (yet again) by sharing the stage and an open-mouthed kiss with Madonna. Her fourth album, "In the Zone," is released along with singles such as "Toxic."
(Scott Gries / Getty Images)
2004
: The first hint of an unruly Spears emerges when the star marries her childhood friend Jason Allen Alexander in a joke wedding in Las Vegas. The marriage is promptly annulled after less than three days. Later that year, her fourth world tour is canceled midway through when the singer injures her knee. The injury does not stop the singer, now 22 years old, from marrying Kevin Federline. At the time, Federline's former girlfriend was pregnant with their second child.
(Eric Jamison / Associated Press)
Nov. 6, 2006
: Britney files for divorce from Kevin Federline. Hopeful Spears fans claim this is Step 1 in the singer's comeback.
December 2006
: Now free of Federline, Britney is frequently photographed hitting the town with
Paris Hilton
, and gossip monger
Perez Hilton
insinuates the two superstars may be lovers. But the pop star can't handle the heiress' pace: She collapses on New Year's Eve.
(Jason Szenes / EPA)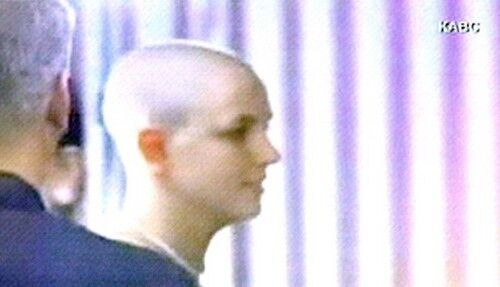 February 2007
: After a month of manic partying — dancing on tables, getting dirty with pole dancers, allowing her lady parts to be photographed by the paparazzi and going in and out of rehab, Britney shocks the world by shaving her head at a salon in Tarzana because, she claimed at the time, her extensions were giving her a headache. The general public grows concerned for her welfare, and she finally enters, and stays, in rehab.
March 2007
: Britney is released from rehab and her managers say she is fully recovered.
(AFP / Getty Images)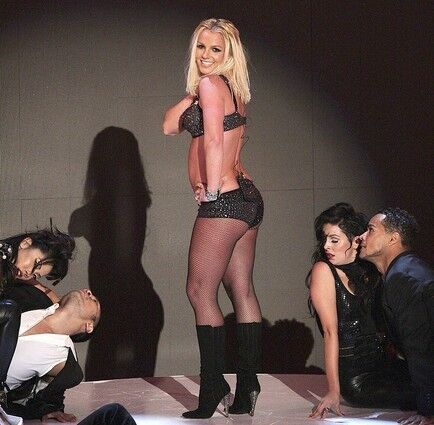 DOWN September 2007:
The singer embarks on a series of bad decisions that includes agreeing to perform at the MTV Video Music Awards, not showing up for rehearsal, deciding to wear a sparkly bikini despite not being in (pop star) bikini shape and displaying lackluster dance moves -- all of which results in a media maelstrom of bad publicity.
(Kevin Winter / Getty Images)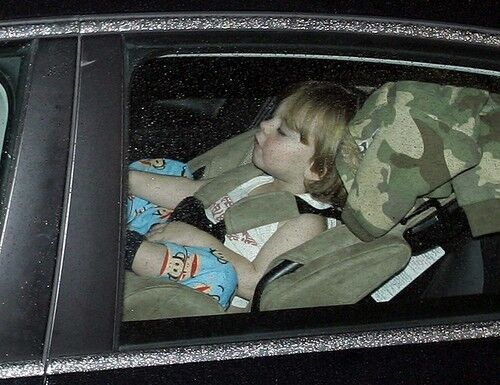 DOWN October 2007:
Spears loses custody of her children, which she had formerly split with Federline 50-50. She is later granted visitation rights, but only with a supervisor in tow.
(Mark J. Terrill / Associated Press)
DOWN Nov.-Dec. 2007:
Spears' entourage continues to disassemble and she alienates everyone around her with bizarre behavior and the media frenzy that she seems to encourage by continually driving around the city. She is reportedly banned from the Four Seasons Hotel in consideration of other guests.
(Mark J. Terrill / Associated Press)
Los Angeles Times Staff Writer
Los Angeles Police officers physically removed pop star Britney Spears from her home early today, placing the troubled celebrity on a "mental health evaluation hold," authorites said.
More than a dozen motorcycle officers and a Los Angeles Fire Department ambulance swept through the front gates of Spears' hilltop Studio City residence shortly before 1 a.m., as a police helicopter hovered overhead. At 1:08 a.m., officers inside the home radioed to commanders that "the package is on the way out."
Spears was rushed from a side entrance of her home into an ambulance. As she was driven down Coldwater Canyon Boulevard, her vehicle was escorted by more than a dozen motorcycle officers, two cruisers and two police helicopters. Her final destination was the UCLA Medical Center, authorities said.
This is the second time in a month that Spears has been placed on a 72-hour welfare hold. The first occurred on Jan. 3, when Spears declined to give up custody of her children to ex-husband Kevin Federline.
The Summit, the winding street on which Spears lives in Studio City, was jammed with the vehicles of journalists and photographers for several hours prior to the police operation.
Authorities said the welfare hold was prompted by a telephone call they received from Spears' psychiatrist. It was unclear exactly when they had received the call, but it was apparent that the operation had been carefully planned over a period of time. Unlike the first welfare hold — in which Spears' ambulance was closely pursued by a throng of photographers — vehicles today were blocked from following the same route. The motorcade that whisked Spears to the hospital also showed a large investment in resources. The line of emergency vehicles stretched longer than a football field.
---
The stories shaping California
Get up to speed with our Essential California newsletter, sent six days a week.
You may occasionally receive promotional content from the Los Angeles Times.