Government investigates 55 colleges over handling of sex assault cases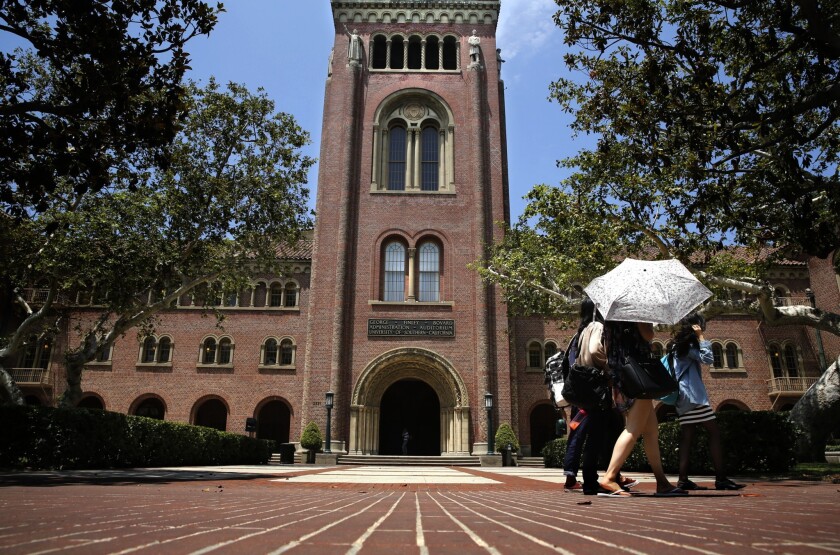 Aiming to reduce sexual assault on campus, the federal government Thursday disclosed that 55 colleges and universities, including four in California, are under investigation for possibly violating the law in their handling of sexual violence and harassment complaints.
The unprecedented naming of campuses — which included both public and private institutions in 27 states and the District of Columbia — is meant to increase public awareness of civil rights and the federal government's enforcement work, said Catherine E. Lhamon, the Department of Education's assistant secretary for civil rights.
But she added that colleges and universities on the list "in no way indicates at this stage that the college or university is violating or has violated the law."
The California campuses under investigation are Occidental College, UC Berkeley, USC and the Butte-Glenn Community College District. Other schools include Princeton University, Dartmouth College, Harvard University Law School, the University of Chicago, the University of Michigan, Arizona State University and Swarthmore College.
Activists who have been fighting for such disclosures hailed the action.
"It's a huge deal," said Caroline Heldman, chair of Occidental College's politics department who helped file complaints against the campus. "It will inspire more survivor activists to file complaints when they see schools of every stripe in every part of the country have this problem."
Most of the 55 investigations were sparked by complaints filed by student activists. However, 10 were compliance reviews initiated by the federal government based on statistics, news reports and information from parents and advocates, according to Dorie Nolt, a Department of Education spokeswoman.
Officials are investigating whether the campuses violated Title IX, a portion of a 1972 law that prohibits discrimination on the basis of sex in all education programs and activities that receive federal financial assistance. The law requires campuses to address sexual misconduct allegations. Schools can lose federal funding over Title IX violations, although none ever have.
Title IX prohibits any behavior that creates an inequitable learning environment, including verbal sexual harassment and sexting as well as violent physical crimes, such as sexual battery, assault and rape.
The Obama administration has cracked down on campus sexual assault with greater enforcement and high-profile guidance to schools on their legal obligations around the issue. Earlier this week, a White House task force released a blueprint for strengthening federal enforcement actions and providing additional tools to combat the problem, including a new website and funding for research on promising prevention programs.
One in five women are sexually assaulted on college campuses, according to the White House. That figure was drawn from a 2007 study of two universities in the South and Midwest, which found that 19% of 5,446 undergraduate respondents said they experienced an attempted or completed sexual assault in college. A University of California survey released in March found that 6% of undergraduate respondents reported experiencing unwanted sexual conduct, including forced fondling and rape.
UC Berkeley was targeted last year by student activists, who filed a complaint alleging that the university had violated the federal Clery Act, which requires schools to report rape and other campus crimes. In February, 31 current and former Berkeley students filed additional complaints after saying the federal government had failed to respond to their initial action.
Berkeley spokeswoman Janet Gilmore said the university would not tolerate sexual assault and would fully cooperate with the federal investigation. "Sexual assault on college campuses is a critical issue.... Much has been done to strengthen the campus' handling of these issues, but we understand that there is always room for improvement," she said in an email.
The university is currently working on 42 Title IX cases, including 11 involving such issues as unwanted date requests and unwelcome hugs and nine involving sexual violence.
More than a dozen students filed complaints against USC last year, charging "gross mishandling" of sexual assault and rape cases. Previously, Occidental College was targeted with complaints.
---
The stories shaping California
Get up to speed with our Essential California newsletter, sent six days a week.
You may occasionally receive promotional content from the Los Angeles Times.