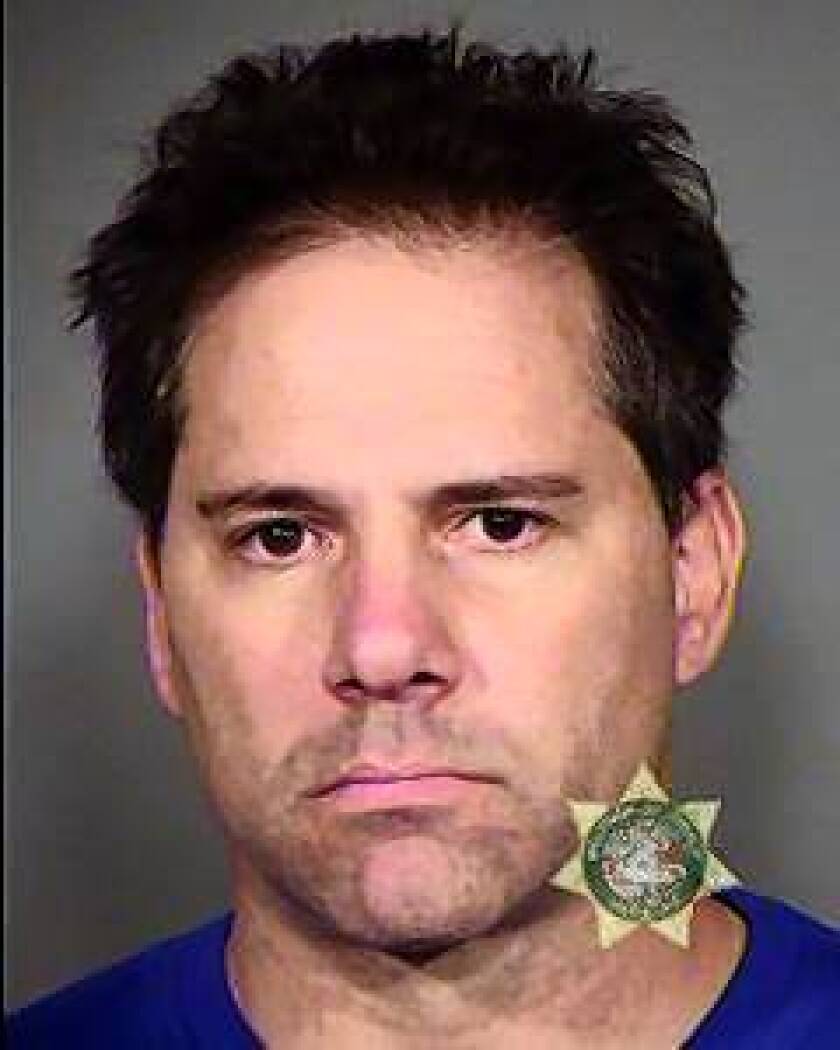 Scott Schenter sat in a small cubicle and dreamed big.
In his late 40s, he was a property appraiser at the assessor's office who ached to be known as an international entrepreneur.
"My current job is working for Los Angeles County, I don't like to admit it," he wrote in a 2009 email to The Times. "I would rather be known for my expertise in my marketing and finance ventures."
But he needed money, and investigators say he knew where to find it.
Schenter was the first and lowest-level county employee arrested in a wide-ranging corruption scandal at the assessor's office. His odd business dreams appear to have inspired a scheme to sell property tax breaks for cash that spread to the agency's highest level.
The investigation has also resulted in the arrests of county Assessor John Noguez, his deputy Mark McNeil and private tax consultant Ramin Salari, all of whom have pleaded not guilty and deny any wrongdoing.
Together, they shaved hundreds of millions from the county tax rolls by manipulating assessed property values, investigators and county officials say, saving millions of dollars for Salari's clients. Schenter took at least $275,000 in bribes for his efforts, according to court records.
Schenter, who has pleaded not guilty to 60 felony counts including fraud, has spent hours with The Times and investigators from the L.A. County district attorney's office this year discussing details of the alleged conspiracy and is expected to be the prosecution's star witness.
In an odd but related twist, he is also at the center of an NCAA investigation into USC's athletic program that could result in yet another post-season ban for the school.
Former co-workers in the assessor's office are still scratching their heads over how Schenter could have been at the center of such conspiracies.
"He was like a scatterbrained Walter Mitty," said a colleague who asked not to be identified because assessor's office policy prohibits employees from speaking with the media. "He was not a slick guy at all."
Acquaintances described him as an office "goofball" who arrived at work in a gold Mazda Miata, incongruously equipped with customized gull-wing doors.
He chattered constantly about his entrepreneurial aspirations. One colleague described how Schenter taught him to pump and dump penny stocks.
Schenter didn't do much to hide his dual life as an appraiser and an international man of business.
Colleagues in the Culver City office remember him having two or three private cellphones ringing in his cubicle at any given time.
Mostly, he searched for the big break that never seemed to come. "He always had another iron in the fire, he was always talking about the next big thing," said one co-worker.
Schenter's county emails from 2004 to 2011, released to The Times after a public records request, contained relatively few messages pertaining to his duties as an $85,000-per-year property appraiser. The vast majority concerned his fledgling start-ups.
He fired off dozens of messages tweaking designs, preparing presentations and negotiating small orders with manufacturers in China for solar-powered signs.
He had little in common with his alleged co-conspirators.
Salari was one of the most successful property tax agents in Los Angeles. He had a $9-million Calabasas home and drove a Ferrari to the county Hall of Administration downtown. McNeil was a graduate of Princeton University and had a law degree. And Noguez was a rising star in the local Democratic Party, seen by some as a future state legislator or congressman.
Schenter's strength was that his job required him to assess property values, so he could reduce some without attracting much attention. Investigators say he had been taking bribes from Salari as far back as 2002. Schenter changed property valuations with the help of a data entry clerk who didn't ask many questions, county records show.
In an interview this year, Schenter said that when Noguez found himself in debt at the end of his successful 2010 campaign for L.A. County assessor, he called Schenter for help, asking him to "look into" a list of pricey Westside properties. Schenter then shaved $172 million from the values of the homes, expecting that the owners would help pay off Noguez's debt, investigators said.
Noguez has acknowledged asking Schenter to look into the properties but denies asking him to lower the values.
Noguez, Salari and McNeil continued to illegally reduce property values for more than a year, according to investigators, but Schenter's role ended after his supervisor in the assessor's Culver City office discovered the reductions allegedly made to help retire Noguez's campaign debt.
Schenter quit in a matter of days.
There had been earlier signs of trouble. One came in late 2009 involving a USC athlete.
It started when a Times sports writer noticed USC running back Joe McKnight driving a Land Rover, a vehicle typically beyond the means of a scholarship student. The car turned out to be registered to Schenter.
After The Times published a story, Schenter sent a long email saying he'd bought the car for McKnight's girlfriend, Johanna Michelle Beltran. Schenter said she was an employee of another company he owned, Smart Bullets Inc., which he said had technology to turn nuclear waste into valuable metal and was working on a cure for "AIDS/HIV, arthritis, cancer and other diseases."
Schenter went on to explain that he was in South Africa, working on a "major business deal" involving lighted signs.
Then, he confided that his "real job" was working for the county as a property appraiser, and he'd been doing it for more than two decades.
Assessor's office supervisors saw Schenter's message published in full on the newspaper's website and asked him for an explanation of his business pursuits. There are rules against employees spending more than 24 hours a week on an outside job without permission.
Schenter changed his story, signing a statement that said he had traveled to South Africa as an unpaid consultant for someone else's business. The county ended its inquiry.
Acting Assessor Santos Kreimann, who joined the office in June, said Schenter's shifting stories should have raised red flags, but there was a limit to how much his bosses could have done without a time-consuming investigation.
"And we have more important things to spend our time on than Scott Schenter and his imaginary business dealings," Kreimann said.
Not all of the business dealings were imaginary, however.
Among his county emails are messages that discuss giving another car and plane tickets to McKnight and cash to USC basketball player Davon Jefferson. He used both as celebrity promoters for his sign business, an almost certain violation of NCAA rules that prohibit student athletes from receiving "extra benefits" from supporters.
Schenter also laundered tens of thousands in bribes through associates of the athletes, court records say.
McKnight's girlfriend, Beltran, cashed two checks worth a combined $40,000 from Salari in late 2010 and passed the money to Schenter, investigators said. Dwain Brown, who authorities said is Jefferson's cousin, did the same with a $10,000 check.
McKnight now plays for the New York Jets. Messages left with the team and with McKnight's agent were not returned. Reached by phone, Brown said, "Don't call me back," then hung up.
Schenter has been unemployed since he left the assessor's office.
He spends much of his time now in his rent-controlled Santa Monica apartment awaiting his day in court.
Times staff writer Gary Klein contributed to this report.
---