In Compton mayor race, Aja Brown, Omar Bradley advance to runoff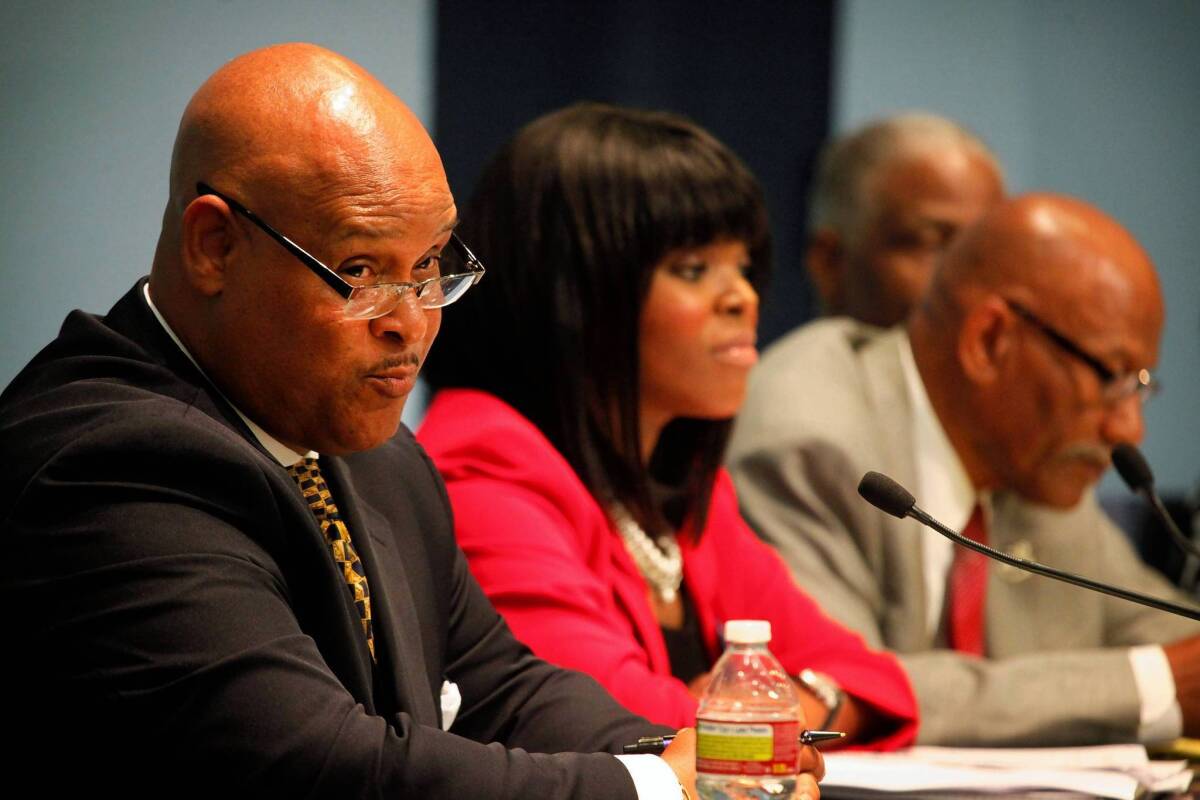 Final results from Compton's primary election released Thursday showed longtime Mayor Eric Perrodin ousted and political newcomer Aja Brown headed for a runoff with former Mayor Omar Bradley, who is facing a corruption trial.
Incumbent Perrodin, the city's longest-serving mayor, trailed in third place. A deputy district attorney and former Compton police officer, Perrodin ran on a reform platform in the 2001 election in which he defeated Bradley.
Perrodin got praise for bringing businesses such as Starbucks and Home Depot to the city, but he came under fire over city contracts that went to friends and family members, absenteeism from meetings and, most recently, a $40-million budget deficit.
Bradley, a former schoolteacher, was convicted in 2004 of misappropriating public funds. An appeals court overturned the conviction last year, leaving him free to hold office again. The Los Angeles County district attorney's office plans to retry the case. A pretrial hearing was set for Wednesday but postponed until June 18 to await the results of the June 4 runoff election.
"By then we hope Mr. Bradley will have fully resolved the question of the will of the voters," said Max Huntsman, assistant head deputy in the district attorney's public integrity division. At that point, if there is no plea agreement, the case will proceed to trial.
The final primary election results showed no significant change from the preliminary figures released last week.
Brown, a 31-year-old urban planner and relative newcomer to the city, led the final count with 1,887 votes, followed by Bradley with 1,796. Perrodin was in third place with 1,663 votes.
"I think the people definitely want something different. They're ready for a change," Brown said.
Bradley said that he expected to have an uphill battle in the runoff election "given the overwhelming support Ms. Brown had from politicians that are not from Compton," but that he was confident he had God on his side.
Perrodin could not be reached for comment.
The other nine candidates, including former child star Rodney Allen Rippy, trailed far behind.
Voters also approved a measure that requires the city to keep its contract with the Los Angeles County Sheriff's Department. Many residents were unhappy with a push by Perrodin to reinstate the Compton Police Department, which had been disbanded by Bradley.
Perrodin indicated at Tuesday's council meeting that the city might fight implementation of the measure in court. Former City Clerk and mayoral candidate Charles Davis, the measure's main proponent, had gotten a court order to force the city to put the measure on the ballot in the first place.
The election process has been contentious, although not as much as it was in 2001, when one candidate wore a bulletproof vest and Perrodin carried a concealed gun to a polling place.
Before the April 16 election, someone tore down or defaced dozens of Brown's campaign banners. Afterward, several candidates — and a city councilwoman whose sister was running for city clerk — alleged that there had been improprieties in the balloting process. As of Tuesday night, City Clerk Alita Godwin said, no formal complaints had been filed.
---
The stories shaping California
Get up to speed with our Essential California newsletter, sent six days a week.
You may occasionally receive promotional content from the Los Angeles Times.