U.S. dismisses Jewish students' complaint against UC Berkeley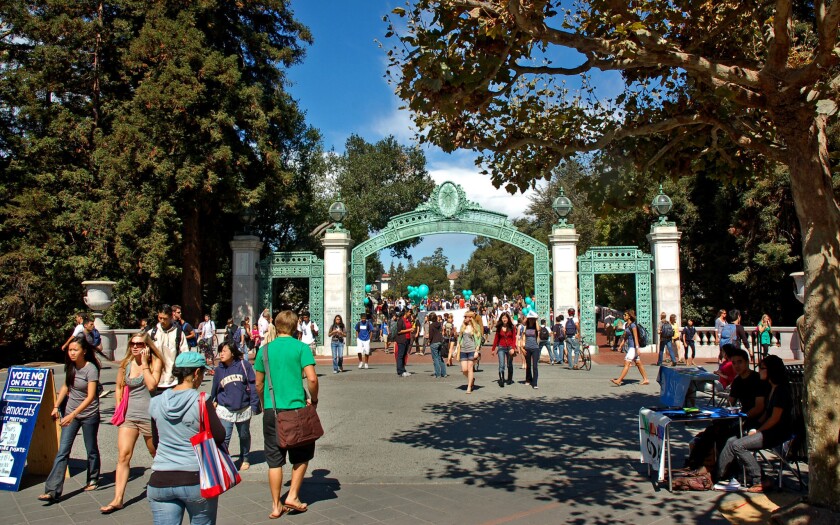 The U.S. Department of Education has dismissed Jewish students' contentions that anti-Israel protests at UC Berkeley created an illegally hostile and anti-Semitic atmosphere on that campus.
The department's civil rights office has determined that the campus protests last year against Israel's treatment of Palestinians, which reportedly included mock military checkpoints, may be upsetting to Jews but "do not constitute actionable harassment," according to a letter from the department released by the University of California on Tuesday.
The year-long investigation is now ending, the department said.
"In the university environment, exposure to such robust and discordant expressions, even when personally offensive and hurtful, is a circumstance that a reasonable student in higher education may experience," the department wrote.
The federal investigation also looked into other incidents, including the defacement of a sign of a Jewish student organization, and found there was not enough evidence to support claims that UC should have responded more forcefully.
The probe was in response to charges filed last year by two recent UC Berkeley graduates, who said that the protest and other events stoked anti-Semitism and that the school did nothing to deter it. The complaint went so far as to allege that campus atmosphere echoed that of Nazi-dominated Europe before and during the Holocaust.
A federal judge had dismissed similar allegations by the same students the year before and ruled that the anti-Israel protests constituted free speech.
San Francisco attorney Joel H. Siegal, who filed the complaint with the U.S. Department of Education's civil rights office, said he was contemplating an appeal of the decision. He said that allowing anti-Israel protesters to wear Stars of David and to portray Jews in the protest as "blood thirsty barbarians" is as racist and offensive as the widely condemned caricatures of African Americans portrayed in invitations to a notorious off-campus party held by UC San Diego students in 2010.
UC Berkeley Chancellor Nicholas Dirks said in a statement that he was pleased by the outcome of the investigation.
"The claim that there is a hostile environment for Jewish students at Berkeley is, on its face, entirely unfounded," Dirks said. "The campus takes great pride in its vibrant Jewish community and in the many academic and cultural opportunities available to members of that community and others interested in its history and culture. We will continue our ongoing efforts to protect free speech rights while promoting respectful dialogue and maintaining a campus environment that is safe for all our students."
larry.gordon@latimes.com
---
For reporting and exclusive analysis from bureau chief John Myers, get our California Politics newsletter.
You may occasionally receive promotional content from the Los Angeles Times.