Cheat Day Land, a new interactive museum, turned your favorite junk food into art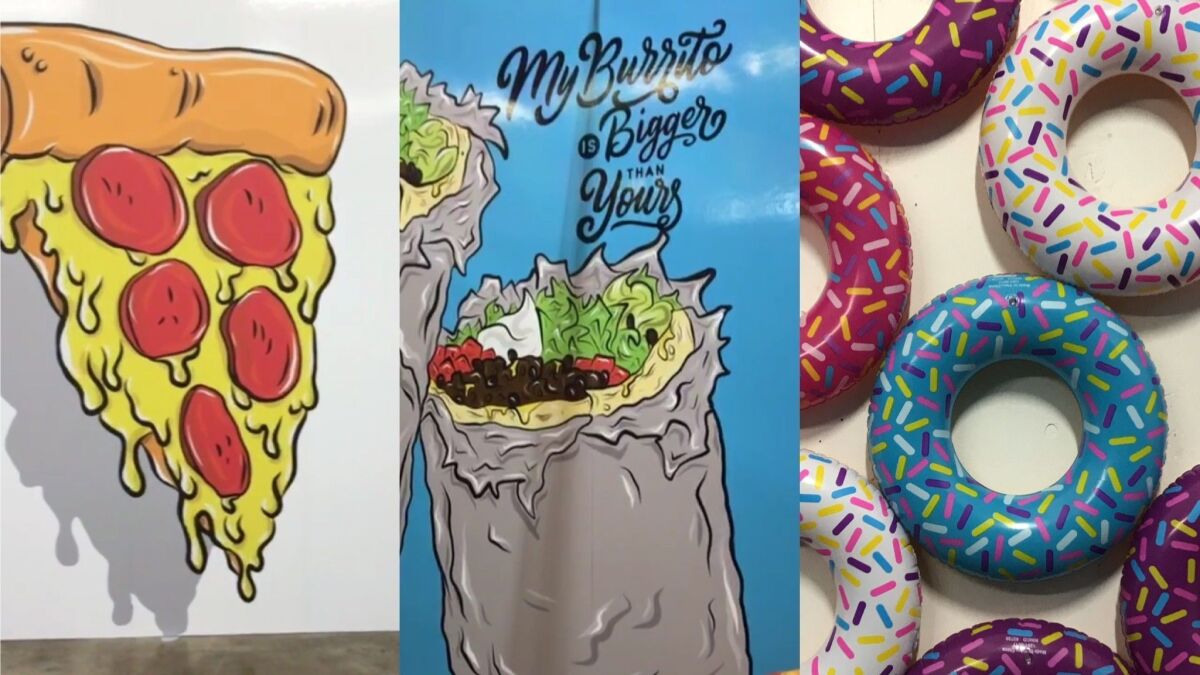 Cheat Day Land, a new L.A. pop-up museum, is completely devoted to "cheat day" foods. The new interactive museum in the Downtown Los Angeles Arts District is full of bright murals of burgers and fries, tacos, doughnuts and cake — a museum clearly tailored for Instagram feeds. It's the latest in an ongoing trend of experiential pop-up museums and exhibits that includes the Museum of Ice Cream and the Museum of Broken Relationships.
Patrons will tour through a maze of roughly 10 food-themed rooms, ending in the gift shop. It takes about 60 minutes to make it through the entire museum. You're encouraged to take photos and snack on samples along the way, including popcorn, tacos and chocolate. A rotating cast of food vendors will be at the museum each day. But if hunger strikes at the end, Guerrilla Tacos is next door.
Because this is Los Angeles, in addition to a spotlight on cheat day foods, the museum also devotes some space to fitness. Guests can jump on a trampoline, made to look like a pancake-flipping skillet, scale a doughnut rock-climbing wall, dive into a large bowl of cereal or lift doughnut dumbbells – all features primed for Boomerang. But make no mistake – burning calories won't be the priority here unless swiping for Instagram filters counts.
Cheat Day Land is the passion project of five siblings. Rubi Rymenmy, the brainchild, came up with the idea for an interactive museum while visiting Japan. She pitched the concept to her sister, Yolanda Reyes, the business-minded sibling, and her brothers Enrique, Manuel and Nick Reyes – self-taught artists whose images are featured throughout.
The family owns a fitness studio in the South Bay. When the idea was floated to center the museum around the concept of a cheat day – a celebration of junk food after a week-long workout (Rymenmy says the group learned about the concept from Dwayne "The Rock" Johnson) – the siblings got started.
"We love food, we love art. Why don't we make a celebration of that?" Rymenmy said.
Roughly four to five months passed from conception to execution. Nick, the youngest, said that his sister Rubi thought the museum could also serve as exposure for her brothers' artistic talents – something that had yet to be on display for the public until now.
"This is our big debut," he said.
The brothers designed every piece of artwork throughout the museum, excluding one mural from Los Angeles-based street art group, Love Crew.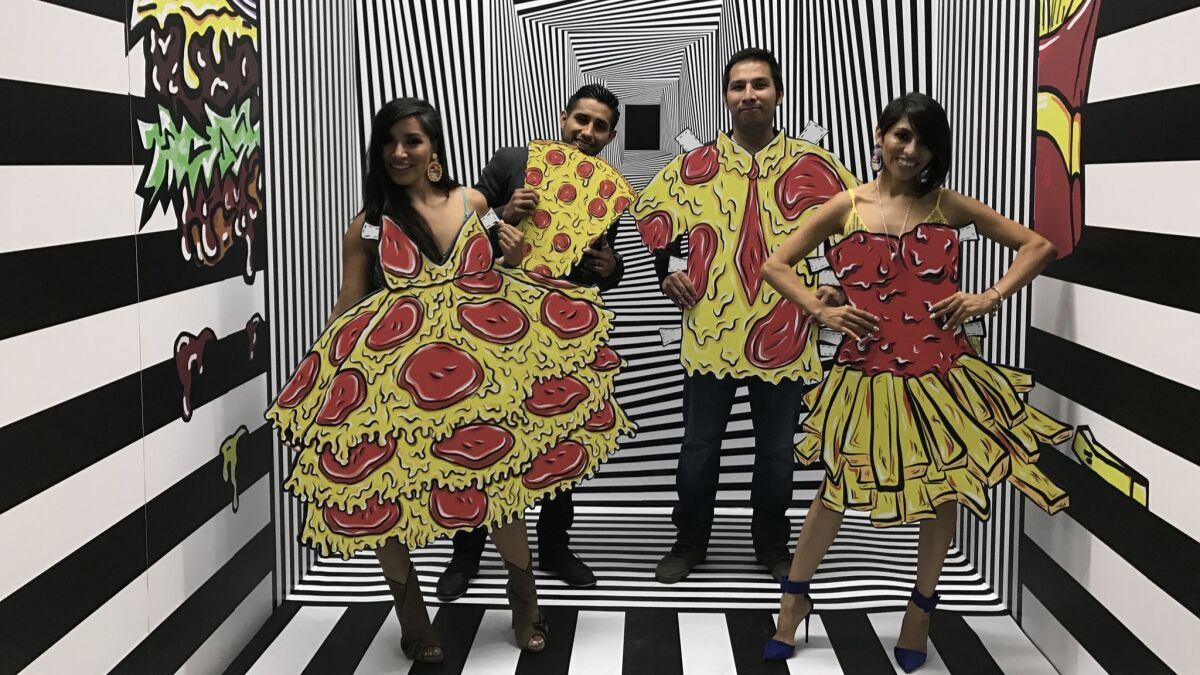 The museum opened on Oct. 1 and will be open for one month. But the band of brothers and sisters hopes it'll move elsewhere after.
Tickets cost $38.
2018 E. 7th. St, Los Angeles, cheatdayland.com.
Twitter: @cshalby
ALSO
Instagram or it didn't happen? L.A. restaurants show how the app has changed their industry
---
The stories shaping California
Get up to speed with our Essential California newsletter, sent six days a week.
You may occasionally receive promotional content from the Los Angeles Times.