Reporter's Notebook: A father, son and lessons from Mt. Baldy's deadly weekend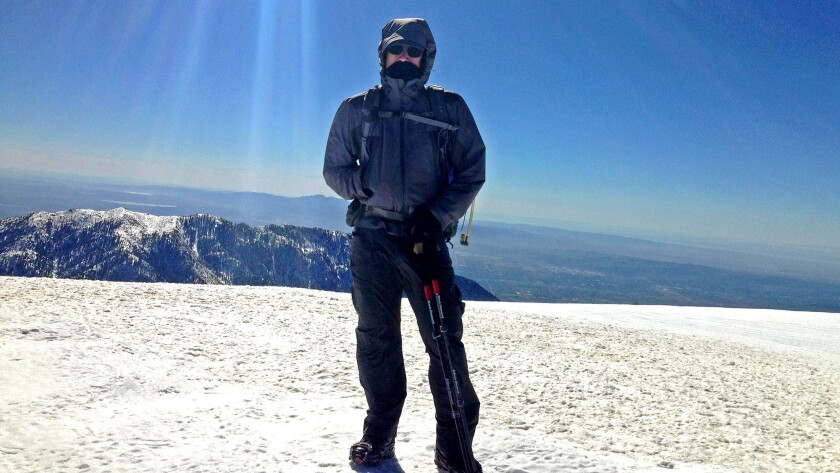 Let's not go that way. Let's just use other people's steps.
It wasn't meant to be some heavy-handed father-son advice, but it rings that way now.
My 15-year-old son and I don't talk like the people in after-school TV specials. When my wife asks what we talk about on what she pictures as father-son bonding trips in the wilderness, I tell her, "stuff" — weather, routes, equipment, supplies, the other trips we've taken.
See more of our top stories on Facebook >>
On Sunday, we didn't talk about the guy who had slipped and plunged to his death last Tuesday, en route to our destination: the 10,069-foot summit of Mt. San Antonio, better known as Mt. Baldy.
We didn't talk about the guy who fell to his death Saturday in nearby Ice House Canyon. Or the dozen unprepared hikers who had to be rescued, causing officials to close that trail. Five others, including our route, would be closed Monday.
Like most Southern Californians, we don't consider Baldy a particularly "hard" mountain to summit, though that's probably why it claims a few lives every year or so.
We have summited four 14,000-foot California peaks together — Mts. Whitney, Langley, Tyndall and White.
The one we talk about most, though, is the one we missed, Mt. Williamson, at 14,380 feet. Two years ago, we hiked toward Shepherd Pass. Rain turned to sleet. Creeks flowed from their beds. Descending hikers warned of fresh snow at upper elevations. This was in the first week of August. We talked it over, but I let him decide. We headed home.
Last year, we tried again. We got through a snow-clogged pass and summited nearby Mt. Tyndall. Overnight, 3 inches of snow fell. We looked across at Mt. Williamson's slopes, layered with scree — loose rock fragments that are dangerous enough. Those rocks were now covered with snow. We headed home. It was his call.
Interested in the stories shaping California? Sign up for the free Essential California newsletter >>
On the way up from the Manker Flats trail head Sunday we talked about trying Williamson again. It was chilly when we started, at 8 a.m., but as the sun rose, we stripped down to T-shirts.
By the time we got to the Baldy Bowl, an 8,200-feet elevation, deep snow covered the trails, and the wind was stiff. We had read the weather forecast and were prepared. We put on another layer of clothes, slipped spikes onto our boots, and crossed the bowl to its gentler southern side.
We started up toward the ridge line atop the bowl, under pines blocking the sun. That's when my son opted to cut his own trail. I watched him slip and slide.
Let's not go that way, I said. Let's just use other people's steps.
We walked in footsteps not yet softened by the sun, kicking and leveling them for others who might follow. By the time we hit the ridge line leading north to the summit, a knock-over wind made it feel below freezing.
We ate some food, put on our shells, cinched down our packs, and discussed the route — toward the western side of the ridge, where maybe we could catch a break from the wind.
Stay in other people's tracks, I said.
He walked ahead. I let him go.
He picked his way to the summit, sometimes on paths through the snow, sometimes cutting his own. A few times, I took easier routes, hoping he would mimic. He didn't.
We made it to the summit separately. The rock walls where we once had taken shelter against the wind were buried under snow. A few hikers lingered, and a few more straggled up behind us.
No one was eager to stay, least of all Liam. He has never been one for John Muir moments on summits. He wouldn't pose for a picture, but he took one of me. This was my birthday hike, so I had that card to play.
Many mountaineering accidents happen on the way down from summits. People push too hard to get there, and are weak and tired on the way down. Some don't even think about the route home. I teach this kind of stuff for the Sierra Club's Wilderness Travel Course.
Don't underestimate the mountain. Be ready for anything — getting lost, bad weather, injury, delay. Summits are optional; coming home is mandatory.
I repeat that to both my sons, including Bryant, who is away from home for the first time, at college.
Liam and I walked methodically along the broad ridge, on snow the consistency of mashed potatoes. Even with spikes, it was hard to stay upright, and I showed him how to glissade — a sleigh ride on our rumps, holding our compressed hiking poles like canoe paddles to steer and slow.
When we turned east to descend the bowl, we found ourselves behind a line of other hikers picking their way gingerly down the laddered footsteps we had used coming up. Some of the steps gave way, and it was treacherous, even with spikes.
It was 1 p.m. We were glad to get to the bottom of the bowl before it would all turn to ice again. By 7,000 feet, the trail was muddy, and water trickled where once it had been frozen. We stowed our winter gear and stripped down to T-shirts again.
It was a perfect Southern California day. Late-starting hikers looked the part. Most wore sneakers, and a few wore shorts.
We didn't have to say it.
Twitter: @LATgeoffmohan
ALSO
Zika virus raises more questions than answers for pregnant women
'Happy Birthday' lawsuit: Tentative settlement puts song in public domain
---
Get breaking news, investigations, analysis and more signature journalism from the Los Angeles Times in your inbox.
You may occasionally receive promotional content from the Los Angeles Times.