Christine Blasey Ford's colleagues describe her as honest and rigorous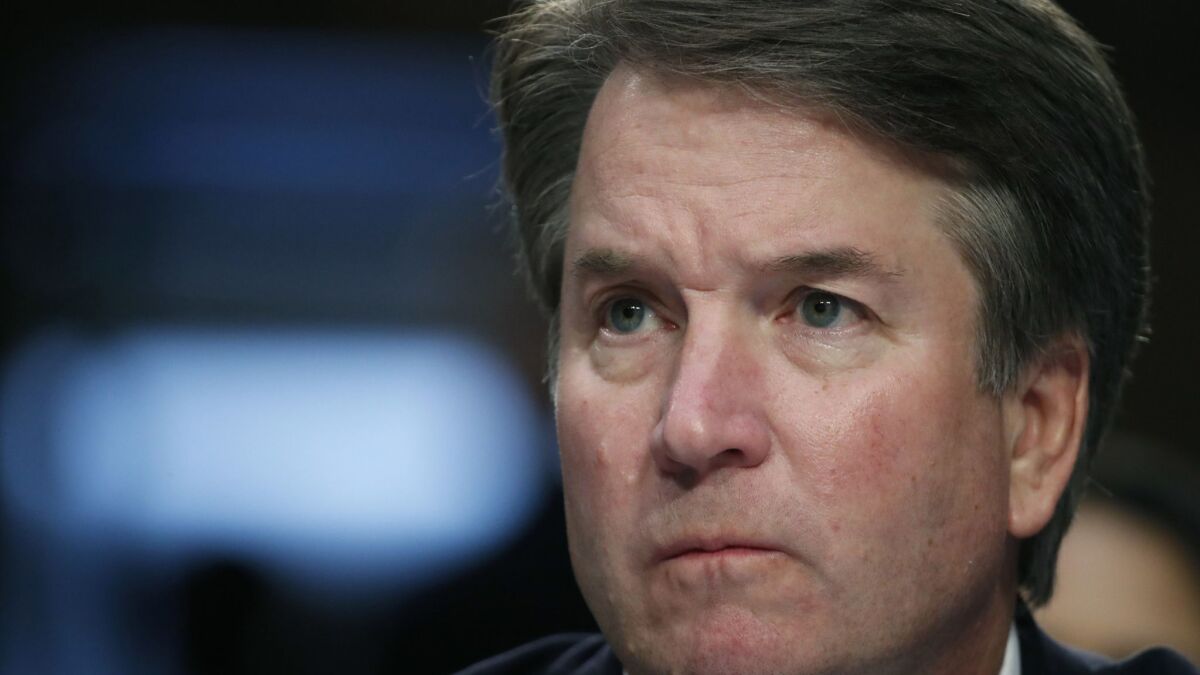 Reporting from Palo Alto, Calif. —
Christine Blasey Ford, the Northern California psychology professor who has accused Supreme Court nominee Brett Kavanaugh of sexual assault when they were both teenagers, is described by colleagues as a rigorous statistician who doesn't fudge the data or stray from the facts.
One psychiatrist who has collaborated with her on four academic papers told The Times that Ford is "a woman of great integrity"; another who has known her for more than 10 years described her as calm, measured and scrupulously honest.
Those assessments are certain to be challenged if Ford agrees to testify before the Republican-dominated Senate Judiciary Committee about the night, more than three decades ago, when she says a stumbling-drunk Kavanaugh pinned her to a bed, groped her, ground his body against hers and covered her mouth when she tried to scream.
As of Tuesday evening, committee members were embroiled in a partisan dispute over the timing and conditions of such a hearing.
Kavanaugh, who was nominated to the Supreme Court by President Trump and has categorically denied Ford's accusation, said he is prepared to testify at any time, setting the stage for a heated political drama with the ideological tilt of the nation's highest court potentially in the balance.
Ford, a 51-year-old married mother of two, holds a master's degree from Pepperdine University, a master's from Stanford University and a doctorate from the University of Southern California. She is an unlikely star in the national political drama, friends and colleagues said.
Stanford psychiatry professor David Spiegel has known Ford for 14 years and co-wrote academic papers with her on subjects including people who suffered trauma from the Sept. 11 terrorist attacks and the effects of hypnosis on depression.
Spiegel also studies survivors of sexual abuse and said he had been following news about an anonymous claim of sexual misconduct against Kavanaugh. He was shocked when the Washington Post identified Ford on Sunday as the accuser.
"I know her to be an honorable, honest, straightforward, decent person. I can't conceive of her doing this for any other reason than she is honestly reporting what she's experienced," Spiegel said of Ford, a Palo Alto University professor who teaches in a consortium at Stanford.
Spiegel, who said he was speaking personally and not on behalf of Stanford, added that Ford is a "solid biostatistician and a woman of great integrity."
C. Barr Taylor, a retired Stanford psychiatry professor, said he has known Ford for more than a decade and that she worked with his students to improve the statistical analysis in their dissertations.
Taylor said Ford's personality — calm, measured and kind — suits the work she does.
"Statistics involves its own ethics of sorts. You can't fudge the data. You can't just try to find things that aren't there," Taylor said.
Ford, who declined to speak with a reporter for this story, admitted to the Post that she couldn't remember some key details of the events now at the center of Kavanaugh's confirmation.
She believes it was in 1982 when she was 15 and Kavanaugh would have been 17, but she's not certain. She also said she didn't remember how she got to the sparsely attended party, or who owned the house.
But she said she vividly recalls a drunk Kavanaugh and another teenage boy forcing her into a bedroom while loud music was playing. That's when she alleges Kavanaugh pinned her to the bed and began what she described as an attempted rape.
The ordeal ended when the other boy, who was also very intoxicated, piled on top, sending all three tumbling to the floor, she said.
Ford said she was able to escape to a nearby bathroom and lock the door behind her until Kavanaugh and the other boy stumbled back downstairs.
The other student, identified as Mark Judge in media reports, has strenuously denied the allegation. He has declined to testify before the Senate Judiciary Committee, and his attorney, Barbara Van Gelder, said on Tuesday he is not "talking publicly at this time."
The trauma of the experience left Ford troubled for years, unable to form healthy relationships with men, according to the Washington Post article. She had been married to her husband for a decade before he heard the details of the incident during a couple's therapy session in 2012, the paper reported.
Jim Gensheimer, who has been friends with Ford and her family for several years, said she confided to him and another friend over lunch on July 11, telling them she was communicating with the Post and was deeply concerned her name would eventually become public.
Gensheimer, a freelance photographer who previously worked for the San Jose Mercury News, said he explained to her how journalistic ethics forbid identifying confidential sources without approval.
Ford, he said, was torn. She felt it her "civic duty" to come forward but worried that it would have no effect on the confirmation process, Gensheimer said. At the same time, he said, she was worried about ruining Kavanaugh's career and was open to the idea that people can change.
He noted that she had resisted purchasing a home without a second exit from the master bedroom.
"Obviously, something happened that traumatized her so much that she's afraid of being trapped," Gensheimer said.
Sen. Charles E. Grassley (R-Iowa), chairman of the Judiciary Committee, which had appeared ready to confirm Kavanaugh's nomination, has issued a letter signed by 65 women who say they knew Kavanaugh when he attended Georgetown Prep, a private boys' high school in Rockville, Md. The letter says Kavanaugh "behaved honorably and treated women with respect."
Days later, hundreds of women who attended Ford's alma mater, the all-girls Holton-Arms School, signed a public letter declaring, "We believe Dr. Blasey Ford and are grateful that she came forward to tell her story." "Seinfeld" and "Veep" actor Julia Louis-Dreyfus, class of 1979, said on Twitter she was among the signatories.
The public opinion circus is what friends say Ford feared when she debated coming forward in July after Kavanaugh was named as a possible replacement for retiring Justice Anthony M. Kennedy.
While the details of her personal life and politics will raise few eyebrows in progressive California, Ford is, in many ways, the perfect foil for conservative doubters: a registered Democrat who has given small donations to liberal causes, has joined at least two anti-Trump marches and teaches in the San Francisco Bay Area. She also eats organic and drives a hybrid, according to a published report.
But Ted Jenkins, who has lived next door to the Fords for more than a decade, said he was confident his neighbor would withstand the spotlight.
"She's believable," Jenkins said.
Times staff writers James Queally, Sarah D. Wire and Laura Newberry contributed to this report.
Follow on Twitter at @JackDolanLAT
---
The stories shaping California
Get up to speed with our Essential California newsletter, sent six days a week.
You may occasionally receive promotional content from the Los Angeles Times.